Do you have a strong deep rooted addiction to Starbucks coffee? Do you "NEED" it every day or you will go in to a fit reminiscent of a toddler throwing a fit because they got the wrong sippy cup? Well here are 5 good reasons you should give up Starbucks!
Here are 5 Good Reasons You Should Give Up Starbucks
1. It's too dang expensive!
Let's be real here, a cup of coffee is over $2 and no-one goes to Starbucks for a simple cup of coffee. A tall Frappaccino is $4 and a Venti is $5 BEFORE tax! That's just for a drink. How many times have you went in the morning and got food as well. Let's say that on average you spend $5 a visit (including tax) and you go only 3 times a week. That's $15 a week or $60 a month. For those of you that "have" to go everyday (let's assume work days), that's $25/week or $100/month!
That's $1200 a year!
Considering that the average American spends $1100 a year at coffee shops, $1200 is a conservative estimate for Starbucks lovers.
2. Saving for retirement
Let's say that you take that $100 a month and invest it in your retirement account. Let's take a 10% rate of return for 30 years and you will have $209,000 in your retirement account. And yes a 10% return is possible and that is after fees and paying a financial advisor.
You obviously need to save more than that, but that's a nice little nest egg for just giving up Starbucks!
A new study shows that millennials are spending more on their morning coffee than on saving for retirement! That is insane. That means they can afford to save for retirement, they just are choosing coffee over retirement.
Check your numbers here-> Bank Rate Calculator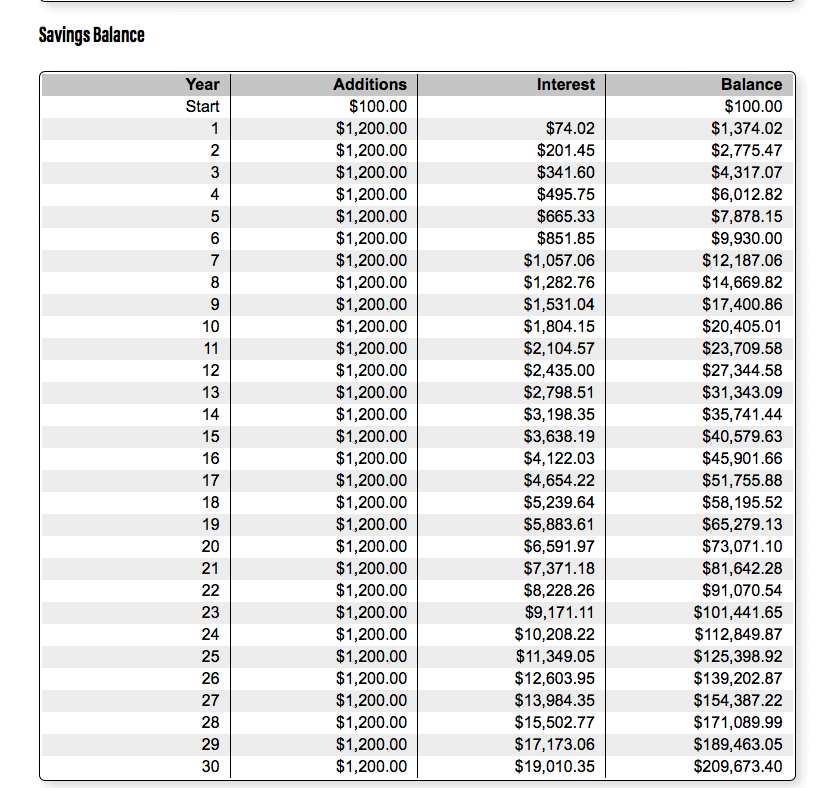 3. Control Your Spending
If you can avoid places like Starbucks, you can control your impulse buying. This will make it easier to stick to your budget. So, not only are you saving yourself the cost of the coffee but also all the other things they sell. You won't be tempted to buy a muffin, a danish or cups while you get your coffee.
Related posts:
100 little ways to save money every day!
5 Reasons you can't save money
FREE Cutting Expenses Cheat Sheet
Save every month by cutting expenses!
4. The Environment
The savings isn't all about your money but also the environment. If you make your own coffee and use your own washable cups, you save a lot of trash from going in the landfills. Six BILLION Starbucks cups go in the landfill every year. They are made with paper but are lined with plastic which is not biodegradable.
I will give them credit as they are working on this problem, but our society still has a trash problem.
5. It tastes bad
I know you probably want to argue with me about this and I will admit I hate coffee BUT study after study has proven that other cheaper coffees taste better in blind tests. Several blind taste testers said that Starbucks tastes burnt. I have tried their other drinks and food and I thought it was disgusting. It certainly was not worth the cost to me.
People like Starbucks because it's more expensive and has become a status symbol in this country. Just like other name brands, Starbucks makes people feel better about themselves when they buy it. It's a status symbol just like designer handbags and expensive shoes.
If those 5 reasons you should give up Starbucks aren't enough, it's also unhealthy and making you fat. It has a very unhealthy amount of caffeine and sugar in it. So, I guess you won't need to save for retirement because you will have had a heart attack from all the caffeine by then…hahaha just kidding just kidding…seriously start saving for retirement.
FREE Cutting Expenses Cheat Sheet
Save every month by cutting expenses!