My next interview is with David Dale. He is a 25 yr old single man with no kids. He is currently working on saving for a down payment on a house. I wanted to share his financial journey because he could very easily get caught up in living for today instead of his long-term goals. Being a single 25 yrs old man, staying focused on your financial goals is really hard. He is also making below the poverty line. Yet he is still trying to save for the future. Your financial future is determined more by your mindset and determination to reach your goals than just your income. Where there is a will, there is a way. 
I would even venture to guess that despite David's low income, he probably has more in savings than you. Really think about that for a second. YES he is single and doesn't have any kids. BUT his income is BELOW the poverty line. YES he lives with his parents to help him save. He really couldn't afford not to live with his parents at this point in his life. HOWEVER, his situation is inspiring because he is saving for his future and making plans. He isn't wasting his money on video games, energy drinks, and alcohol like other people his age.
Even though David makes below the poverty line, he will be a millionaire one day. Remember the tortoise won the race. It is a slow and steady marathon not a sprint. Keep your eye on the prize and you can get there!
Background info:
I'm single have no kids, I'm 25 and completed high school (completed in 2010). Income range of income $15-17,500.
I am saving for a down payment and save money both in retirement and savings. The reason is so I won't be living paycheck to paycheck and be financial down the road. I want to enjoy life when I retire. 
What was your "aha" moment?
My aha moment when my car battery died (I had a Pruis) and it cost over $3000 to get a new battery. I had to get my parents involved to help cover the bill since I didn't have that much. Then on top of that i needed a new phone. I had it and needed a change.
Who has been a major influence on your financial life?
My parents are a major influence on my decisions.
Do you do a monthly budget?
I do have a monthly budget and it determines what I want to do and how to spend my money.
Get your FREE Budget worksheet here:
Are you a Dave Ramsey follower?
I read the Dave Ramsey books off and on.
How do you stay motivated?
I stay motivated by keep working hard and reaching my goals.
What advice do you have for someone else in your same situation?
My advice is keep going, never give up. Keep trying and keep reaching for your goals.
If you could go back in time, what would you change?
If I can go back in time, I would have a written budget and have a better control of my money.
What is your biggest financial struggle?
My biggest financial struggle is not having enough money for things and spending money I didn't have like crazy. To combat what I was spending  I had to tell my money where to go and stop spending money like crazy.
What is important to remember is not where you are today but where you want to be in the future. It is so easy to spend like crazy no matter how much money you make. It doesn't matter if you make $15,000 a year or $200,000 a year. You have to tell your money where to go or it will leave you high and dry.
If you learn how to manage your money when you don't have much, you will be able to do anything you want once you do make decent money. However, if you don't manage your money well when you don't make much, you still won't manage it well when you make a lot.
So, how exactly is David becoming a millionaire on a low income? This chart explains it perfectly! The answer? compound interest! Since he is so young and already saving for retirement, he is becoming a millionaire on a low income!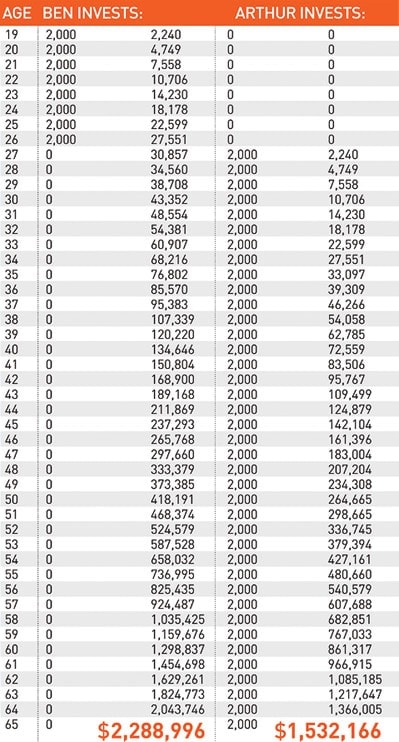 Once David starts making more money and is really able to make headway on his savings goals, he will be unstoppable. He WILL be a millionaire one day. Will you?
If David can do all this on his low income, what is stopping you? What is keeping you from reaching your financial goals?
Learn how to budget in my step by step FREE email course: