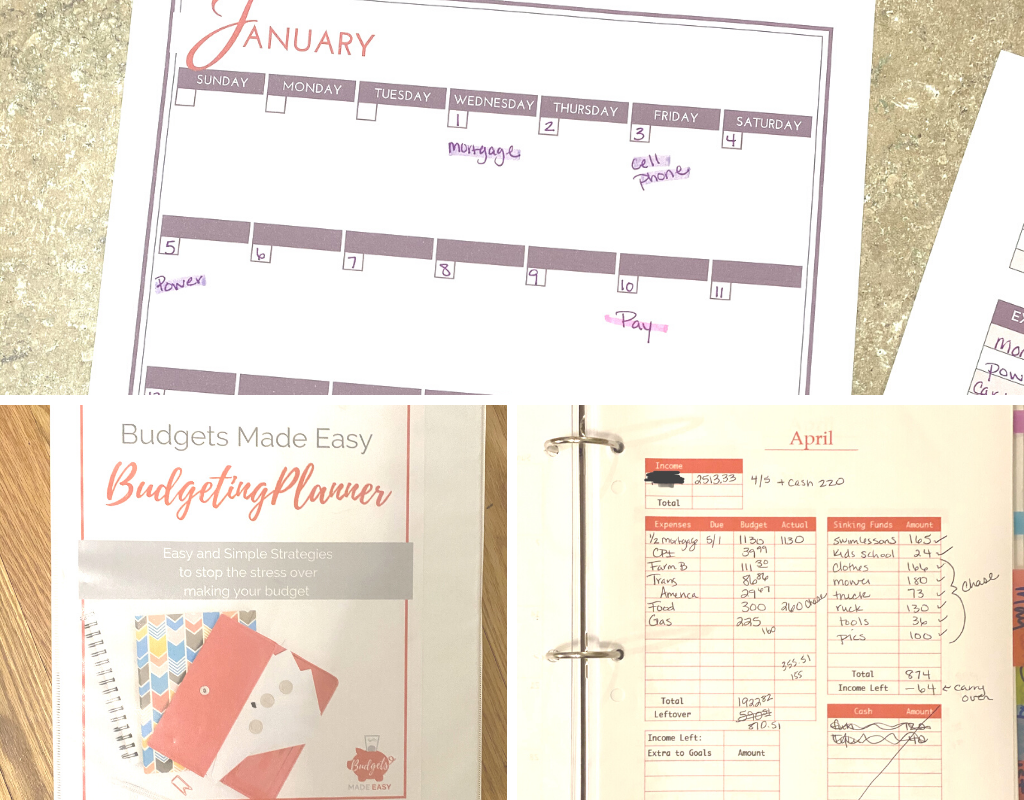 Keeping your bills and budget organized is crucial if you want to stop overspending and over drafting your account.
Organizing your monthly bills is really the key to staying on top of your finances so you can reach your bigger goals, like saving money and paying off debt.
When you are unorganized, it's so easy to spend mindlessly and not have a clue where your money went.
Being unorganized leads to thoughts like:
Doing your taxes and thinking…where did all that money go
How will I ever pay off this debt?
"I can't afford to go on vacation"
Why do we keep over drafting?
When you are organized and intentional with your plan and budget, you stop wondering how the heck you made that much money last year with nothing to show for it.
You can stop wishing you could go on vacation WITHOUT credit card debt.
You will know exactly how and when you can pay off your debt, (and much faster than you think).
In this post you will learn how to:
Organize monthly bills
Budget by paycheck
Pay your bills ahead to avoid late fees and overdrafts
How to Organize Monthly Bills
The first thing to do when wanting to organize your bills is to gather them all up.
So, I want you to print off your account statements so you can determine what bills you have, when they are due, and how much the bill is on average.
This is the most important step when wanting to manage your money better.
Do NOT skip this step. Seriously, just do it 😂.
This is the step can seem overwhelming, but if you focus on just one thing at a time, it can help.
Once you get everything together, then we will work on organizing the bills.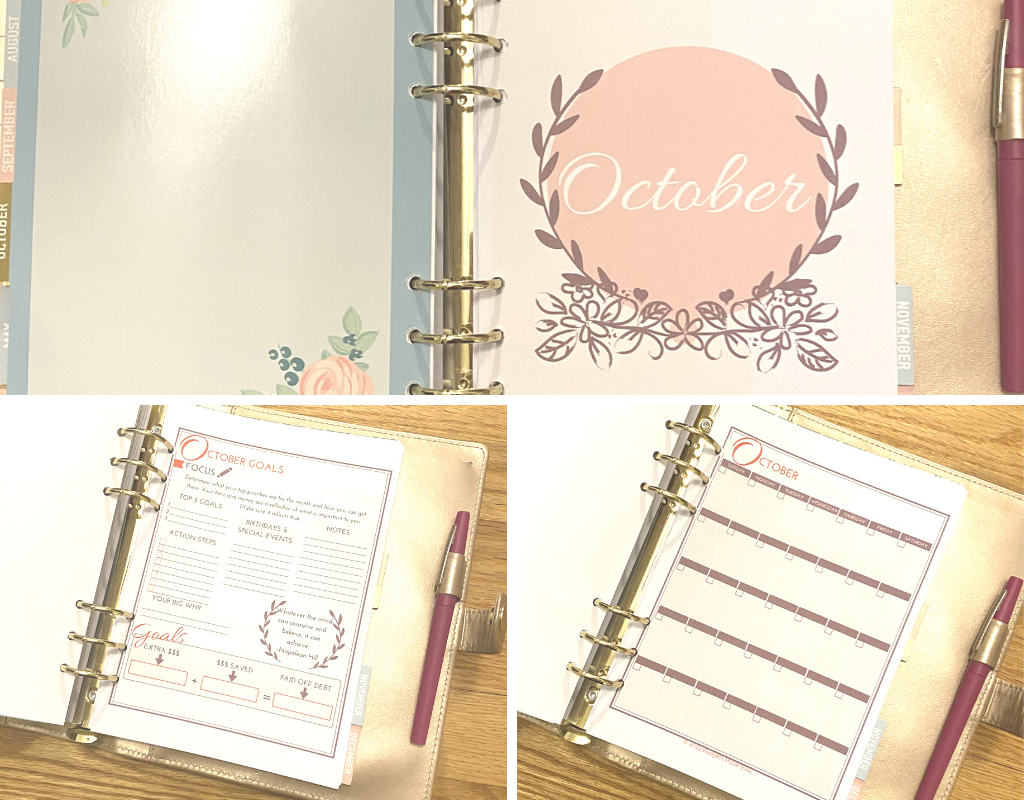 Write Out Your Bill Information
Once you have all of the bills together, I want you to list them out on one sheet so it's easier to track the information while we sort them.
I want you to write out:
Company name
Due date
Payment amount
Balance
APR
Pay off date
Once you have all that information organized, then we will work on planning it out with a calendar.
Organizing Your Bills by Paychecks
I have been creating a budget by paycheck since I got my first job at 16 yrs old. Just a monthly budget never made any sense to me.
You need to know what bills to pay each paycheck or else it's a free for all and you will overspend or not pay things when needed.
Knowing exactly what bills to pay and when will keep you organized and on track with your finances.
A budget calendar helps you do that but also a budget for each paycheck makes it clear how much you can spend for certain things.
This helps a ton if you are frequently out of grocery money halfway through the month.
Or if you have a huge mortgage payment, split it up between checks.
It makes it smaller and more manageable so you aren't trying to pay all your expenses out of one check.
Use a Budget Calendar
Using a budget calendar for your bills is a great way to see when everything is due in relation to your paychecks. It makes it so easy to budget by paycheck and know what check pays which bills.
The simple way to use a calendar to get organized is to write out each day your bills are due.
Then highlight each paycheck in a different color and then highlight the bills that are paid with that check.
Now the goal is to get ahead of the due dates. So, if you get paid on the 15th and the 30th, the 15th check will pay everything from the 15th-30th. The check on the 30th will pay all the bill the following month from the 1st-15th.
Also check out how to use a budget calendar for more explanation.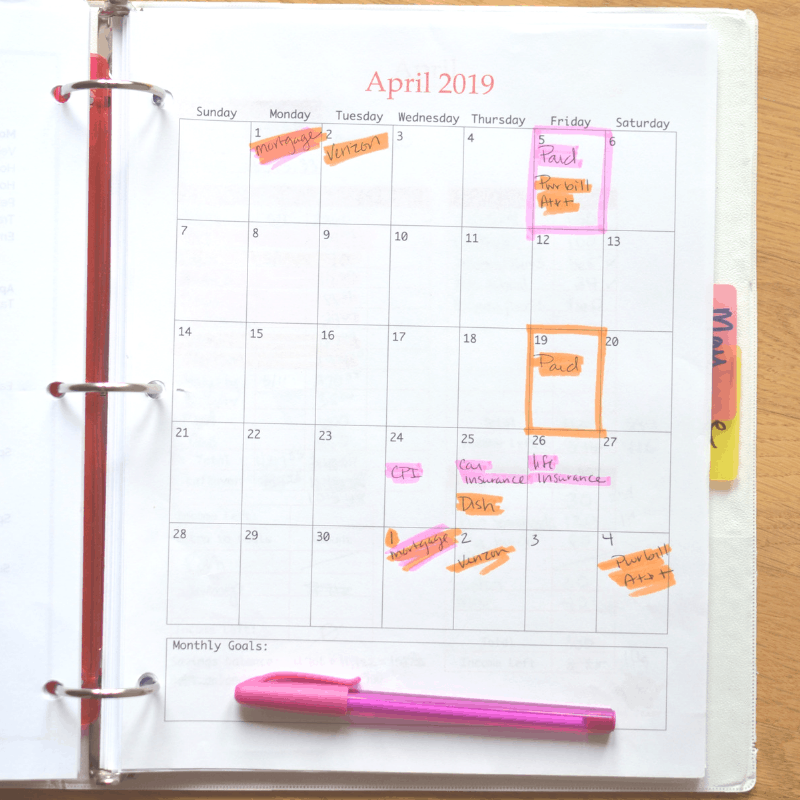 You may need to pay some bills twice in one month to get on this schedule.
If you have things due on your paydays, you may need to ask to have due dates moved so that it works better for your life.
Once you can visually see the due dates and paychecks. it will help you gt organized and pay things on time.
Make it Automatic
Once you know when to pay everything, it will make it easier to stay on top of it if you set up automatic payments.
I do not recommend that you set them up with the service provider though. I recommend you set it up through your bank's online bill payment system.
That way the company isn't taking money out of your account and you can change the dates and amounts easily.
This will help you avoid overdrafts and late fees.
It will also make managing your budget easier when everything is paid at the same time each month.
Use a Budget Binder
Once you have all the information in one spot, it's time to find a system that works for you to keep it all organized.
I personally use a budget binder and planner to keep everything together and planned out for each month.
I print out the sheets in the Budget Planner and put them in a binder to keep track of all my bills.
This is the planner that I use.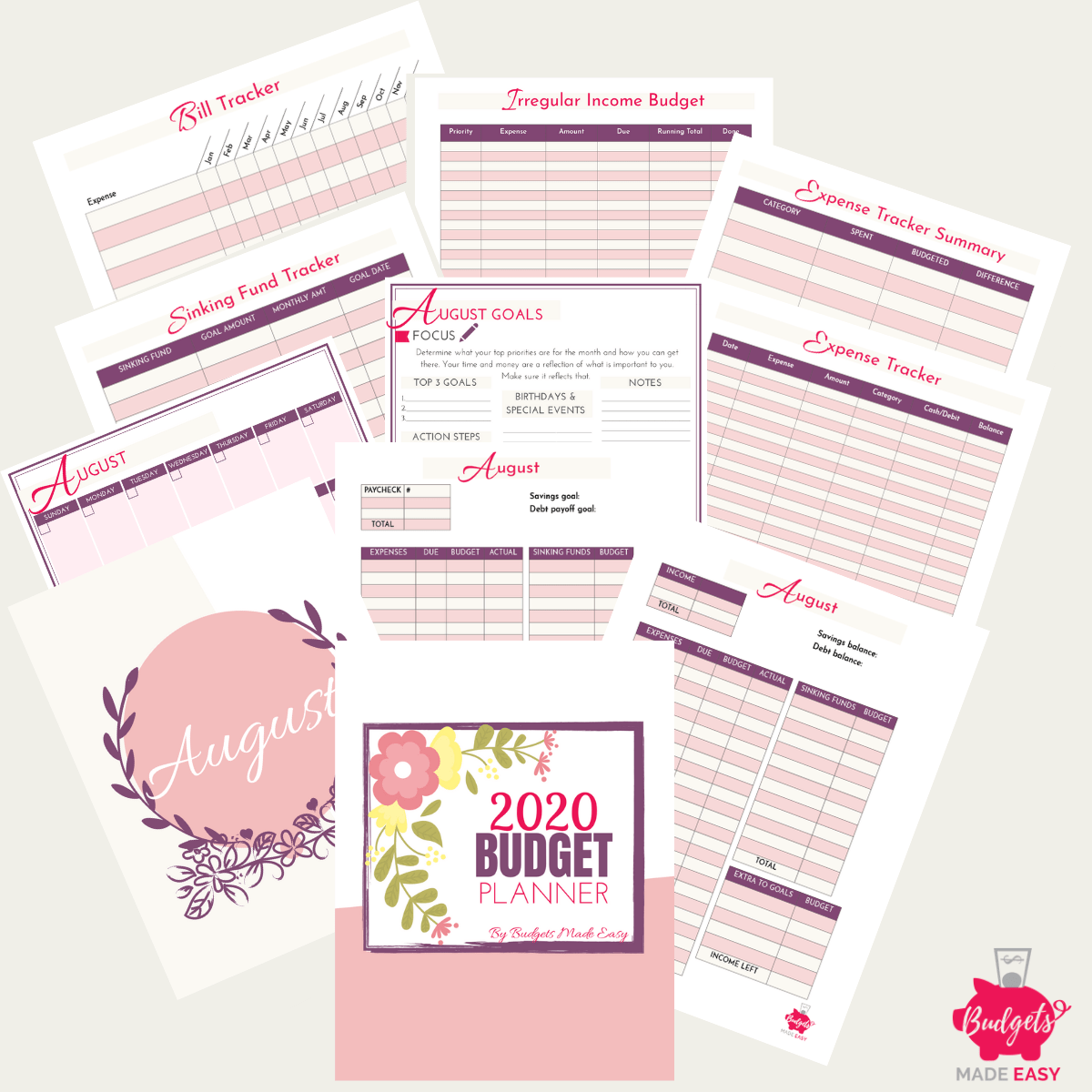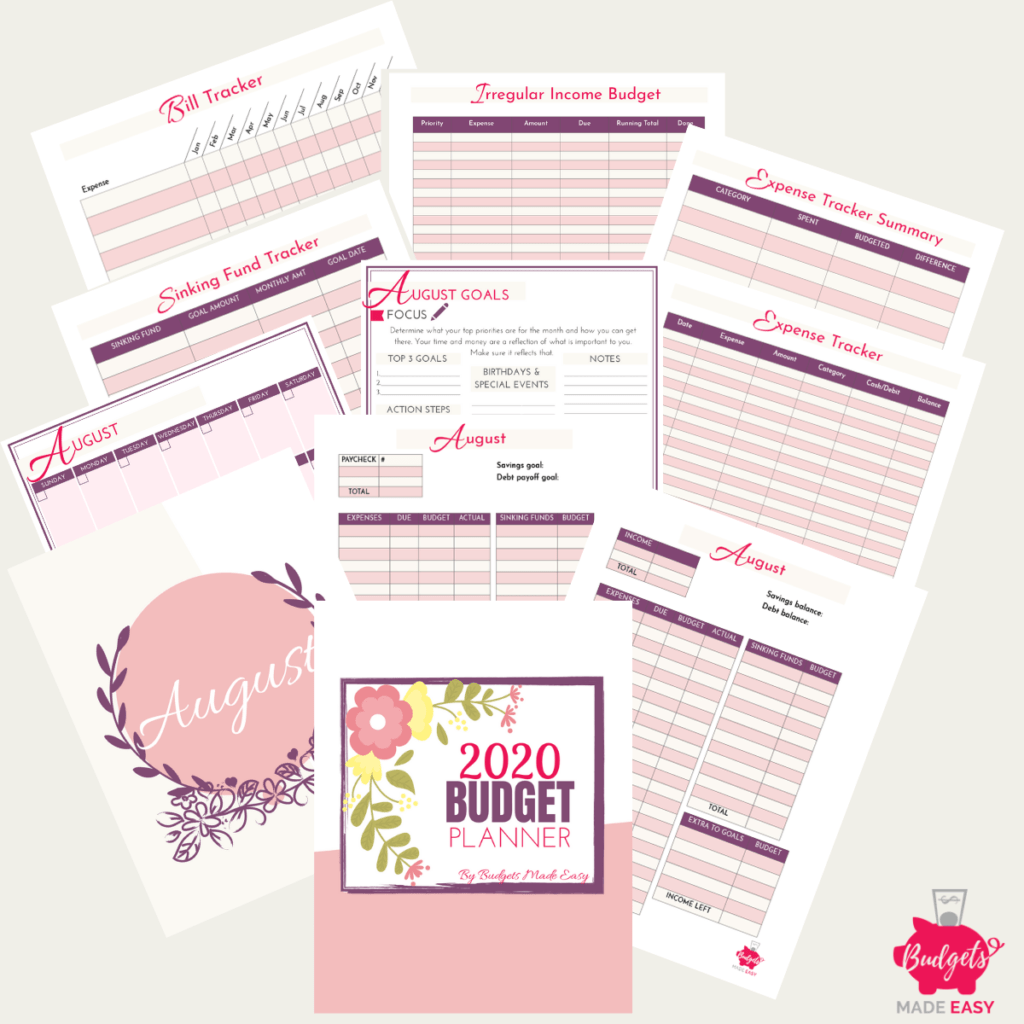 Use a Spreadsheet
If you don't like to use paper, you can use a spreadsheet.
However, it is recommended that while you are learning how to do everything, you should write it out.
Our brains process the information differently when we write it out.
There are tons of budget templates that you can use with Excel and even Google Sheets.
It's nice to use those so that you can have it on your phone where you go.
Which makes it easier for you and your spouse to get on the same page with what is left to spend in a month.
You can grab your FREE Paycheck Budget Spreadsheet here: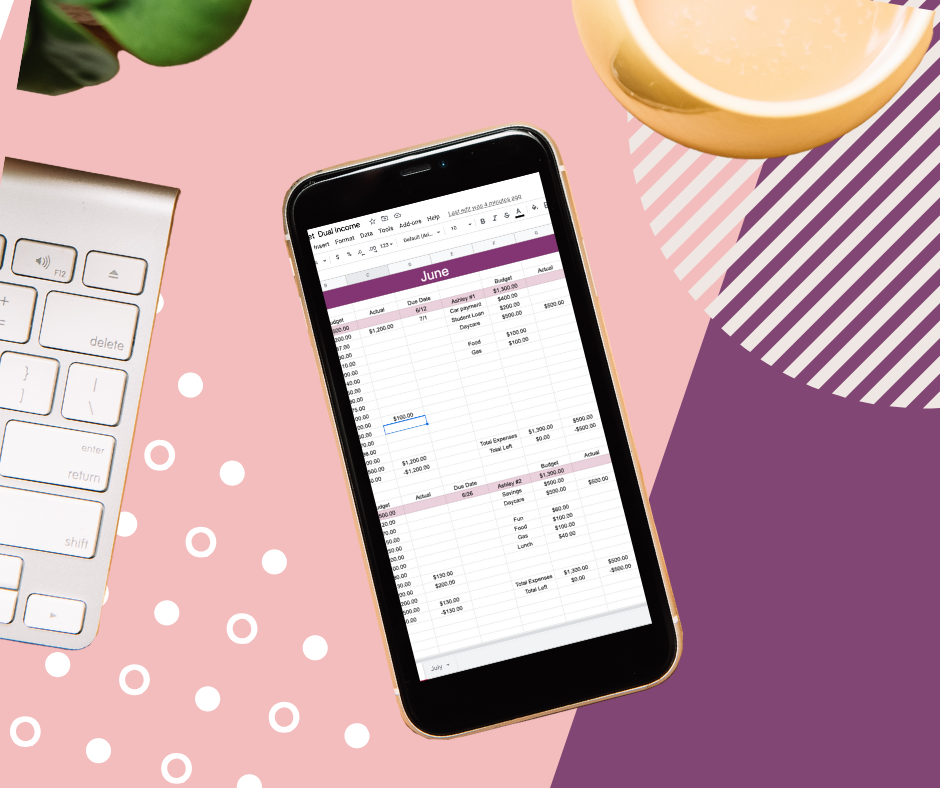 This spreadsheet is in Google Sheets and is based on budgeting by paycheck which helps you know what to pay out of each paycheck.
This sheet is a one month sheet. You can grab the Yearly Paycheck Budget Spreadsheet that is in more detail AND has a Christmas budget sheet here.
Just Get Started!
Getting organized or managing your money better requires just getting started!
Quit letting the fear of not knowing what to do stop you from making progress.
It's not going to be perfect the first several times you do it. Nothing in life is.
But with practice and experience you will get better over time.
Imagine what life would be like if you…
Had $2000 in savings
Already had money saved for vacation next year
Had Christmas paid for in July!
Could take your dog to the vet and know you could afford it
It's time to stop wishing for your dream life to just happen and start moving towards it.
You just need to START!