Meal planning can be time intensive when you are just starting and learning how to do it all. When you don't have time to sit down and figure out your meals, it's even harder to make a plan and stick to it. That's where Platejoy comes in.
Meal planning is so important when you are trying to save money on food. I was able to save over $600 a month just by meal planning.
However, my life has gotten so busy this year with activities every night of the week. I have found a cheap meal planning service that does all the work for me and still saves me money!
This is my experience and review of Platejoy. I have tried it out and discovered why everyone is raving about it. It's easy to use once you put in all your settings.
I was amazed at how customized it really was. This isn't a run of the mill meal planning guide. It isn't just a list of a bunch of recipes that your family will never eat.
Platejoy knows what you like and what your unique needs are and tailors their service for you. They help you meal plan even if you don't have that much time to cook.
They even will make your customized meal plan based on your diet restrictions and needs. They even have a nutritional coach for you to use.
If you have diabetes, your insurance may cover the cost of Platejoy.
Platejoy does the planning, recipes, and the shopping list for you. You can even connect it with Instacart and let someone else do the shopping for you! You literally have no excuse not to meal plan anymore.
You will save hundreds of dollars a month by meal planning and don't have to worry about searching for recipes all day. It couldn't get any easier.
Get your FREE 10 day trial here! Use my link and code BUDGETS10 and save $10!
Platejoy Customized Meal Plan Review
What is Platejoy?
Platejoy is a meal planning service that gives you a fully customized meal plan based on your needs. It is completely personalized and you can change ingredients and your shopping list.
It also allows you to sync to your Fitbit and calendars including Google and iCloud.
Get your FREE 10 day trial here! Use my link and code BUDGETS10 and save $10!
It is so easy to use that you have no excuse to not meal plan and save HUNDREDS of dollars a month!
When we were paying off our debt, I was able to save $600 a month by meal planning. I did it with a pen and paper and searched for new meals on Pinterest. It is a lot more time-consuming that way compared to Platejoy. But really, as long as you do it and stick to it, you will save money.
Why I like Platejoy as a meal planning service
Platejoy is so freaking easy to use that and it saves you so much time. So, if you are a working mom trying to meal plan without losing your mind, this is for you. I am amazed at the value they give at such a low price. It is extremely easy to use and fully customizable. It starts at only $8 a month! Plus they let you try it for FREE!
They do all the work for you. You literally have no excuses to not meal plan when using this meal planning service.
They have meal plans for everyone in the family, whether you are trying to lose weight, have food allergies, or are a picky eater.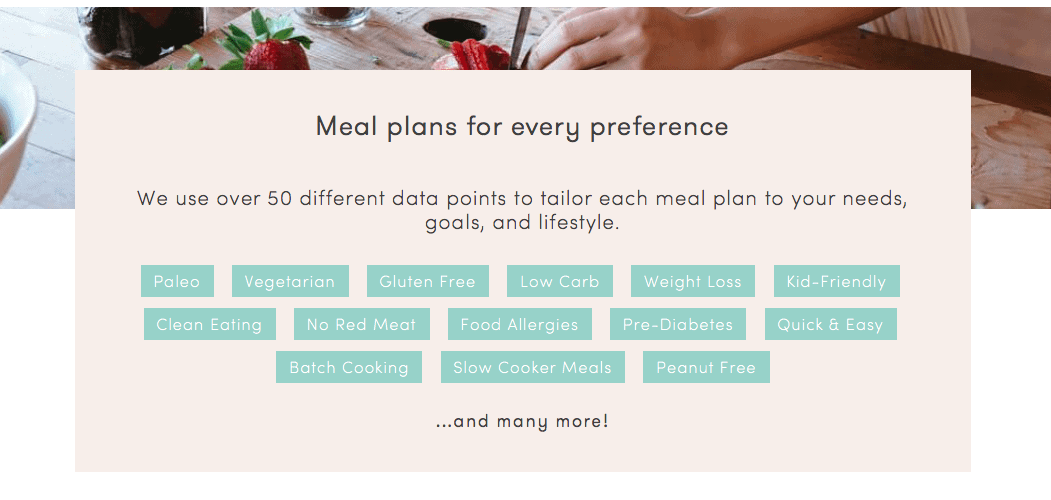 Plus it starts at only $8 a month! You will save that by not having to search all over Pinterest for new recipes every week. Your time is money, if you are spending more than 30 minutes a month meal planning, this is worth it.
Save your time and sanity and try it for the free 10 day trial. If you don't like it, cancel it before the trial ends and you won't get charged.
Get your FREE 10 day trial here! Use my link and code BUDGETS10 and save $10!
How does Platejoy work?
At first, you enter your email to start your FREE 10 day trial. Then you start customizing your selection. Don't worry, you can go back in and change it for each meal plan! It is so easy, you can't screw it up!
Look at how customized the meal plan is!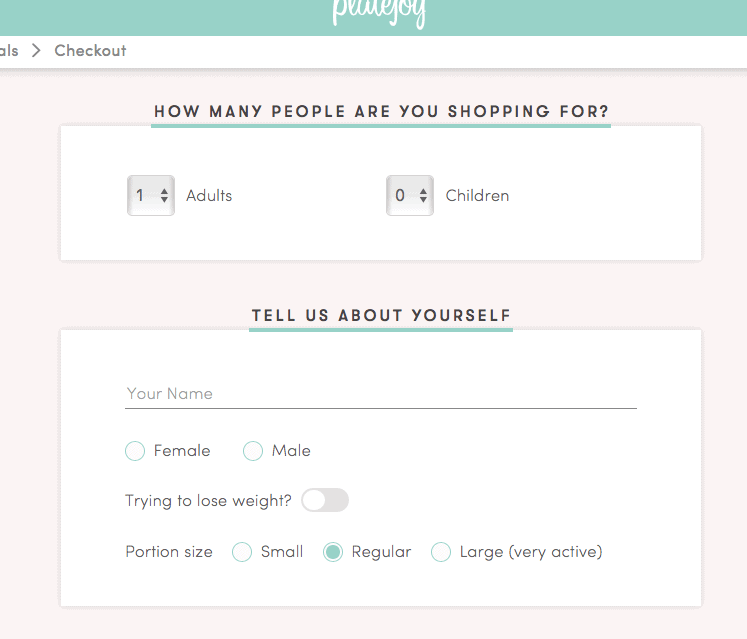 On a special diet? They even have a customized meal plan just for you! They have several different options depending on your unique needs. If you are diabetic, they even have plans for you. Take the guess work out of your diet and let someone help you meet your needs.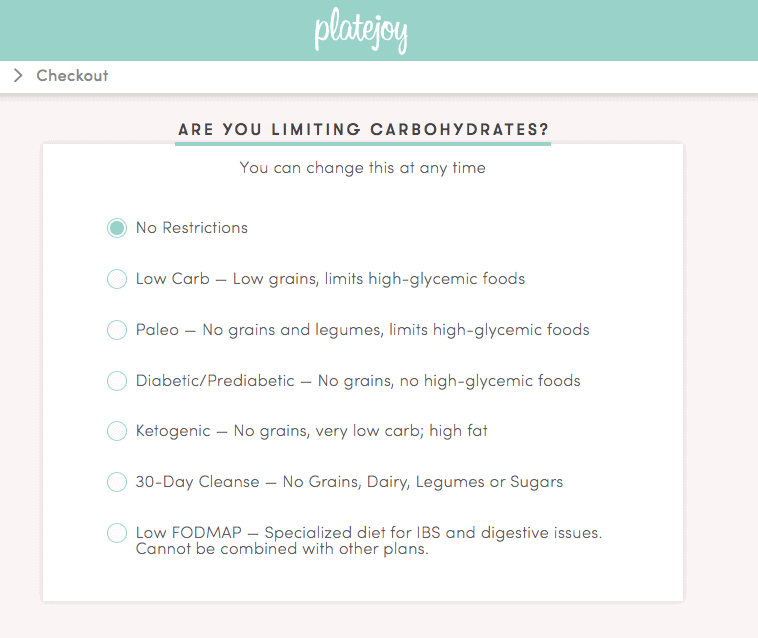 Vegetarian? Don't eat red meat? They have you covered also!
Hate mushrooms, seafood, cilantro? No worries!
You don't even have to meal plan for all meals either. They even have meals to plan for leftovers.
Have picky eaters or as I call myself non-adventurous eaters? There are setting for that as well.
They even make sure you have the equipment needed for the recipe! They ask you what equipment you have and tailor the recipes around that.
They even consider how much time you have for prep work and cooking. If you are busy like me running kids around all day and night, they keep it simple for you. These aren't complicated recipes that will take hours to cook. You can select slow cooker meals, freezer meals, and 30 minute meals. You can even select batch prepping meals and if you want leftovers.
Once you make your selections you can look at the customized meal plan. If you don't like something, you simply delete it.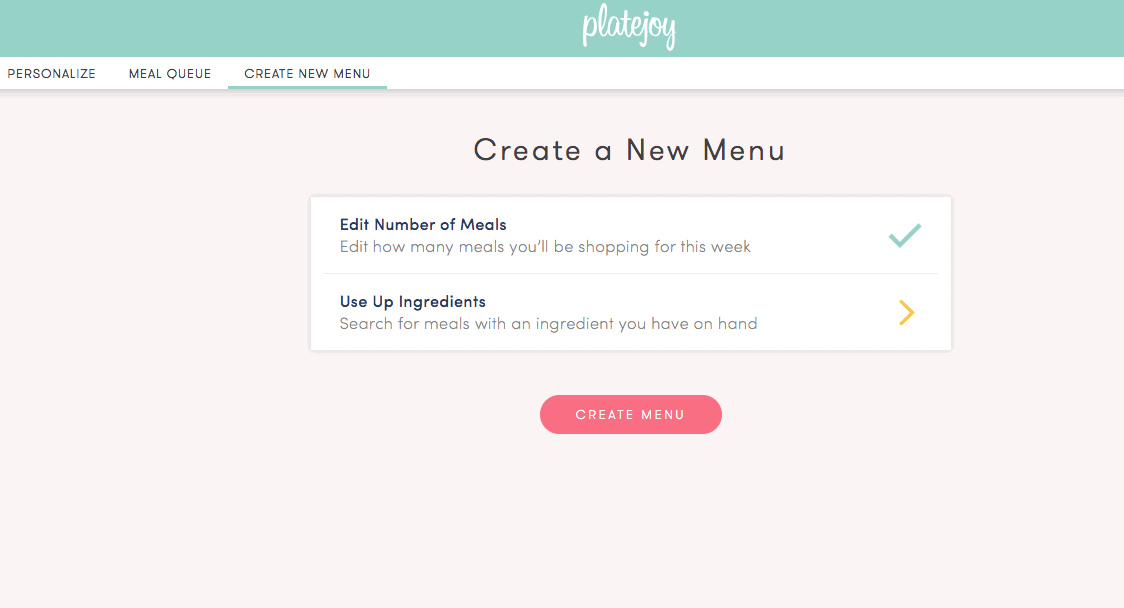 You can also search by ingredients to use up what is in your pantry. So when you want to do a no spend challenge, they make it so easy for you to meet your goals. It's easier to stay on track and not spend money when you can plan meals around what you already have.
Or you can use what they select for you, print your shopping list and you are on your way in less than 5 minutes!
If you see a meal you like, hit add and it adds it to your meal queue. Here are some examples based on my preferences.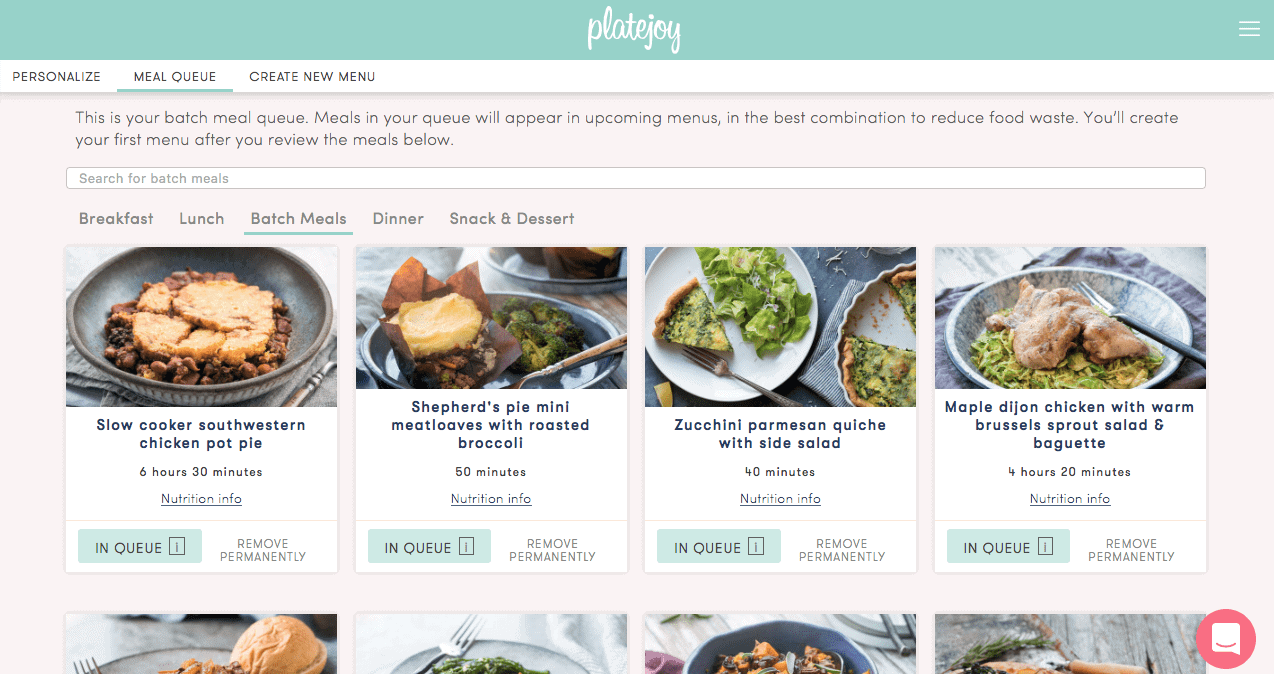 Then you go to your meal plan and look at the actual plan. You can then change or add things to your meal plan before going to your shopping list.
You can easily remove or swap out a meal.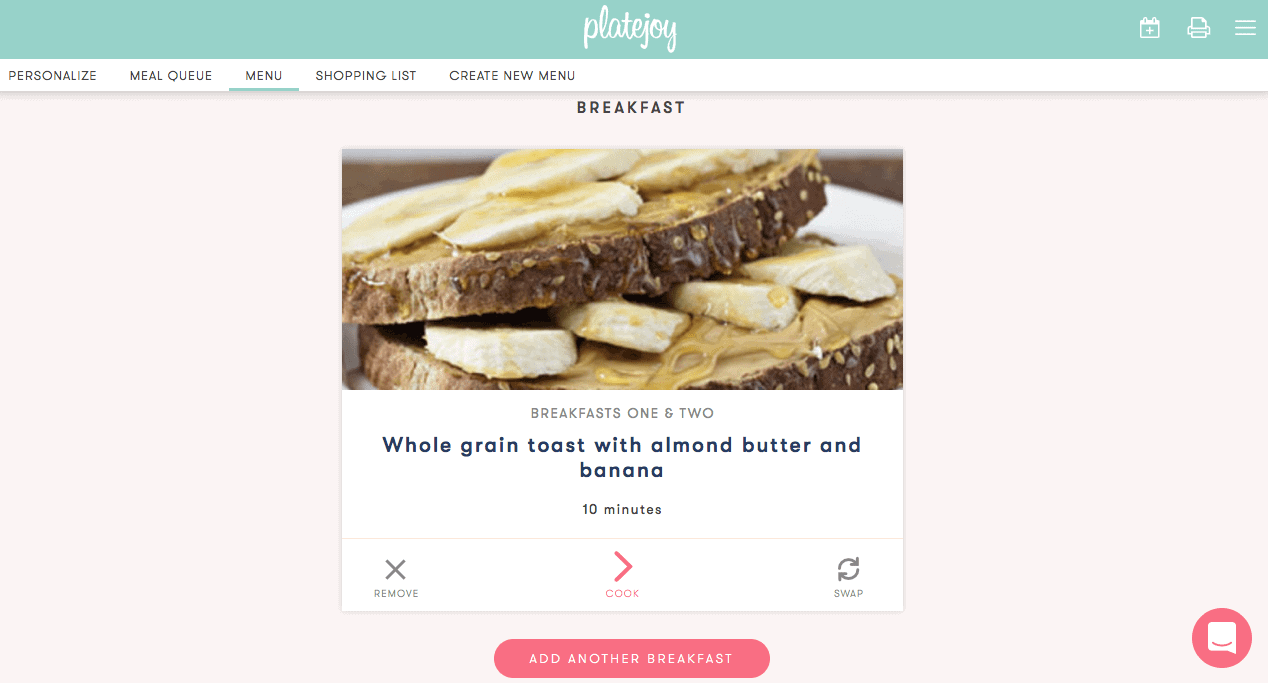 Once you have the meals you want, you select shopping list. You then select what you have and it will remove it from the list.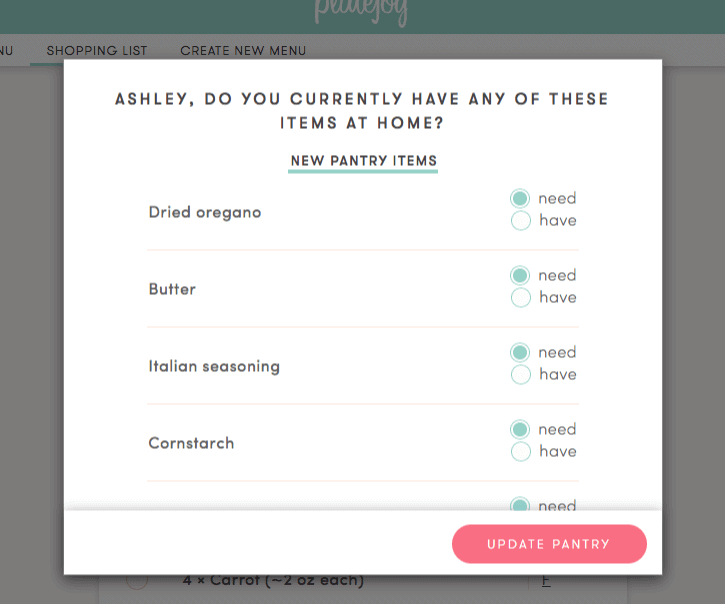 Then you click on update pantry. You can change or add to your shopping list. You can even add in ingredients that you need that aren't for any of the recipes.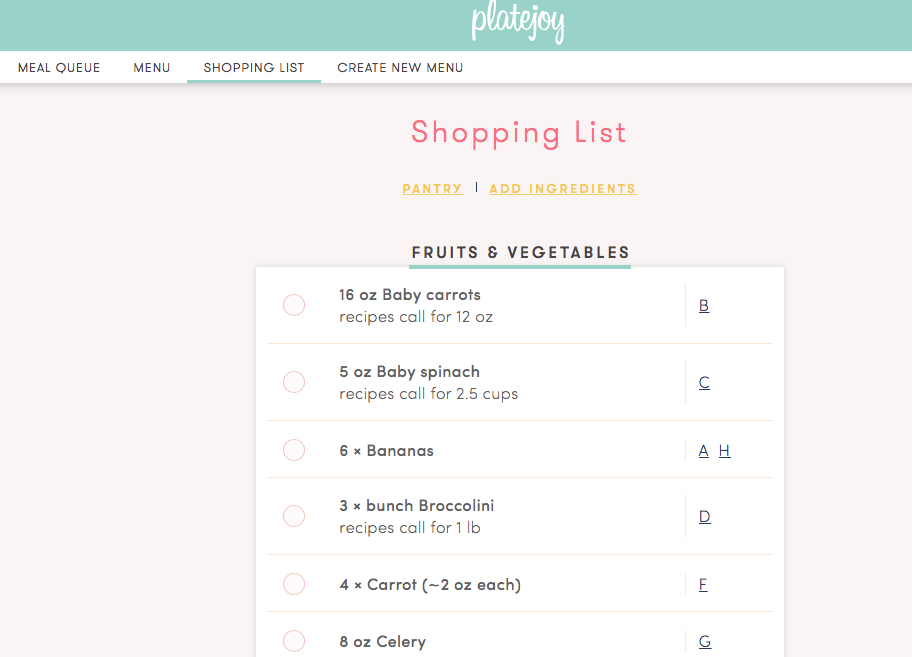 What I love about this is that you can click on the letter to the right and it will pull up which recipe needs that ingredient. So you don't have to guess later what you bought it for. I have to do this when doing my own meal planning so I am glad they make it that easy for you.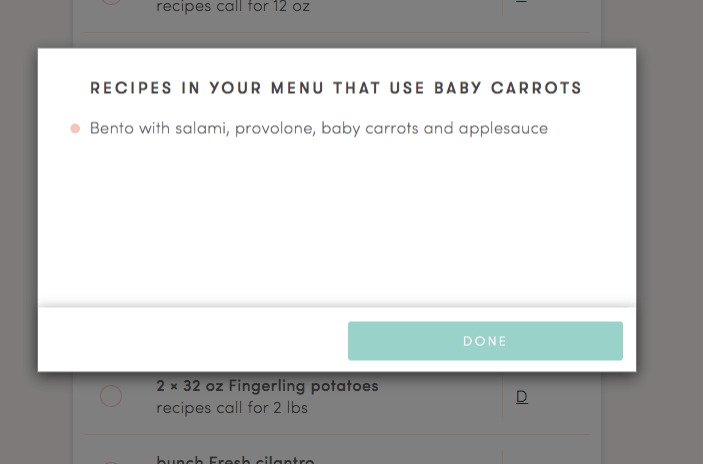 Then click the printer icon in the top right menu and print your shopping list!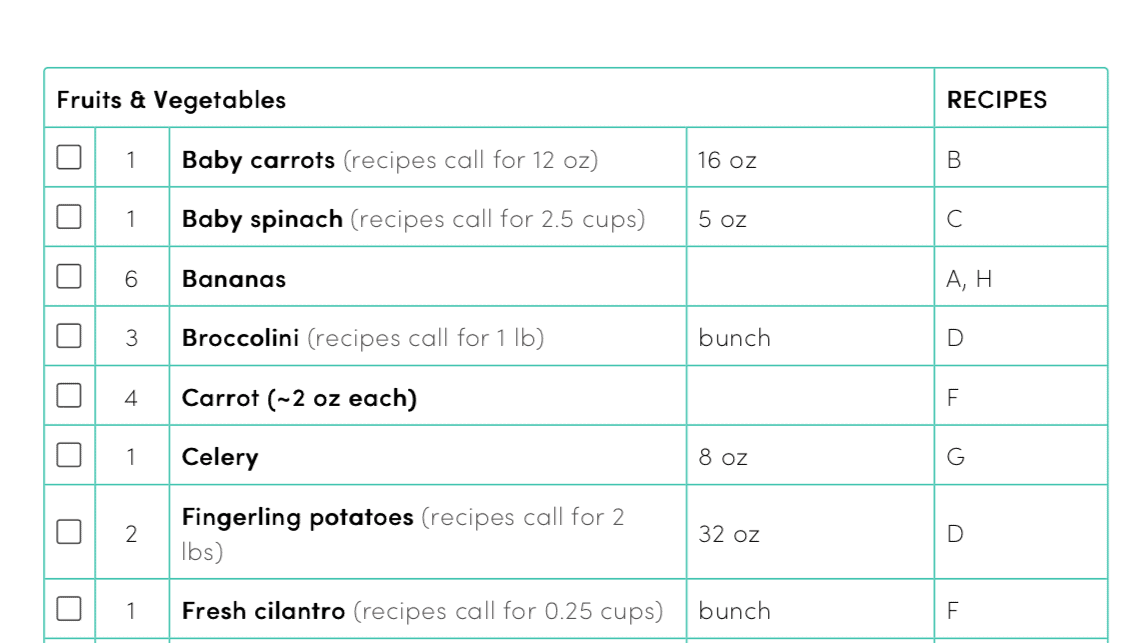 Then you simply go to the store and buy your ingredients! Or use Instacart and let someone else shop for you lol! It is that easy! The hardest part is answering all the questions to create your account.
Once that is done, it's quick and easy. You can change them depending on your needs for each meal plan but all your preferences are saved.
Don't forget to get your FREE 10 day trial here! Use my link and code BUDGETS10 and save $10!
You seriously can't beat the price for the amount of time it saves you! I can't tell you how much time I spend each week searching for recipes.
They also have a nutritional coach you can use! If you have diabetes, your insurance may even cover the cost.
What Platejoy provides…
I seriously can't believe all the stuff they offer on the basic plan at such a low price.
on demand personalized coaching
unlimited customized meal plans
full nutritional info on every meal
sync with your Fitbit
sync with your digital calendar
add your own personal recipes
video interviews with health experts
reduce planning time
reduce food waste
save time and money!
You can't afford to not try it! Take advantage of the free trial and see if it can save you time and money!
Pros of using Platejoy
There are a lot of pros to using Platejoy.
Some of them include:
Customized meal planning- it gives you recipes based on your unique needs and wants.
Meal plans for special diets- whether you have medical needs or want to lose weight, they have meal plans for almost everyone. They have meal plans for different lifestyles and can make your meal plan just for you.
Healthy meals- the meals are healthy and easy to make at a low cost.
It's simple to use- after you get your settings in, it's easy to either pick your own meals or let it auto-pick for you.
You save time and money- your time is limited and valuable. It saves you time while still saving you a ton of money on food.
It reduces food waste by using what you already have and leftovers.
Batch cooking- it helps you prepare meals ahead of time and/or freezer meals, which helps save time and money.
Food inspiration- it is great for new meal ideas when you are tired of eating the same meals over and over. You don't have to spend hours on Pinterest looking for new ideas then wondering where the recipe was when you go to make it.
Spend less at the grocery store- when you stick to the shopping list, you will spend less money. The average spent when using Platejoy, was around $50-$100 a week for a family of 3-4 for HEALTHY easy to make meals.
Cons of using Platejoy
There have been a few negative reviews when using Platejoy. I did not experience any of these which tells me, either their system has gotten better, or it is a rare occurrence.
repeated meals or ingredients too often- Platejoy is great about using up what you already have. This could mean that you may get burned out eating the same things repeatedly. The best way to combat this is to remove one meal for another. It's incredibly simple to remove a meal and add another.
The set up takes some time- it took a good 30 minutes to answer all the initial questions. Once it's done, you don't have to do that again. You can easily go in and change your settings as the need arises.
Some of the recipes are not detailed enough in regards to different cooking techniques. This could be hard for a brand new cook. You can easily figure it out with a Google or Youtube search but it's an extra step.
Another complaint I saw was the exact opposite, stating that for an advanced cook, a lot of the recipes were too simple. Which really tells us that you can't please everyone.
Not enough pictures of the recipe and/or during the cooking process. I am a seasoned cook and most of the time, I just look at the recipe. But if you are a new cook and need that extra guidance, this service doesn't currently offer that on every recipe. Some of the recipes don't even have a finished product picture. This can be very frustrating when you don't know what it should look like.
In conclusion…
Platejoy is incredibly easy to use. It makes it very easy to make a quick customized meal plan. Meal planning couldn't be easier. You get individualized service for pennies a day.
It's time to quit making excuses for why you can't meal plan. When you are busy working and running kids around all day and night, it can be hard to find the time and that's why you need Platejoy.
The food is good, healthy, and your whole family (even the kids) will eat it. It will save you money and time. It will help keep you from being tempted to get fast food or eat out when you are too busy to meal plan.
Don't forget to get your FREE 10 day trial here! Use my link and code BUDGETS10 and save $10!
Save it for later: