Saving money can be an uphill battle at times, and often can seem impossible. 
It can feel like something is always coming up that you didn't plan for and it screws up the whole month, and can even make you feel like you will never be able to catch up. 
Just be sure to remember, those "feelings" and if there is a will, there is a way!
If you can start saving, even little by little, you can take away that stress when something unexpected comes up.
This weekly and bi-weekly savings plan will help you save money a little at a time so you can have a little cushion for when the unexpected comes up.
I have created a plan for you that has a weekly savings plan and a bi-weekly savings plan.
That way you don't have to try to figure out the numbers by paychecks, after all, the more simplistic it is, the easier it can be. 
Get the FREE WEEKLY SAVINGS CHARTS here:
Why should I save money?
Saving for the unexpected puts a barrier between you and stress when an emergency happens.
Things will come up and that is part of life. The better you can prepare for them the less of an emergency they will be. They will then be an inconvenience instead of an emergency.
How many things that you can think of that were an emergency in your life but if you had the money for it would have just been an inconvenience?
Most things that we experience in life that we think of as emergencies are really not true emergencies.
True emergency examples are: car wrecks, your child breaks their arm, you get sick and end up with a hospital visit or even a  hospital stay, your car breaks down and it is your only way to work, your heating goes out in the middle of winter, and basically anything this is a must to take care of, not a want. 
There are other expenses some consider an emergency, and they just aren't.  
If you know you will have to replace something soon, start a sinking fund to save for the item, it's not an emergency if the item is on sale.  
My favorite and most comfortable recliner literally within the last week just broke.  It is not an emergency to run out and buy another. It started to give way about six months ago, so I began to save as my chair got more crooked and more saggy.
Sometimes it helps to think of the severity of the situation or "potential" situations as well.  Would it be nicer to have a roof that doesn't leak and continue to damage the house or a new recliner?
The majority of things should be planned for by saving.
Things will happen and you need to be prepared.
What are the benefits to saving weekly?
It can be helpful to set up saving like a bill and do it weekly. If you get paid bi-weekly, then make it per paycheck.
It's an easy way to save without it feeling like you're saving. Plan it like a bill and have it come out automatically so you don't even notice that the money is gone.
You can even make it automatic out of your paycheck at some employers.
I would highly suggest moving it to a different account and/or bank in order to keep yourself from "accidentally" spending it.
Saving weekly also helps keep the amounts smaller and you may not notice it as much.
In the Christmas savings plan, the amounts are $32 or $22 a week. That is one trip through a fast food joint for your family, or even a weeks worth of lattes at the local coffee shop.
What if I can't save money?
As the saying goes for nearly everything, "we all must start somewhere".
If you can't save the amounts listed, save what you can.
Comb through your budget and cut expenses where you can.  Do you really need a home phone line that you don't use? Do you need every channel under the sun?  
When was the last time you changed your services or shopped around for better deals?  It is always prudent to keep a check on ever changing bills.  
Don't worry, if you are not one that enjoys negotiating bills or even someone who doesn't have the time to sit on the phone for hours on end waiting to talk to someone about your cable bill, which likely can end up in frustration, time and time again, try a company like  Billcutterz. 
They will negotiate your bills for you and save on average 2-5 times more than you would have if you had negotiated on your own. 
Thats a win win situation, especially if I am saving more than I would have if I had sat on the phone for an hour myself. 
It's free to sign up and you only pay if they save you money! There's no risk and they save you tons of time and frustration.
You should also consider selling items you don't need and don't use.  If it is sitting around just because "I may use it one day," consider if it would be more useful to you and your family to sell it.
Not only would you be freeing up space, but you would be saving toward your goal! 
There are plenty of apps and sites out there that allow you to quickly list items that you wish to sell for free.
As a former law enforcement officer, I feel I must say to always take safety precautions if you are meeting people in person to sell items.
Meet during the daylight hours, meet at public locations, take someone with you if possible, and always let someone know where you will be going and when to expect you back. 
Selling online has become so popular, that several law enforcement agencies have begun to dedicate parking spaces under surveillance to meet.
What If I want to save more than this?
You could make your own savings chart. You can decide what you want to save in a year and divide it by 52 or 26 and that is what you would save either weekly or bi-weekly.
Or let's say you want to save $1000 with in 3 months. You need to save $333 a month or roughly $85 a week.
It's important to break your goals down into smaller chunks so it doesn't seem so overwhelming.
If you don't have any money saved and I tell you to save $1000 in 3 months, you may think I'm crazy.
But if I say to save $85 a week for three months, it may seem more doable.
Setting weekly goals helps us stay on track and motivated and more likely to reach our goals.
Weekly goals also make setbacks and inconveniences more manageable when you're thinking in terms of a week versus a month or year.  
Ways to save automatically
There are apps that will help you save automatically, like Acorn or Digit. 
Acorn automatically saves your change and invests it for you. 
A secure way to invest the change by rounding up on purchases.  The idea is that the amounts are so small you won't notice.
Acorn has grown so rapidly that they now offer not only investments, but also retirement savings as well as digital checking with savings and investments built in.
Digit saves toward whatever goals you set up and does it all for you. 
Digit is quite innovative in how it will save small amounts of money based off of your bills and spending habits and place it within a dedicated Digit account for you.
By setting aside small amounts into your Digit account, it is less noticeable that money is now saved for a dedicated purpose.  
Also, it is FDIC insured for up to 250,000, so you can rest easy knowing your funds are safe as they grow.  
You can also set up an automatic transfer with your bank in order to make it automatic. 
I would recommend using a seperate account to put the money in in order to actually save it. 
If the separate account is linked to your primary bank, you could also  transfer it to a different bank entirely so you are not tempted to spend it.
Another option to save automatically is direct deposit.  
Most employers have started using this method of paying employees, and there can be more perks versus just putting savings on auto pilot.
Direct deposit means less paper clutter but still having an electronic paper trail.  It is more secure since you can't lose your check and it can't be forged since it is an electronic transfer from bank to bank with no physical check.
Most of the time you get your paychecks faster, and to top it off, some banks offer discounts, incentives or free checking accounts when you sign up with direct deposit. 
If you currently use direct deposit, you probably remember how simple it was to sign up.  You basically need your bank name, routing number, and account number and type.
Sometimes employers ask for a voided check along with the authorization paperwork to make it simpler and to reduce the chance of errors.
With direct deposit, many payers allow you to split your money between different banks, and even dedicated amounts can go into savings accounts.
The money can be divided in several different ways.  It can be split by an actual monetary amount, a percentage, or the remaining amount/balance.
Less hassle in transferring your money within your own accounts equal greater savings potential. 
Weekly Savings Plan
This weekly savings plan is simple and starts out by saving slowly. It increase each week a little bit at a time. At the end of the year you will have $1378 saved which is a great start to having an emergency savings.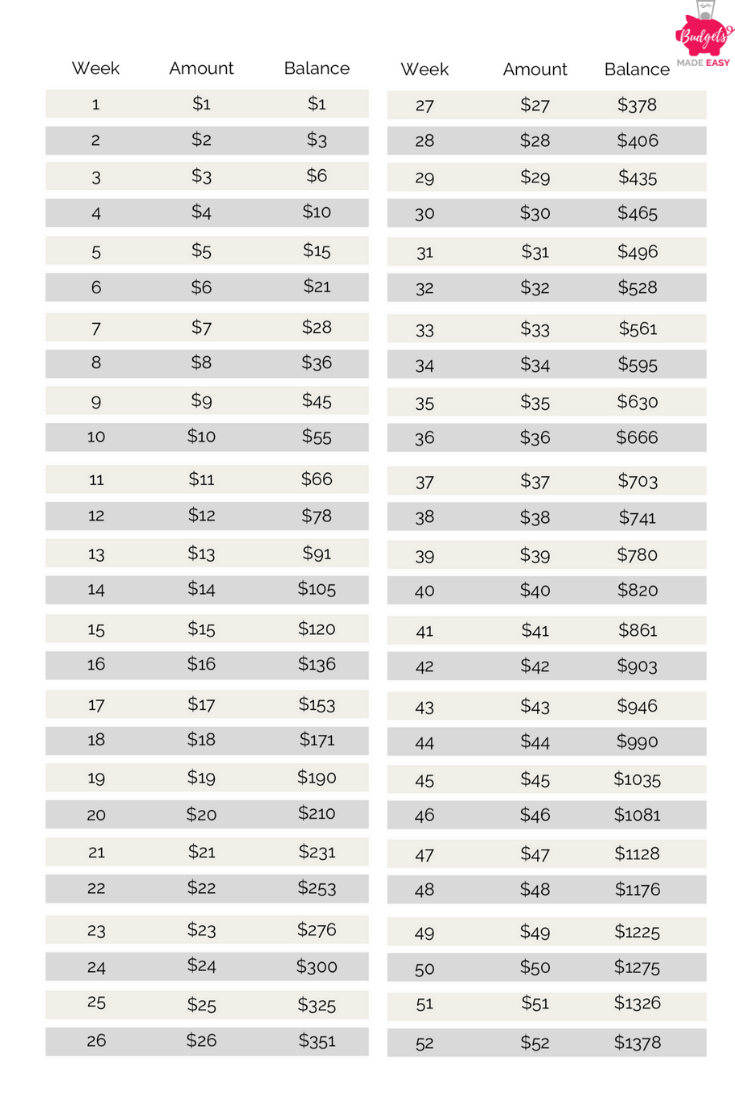 Bi-Weekly Savings Plan
This bi-weekly savings plan has the same end goal but is broken up by saving per paycheck if you get paid bi-weekly.


GET THE SAVINGS PLANS HERE FOR FREE!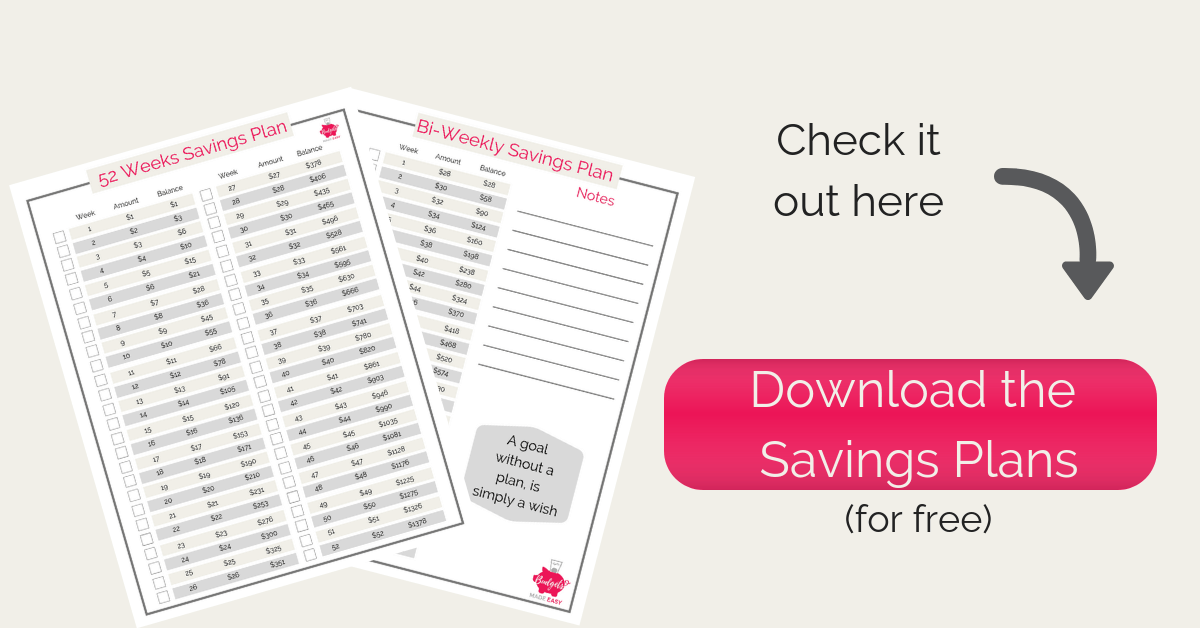 Weekly Savings Plan for Christmas!
So saving just to save isn't always enough of a motivator to get us to save. One way is to save for something specific, like Christmas.
Do you have a savings plan for Christmas?
Christmas comes at the same time every year. Don't let it sneak up on you next year.
It is easy to think that you will have money for it later but even saving a little each week adds up by the end of the year. If you do not have the funds to cash flow Christmas at once, you should start a sinking fund for it.
Decide now what you want to have saved next year to spend on Christmas. Let's say you want to have $1500 for Christmas. If you save $32 a week from the first of January until Thanksgiving, you will have $1500.
Depending on how many people you have to budget for, $1500 is a decent amount. It may be too much or not quite enough depending on your situation.This year our budget was very small because of several things that came up and I quit working to stay at home. Our normal budget is around $1000 but has been as high as $1200. This year we spent right at $800.
Weekly Savings Plan For Christmas to save $1500
Here is a savings plan to save $1500 by Black Friday for Christmas. This may be over your goal so I have included a plan for $1000 below. It is important to start planning now.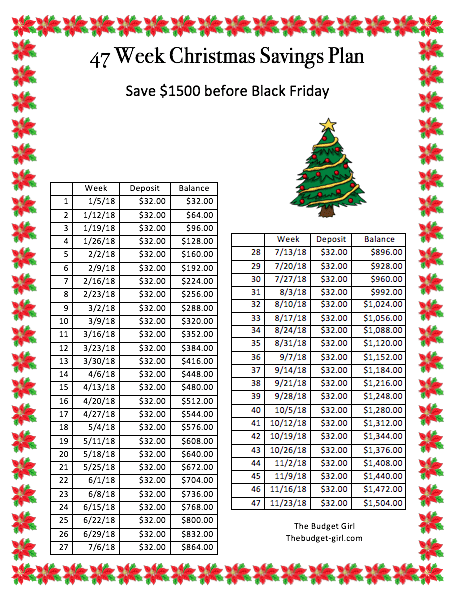 Bi-Weekly Savings Plan for Christmas to save $1500
I also created a chart for those of you that want to save per paycheck and get paid bi-weekly. With this plan you will have saved $1500 for Christmas by Black Friday.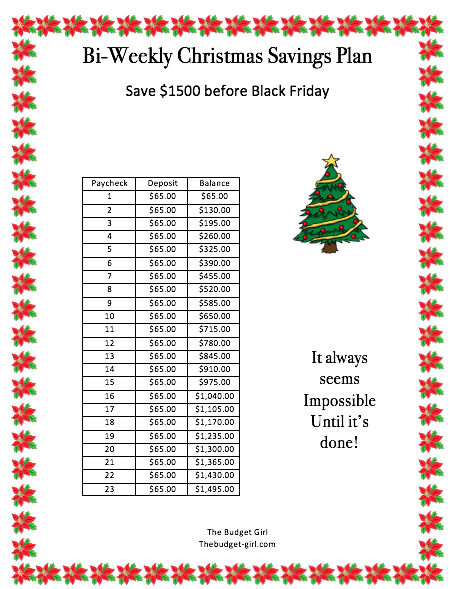 Weekly Savings Plan for Christmas to Save $1000
Now if you are only planning on saving $1000 for Christmas, you need to save $22 a week. This plan will let you save $1000 for Christmas by Black Friday.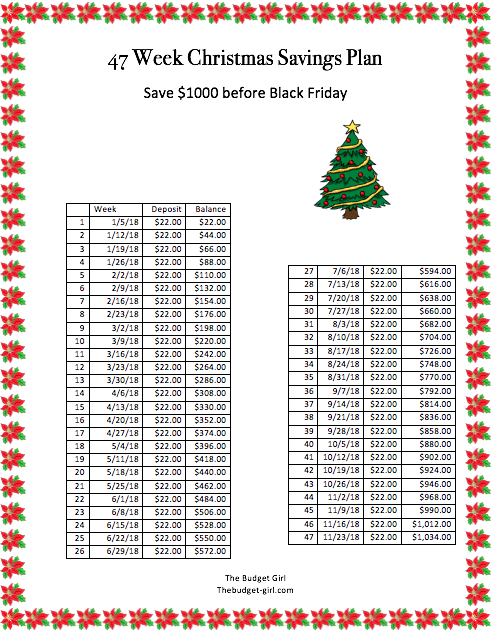 Bi-weekly Savings Plan For Christmas to Save $1000
Here is a $1000 bi-weekly plan to save for Christmas by Black Friday.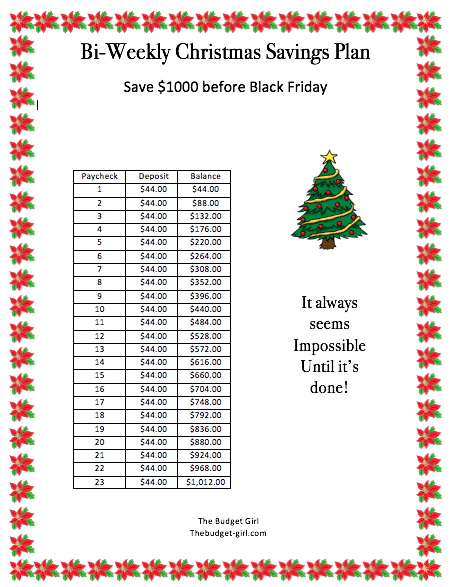 Frugal Holiday Shopping Tips
Now, I couldn't just tell you how to save all of that money and not give you some shopping advice.

If you like deals, you have the world at your fingertips. Enter the Internet, and it's wealth of information! 
Research, research, research!  After you know what items you are searching for, especially the more expensive ones, write them down. 

Search different retailers and write down the prices and the dates you found the prices.  Look through circulars and advertisements to find deals and coupons.
Make friends with Google and search for coupons for the specific retailers you plan on shopping with.  Search for the actual products as well and use the "shopping" tab to compare some of the prices as well.
If it is a popular product, don't be too jumpy to buy the item if you suddenly see it cheaper than usual before Black Friday or Cyber Monday.  
For some items, such as cellular phones that link up to a service provider, I take it a step further and search the internet for the previous years (by inserting the year, then product, etc) deals and incentives.
It isn't always certain that the deals will begin or end at a specific time, but generally speaking, history does tend to repeat itself.  
I've also noticed an increase in getting gift cards for provider type purchases during the Black Friday/Cyber Monday shopping extravaganza at certain retailers.
If you are a gift card giver, don't forget to check out what restaurants and retailers offer gift card purchases like "buy a $25.00 gift card and get a $10.00 gift card for free." 
Also be careful with the impulse buys that appear to be a great deal, especially if you are unfamiliar with the product.  
Ask when the sales will be over or check sites and advertisements for end dates to give yourself time to compare the product or price.  
If it is too much of a time crunch, consider passing up the deal.  If it is a must buy, be certain there is a solid fee free return policy.
Take note of each retailer's holiday return policy as well.  There is nothing more upsetting than finding the perfect gift early and it doesn't work on Christmas Day and it is too late to return it.
Summary
The important thing to remember is to have a plan and write it down!
You are a lot more likely to achieve your goal if it is written down. Start saving for Christmas now so that it doesn't sneak up on you next year!
Saving money doesn't have to be a chore. You can even set up ways to make it automatic so you don't have to even think about it!
Making a plan and then doing it, will help you lower your stress level and overwhelm when something unexpected pops up again.
Start saving money today with these simple tips.
OR PIN IT FOR LATER