Weekly Savings Plan for Christmas!
Do you have a savings plan for Christmas? Christmas comes at the same time every year. Don't let it sneak up on you next year. It is easy to think that you will have money for it later but even saving a little each week adds up by the end of the year. If you do not have the funds to cash flow Christmas at once, you should start a sinking fund for it.
Decide now what you want to have saved next year to spend on Christmas. Let's say you want to have $1500 for Christmas. If you save $32 a week from the first of January until Thanksgiving, you will have $1500. Depending on how many people you have to budget for, $1500 is a decent amount. It maybe too much or not quite enough depending on your situation.
This year our budget was very small because of several things that came up and I quit working to stay at home. Our normal budget is around $1000 but has been as high as $1200. This year we spent right at $800.
Get them all here:
Weekly Savings Plan For Christmas to save $1500
Here is a savings plan to save $1500 by Black Friday for Christmas. This may be over your goal so I have included a plan for $1000 below. It is important to start planning now.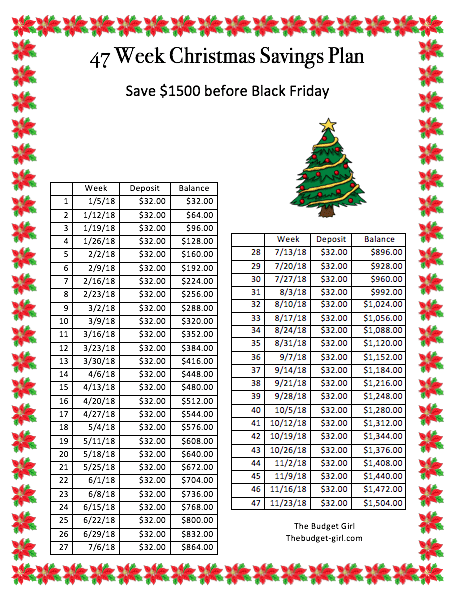 Bi-Weekly Savings Plan for Christmas to save $1500
I also created a chart for those of you that want to save per paycheck and get paid bi-weekly.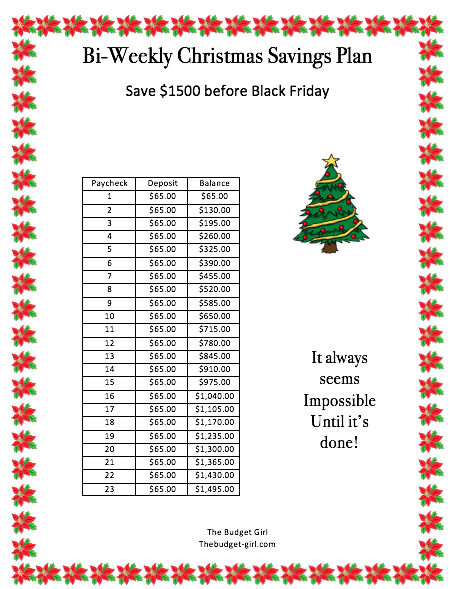 Weekly Savings Plan for Christmas to Save $1000
Now if you are only planning on saving $1000 for Christmas, you need to save $22 a week.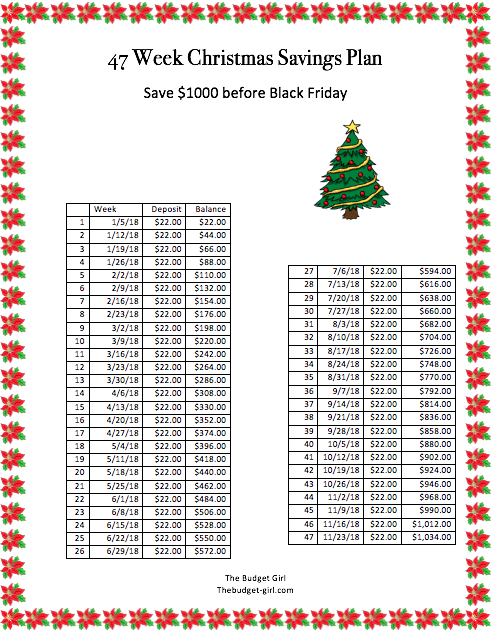 Bi-weekly Savings Plan For Christmas to Save $1000
Here is a $1000 bi-weekly plan to save for Christmas by Black Friday.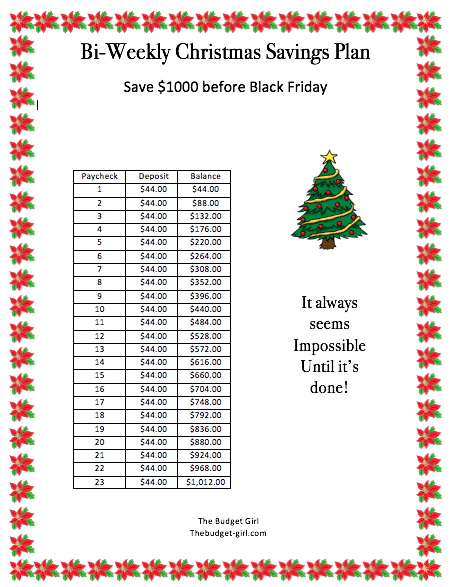 The important thing to remember is to have a plan and write it down! You are a lot more likely to achieve your goal if it is written down. Start saving for Christmas now so that it doesn't sneak up on you next year!
To get the images sign up here:
If you love these FREE printables, please them share on Pinterest!!
Let me know what you think on Facebook.
Save it for later: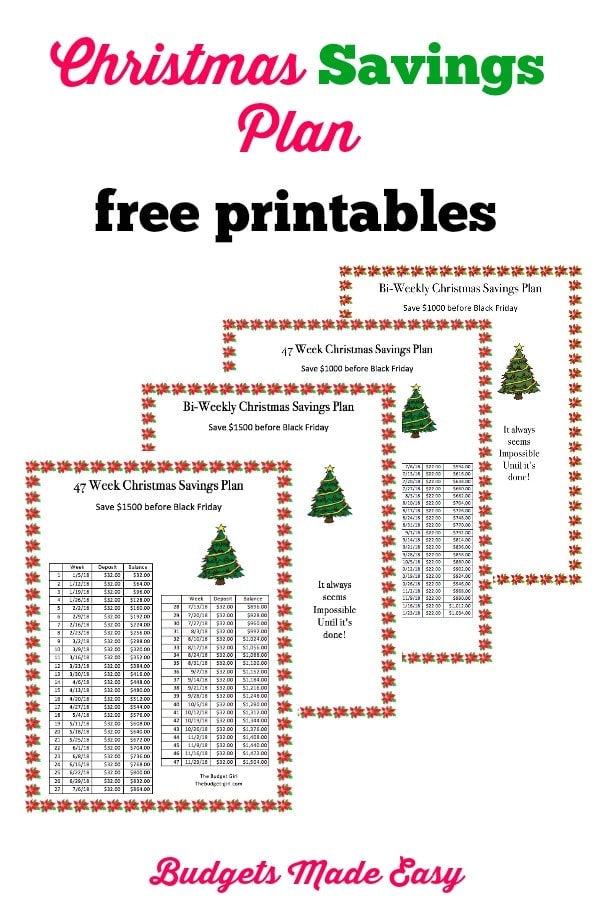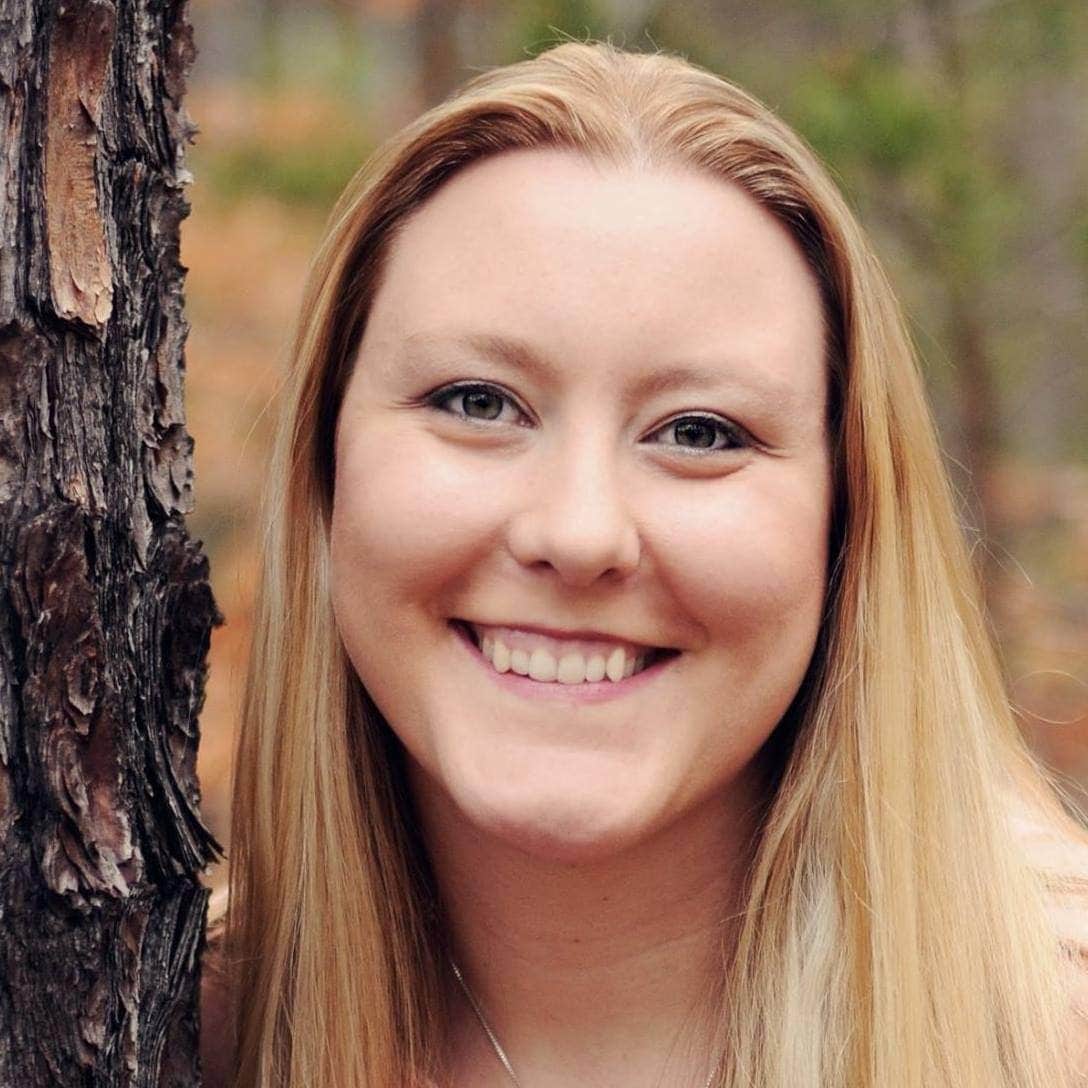 Hi, I am Ashley and I am here to teach you how to budget, save money, and pay off debt with simple and easy to implement tips. I was able to pay off $45,000 in 17 months including $25,000 in student loans in just 10 months. I am now a Ramsey Solutions Master Financial Coach and help people like you manage their budgets so they can live the life they want. I also have a degree in psychology and help you get to the root of your money problems. I have also written two ebooks to help save you money and how to budget for beginners.