Do you hope and dream of quick meals that will save you time and money? Meal planning and cooking at home is a great way to save money. We save over $600 by meal planning and not eating out.
Meal planning is great but execution of the plan is even better. Do you plan your meals but then run out of time to make them?
You forget to put something in the slow cooker before work.
You have too many things to do after work and just end up getting fast food.
An Instant Pot may sound like the answer to all your problems. People claim you can make a meal in under 10 minutes. It can cook faster than running through the drive thru. It's quicker and easier to prepare and clean up the meal.
Have you been thinking about buying an Instant Pot but are your scared you are going to blow your house up? I certainly was but I was very intrigued by the Instant Pot. I hoped it would save me time and money. As long as it didn't explode in my kitchen anyway.
I wanted an Instant Pot for months before I got one. I kept seeing people on my Facebook feed talking about how quickly it cooked everything under the sun. It was the new craze and I was getting sucked into the hype.
I love my slow cooker so I didn't really feel like I needed an Instant Pot. I really didn't see how it was going to save me that much time anyway. Plus I was deathly afraid the thing would blow up my kitchen. I remember hearing horror stories of pressure cookers exploding. I certainly didn't need that happening. Thankfully, the new pressure cookers have lots of safety features so it's not likely to blow up, even if you make a mistake.
This is my Instant Pot review plus a few tips & tricks and my favorite recipes.
So, after forgetting to set out dinner or start dinner in advance numerous times, I decided it was worth a shot to try one. My mom was generous enough to buy me the 8qt 7-in-1 multi use Instant Pot as a gift. They do make smaller ones but why not get the bigger one just in case?:)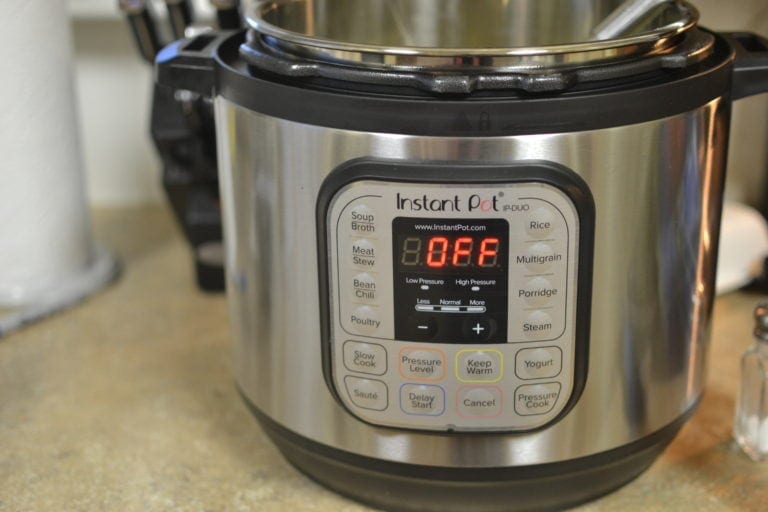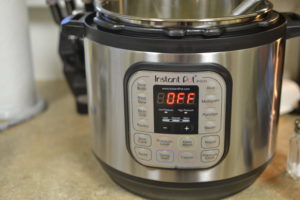 Well, I got my Instant Pot in the mail and I was so dang excited to get started using it. I read the directions over and over. All of the receipts state that things that normally take an hour to cook, took about 10 mins or less! This made me so skeptical. So, I decided to do a roast as the first meal. Not really sure why I decided to do such an expensive meal as the first one but luckily it worked out!
I read the safety directions over and over. I was so nervous about using this thing! But guess what…it didn't blow up! They have so many safety features now that it is very unlikely to blow up in your face. That doesn't mean I wasn't very careful but they are pretty safe now. It seems pretty idiot proof. There are numerous safety features just in case you have a lapse in judgement. It won't even let you unlock the lid when it's pressurized.
As my first meal, I made the roast the same way I do in the Dutch oven. I used the Pioneer Woman's recipe but without the wine. I also add more beef broth than her recipe states. This is one of my favorite recipes but it is a little expensive so I don't make it that often.
The recipe calls for browning the onion, carrots, and roast before putting it in the oven to slow cook. I was able to do that with the Instant Pot. I sautéed the items then put the rest of the ingredients in and closed the lid. I read and reread the safety directions, said a prayer, and closed the lid.
It cooked without a hitch. The roast which normally takes about 3 hours+ to cook, cooked in about 1.5 hrs. It's possible it was done before that but I wanted to make sure if was done. After we ate dinner, I decided to use it to make some beef broth. I have never actually made broth before but it seemed easy enough with the Instant Pot. I did screw the broth up on the first batch because I didn't think to add a bunch more water to it. It still worked and was really good but it congealed once it was in the fridge. We still used it and watered it down in the next meal.
I've been informed that I didn't actual screw up the broth and that it's better congealed! I've learned something new. 🙂
Some things I learned after my first use:
It is very easy to use.
It's not as scary to use as I thought.
The lid is little bit of a pain to clean but better than multiple pots and pans.
You can't taste it as you cook.
It takes too long to pressurize and depressurize. If the food isn't done once it finally depressurizes, you have to start the whole process over again.
It takes more time to cook than the recipes say. This is because the cooking time doesn't include the pressurizing and depressurizing. This basically doubles the cooking time on meals with recipes with a shorter cooking time.
It's huge and doesn't fit in any cabinets.
I have used it several more times now and there are some things I love and hate about it. It does save time for certain things. Some things it does not save any time and is more work than it's worth. It just depends on what you are cooking.
I cooked a whole chicken in it and it was so easy and fast compared to the oven. I then made 3 quarts of chicken broth and was able to freeze it. I learned to add a bunch of water when I did chicken broth after making the beef broth. If you want to add a lot of flavor to meals (especially rice or stuffing) add in chicken broth instead of water. I do this a lot and it gives the dish so much more flavor.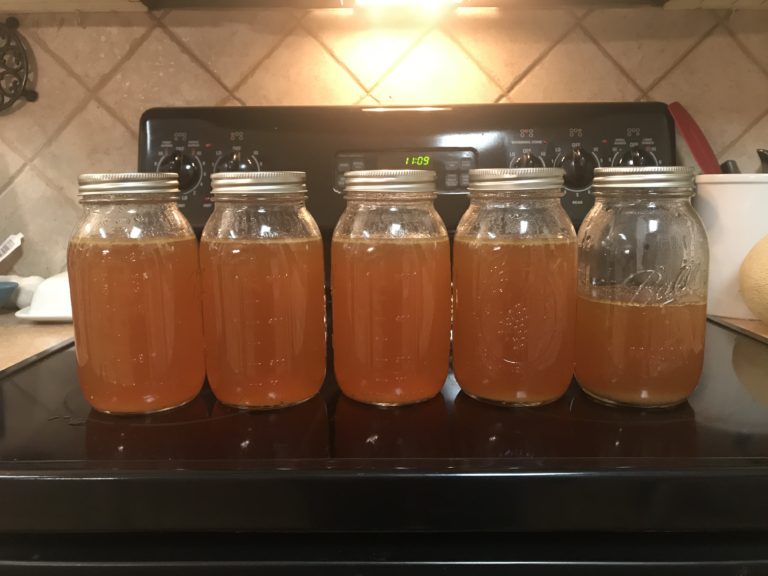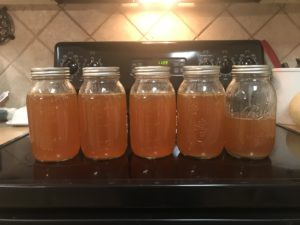 It does save time when you are cooking something that normally takes over 30 mins or longer. Even though most of the guidelines say that it takes 4 minutes to cook, it is still not faster. It doesn't include the pressurizing and depressurizing in that cook time. Unless I am completely missing something. Please let me know if I am doing it wrong lol I would love to cut the time down more!
One thing I have made several times is mashed potatoes. We eat mashed potatoes several times a week. I love that I can save time by cooking them whole and throwing them in there. I still haven't quite mastered the timing of certain items. I just can't seem to trust that it will only take 4 minutes to cook beans or potatoes. I did have to add a few minutes to the timer for the larger whole potatoes.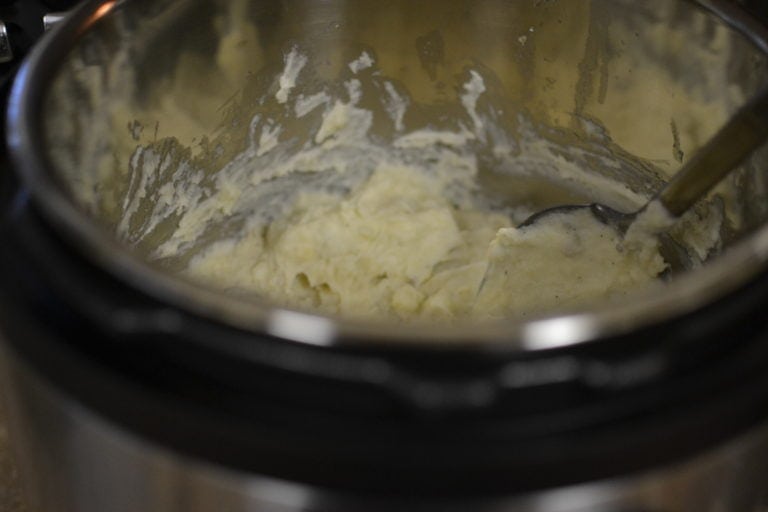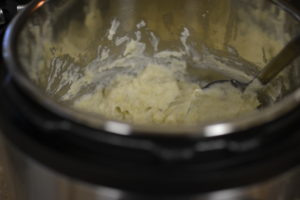 I usually add a minute or more just to make sure. It's hard because by the time it heats up and then depressurizes there is no way to know if it's cooked all the way or not. That is one thing I really don't like. At least with a slow cooker, you can check it along the way and can taste it.
Ways to Save Time and Money with an Instant Pot
Once you get the Instant Pot figured out, there are many ways you can save money by using it. I saved about $20 by making broth after cooking the roast and whole chicken. I plan to do this in the future with other meals. I use broth a lot in other meals so this is very helpful.
It was so easy because as I was cleaning up dinner, I threw more water and seasoning in and set it to broth. It was ready in about 30 minutes. It was so much faster than making it on the stove or the slow cooker.
I am really excited about making yogurt in the Instant Pot. I haven't had time to do it yet but I am looking forward to making it. Yogurt is a little trickier to make because it has to be a certain temperature. I will let you know when I finally make it and see if it really saves time and money. My kids love yogurt and eat a ton of it every day. So, I should be able to save money by making it.
Is it worth the price?
The 8 qt Instant Pot is $139.99 right now on Amazon. There are cheaper ones that are smaller. If you meal plan and use it for all the functions that it has, it is worth it. If it is one of the many kitchen gadgets you bought and never used, then no, it is not worth the price.
However, if you use it to make broth, yogurt, rice, and beans, and all the other functions it has, you could save some money. Yogurt is not cheap and that function alone could potentially save our family quite a bit once I figure it out. It really comes down to convenience and if it will keep you from eating out. Will this help you stick to your meal plan? It is so much harder to justify eating out when you have food at home and you can cook it fast.
This will definitely make it hard to make excuses or justify eating out. If you are a busy mom with a million places to run every night, this would be helpful. You can use it as a slow cooker while you are at work. Or you can cook a meal in under 30 minutes before you run to the next kid activity.
When you are a working mother, you don't always have time to prep dinner or throw it in a slow cooker before work. An Instant Pot helps you make a delicious dinner fast. If that keeps you from eating out then it is worth it.
Pros and Cons
There are several pros and cons when using the Instant Pot. I will say that overall the pros outweigh the cons.
Some of the pros include:
faster cook times for most items
make a nutritious good tasting meal in under 30 minutes
one pot clean up
less cooking mess
multiple functions and settings
multiple appliances in one
Dishwasher safe
It has numerous safety features
Some of the cons include:
the rubber seal holds smells even after removing and cleaning
have to remove the seal and steam cap when cleaning
if you don't get enough liquid inside it, it will burn
when sautéing there is only one temperature level
you can't taste or check for doneness until it depressurizes
some of the cooking time takes longer than the recipe states
It's huge and it's hard to store it
Tips & Tricks
So, I've used the Instant Pot for a couple of months now and I am figuring out ways to make it easier to use. There are a few things to know and remember when using it. I am still reading the owner's manual every time I use it. I like to make sure that I'm not forgetting anything. But I have discovered a few things that are useful for you when using one.
A few tips and tricks include:
Add plenty of liquid to the recipe. I had issues with recipes burning and not pressurizing. I was getting so mad and then I realized that it was because there wasn't enough liquid in the pot. It needs liquid to make the steam and to cook. I was using recipes that weren't for a pressure cookers so I had to come up with a solution. It works great now when I just add more liquid to it.
If it's burning ADD LIQUID.
Add extra time to the timer. If the recipe says it takes 4 minutes to cook, you need time for it to pressurize and depressurize. In reality it will take about 15 minutes from start to finish. I typically add an extra 10 minutes to the timer. I haven't had anything cook as fast as the recipe says.
Buy an extra seal ring because the seal holds in the smells from the food. This could affect the taste of certain foods.
Do not use the delay cooking feature. If you have food sitting in the pot at room temperature for too long, you could be at risk for food borne illness. It is better to cook the food and use the warming feature afterwards.
Be careful using recipes with milk as it could burn and scald.
The timer doesn't start until it pressurized. So, if you are wondering if it is pressurized yet, you will know when the timer starts.
If it isn't pressurizing, check the steam valve and make sure it's closed.
Make sure to take the metal cap and seal ring off the lid to clean it.
You can use frozen meat, it will just add to the cooking time.
Some of my favorite recipes:
As I stated above, I love making mashed potatoes, broth, and dishes that used to take 3 hours to cook. You can also try conventional recipes in the pressure cooker and play around with the liquid amounts. Just remember if it's burning add more liquid. Here are some other recipes that your whole family would love that are specifically for the Instant Pot. So, there's no guessing on what adjustments to make to it.
Mac n Cheese:
My family loves Mac and cheese! This recipe makes it fast and easy to make it homemade. You can check out this recipe from Build Your Bite to make yummy Mac and Cheese in the Instant Pot.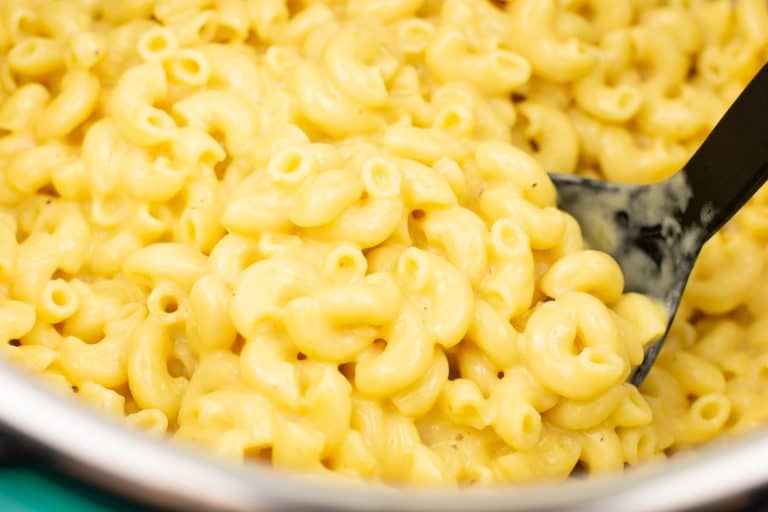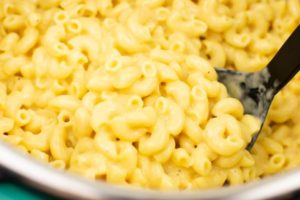 Beef Stew:
Beef stew is a classic and can take a long time to cook on the stove. This recipe from Desert Chica will cut your cooking time in half! You can easily customize this recipe to your tastes. PS..I love putting beef stew on top of Stove Top stuffing. Yes, that's the only brand I like and I add chicken broth instead of water to it. The stuffing absorbs the beef soup and it's amazing! My friends loved it that way and most people have never thought to try that.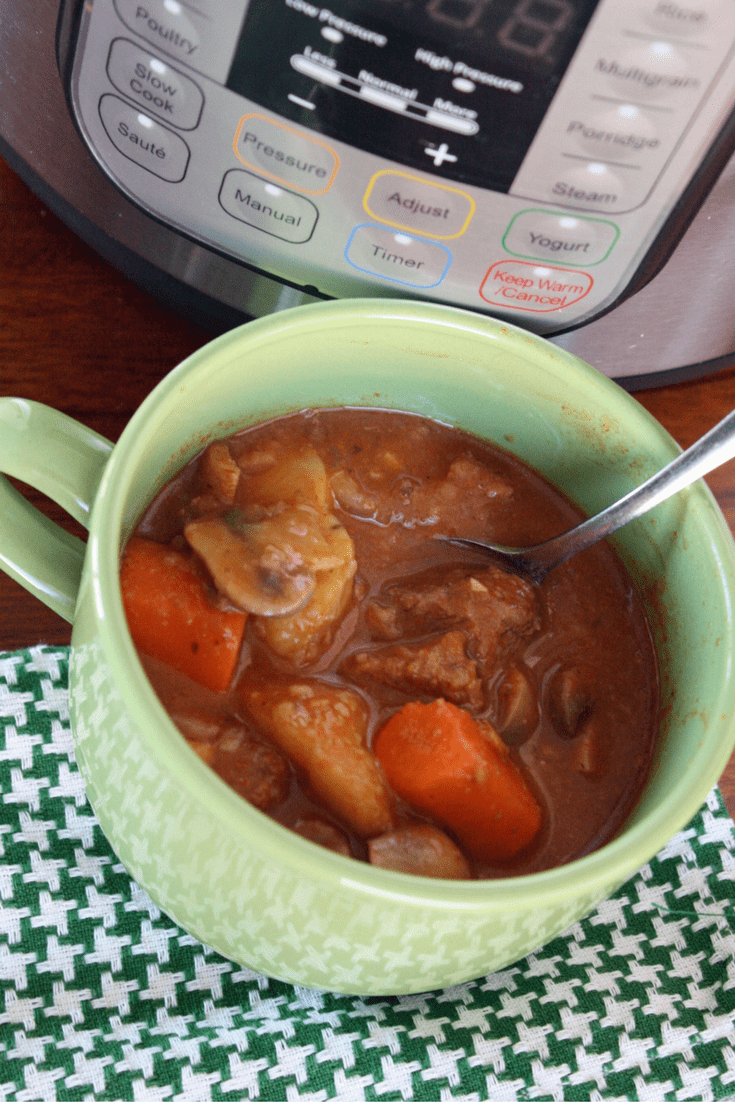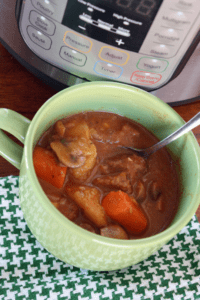 Pulled Pork:
Who doesn't love some BBQ pulled pork? It can take hours and hours to cook. This is one meal that is definitely quicker and easier to make in the Instant Pot. You can save so much time and still have that BBQ flavor. This recipe from I'd Rather Be A Chef is delicious! You can easily make a big thing of it and freeze the leftovers for later.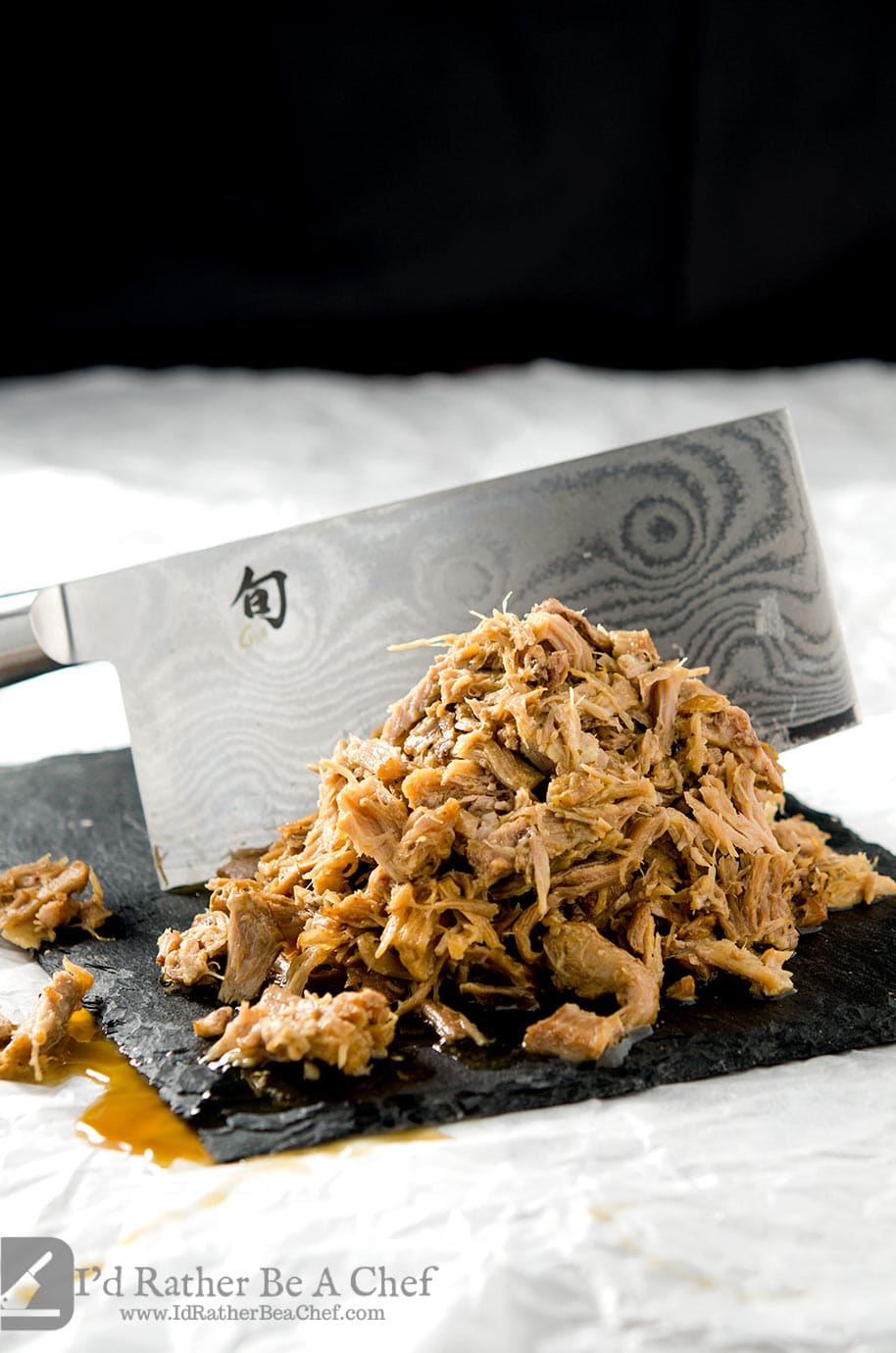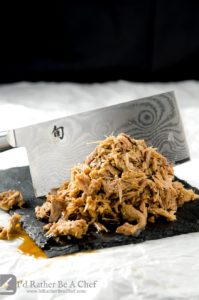 Chicken and Rice:
This meal is filling and flavorful. It's a cheap budget friendly meal yet nutritious. Here is an easy recipe from Kristine's Kitchen Blog. This is a great beginners recipe for the Instant Pot.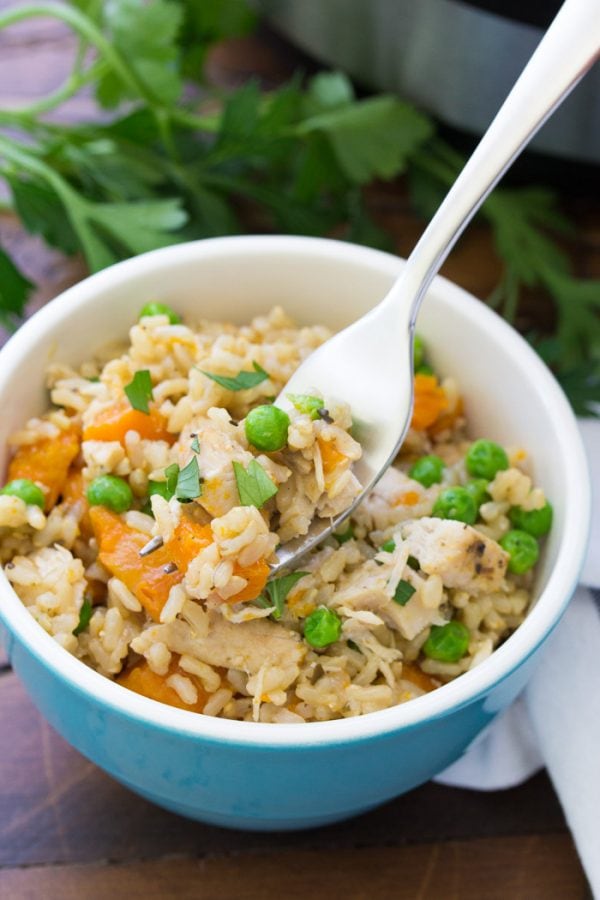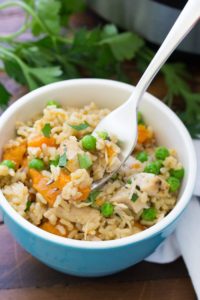 Chicken Tacos:
We have chicken tacos once a week. My family LOVES tacos. This recipe is great for a quick taco meal that is full of flavor. This recipe from Oh Sweet Mercy only takes 30 minutes!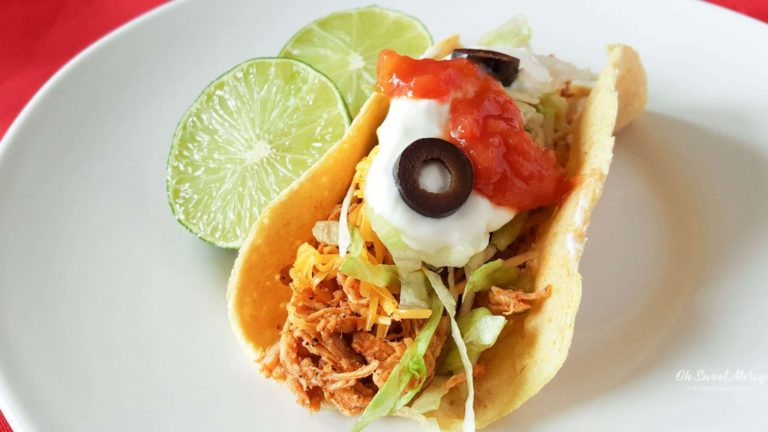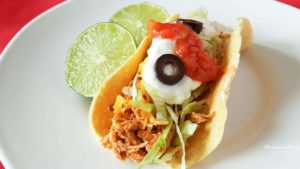 Final Thoughts
I like my Instant Pot and I think it is worth it for a busy family. I think that if you don't need to save time then it's not necessarily worth it for you. The biggest thing that it has going for it is that it saves cooking time. It will make your life easier and save you time and money.
It will help you stick to your meal plan, batch cook, and prepare quick freezer meals. It limits your excuses for not cooking. Even if you are a busy family with a lot of activities through the week. This will help you make a quick healthy meal for your family around your busy schedule. There really are no excuses if you buy this. So, if you aren't ready to deal with that then, maybe this isn't for you haha! Just kidding, kind of lol! Ok seriously, if you want to meal plan and still have quick easy dinners, then you need a pressure cooker.
Also, if you do not already have a slow cooker, then it's a great buy. If you do already have a slow cooker then you will need to decide if it's worth it to you. You could sell your slow cooker or give it away but you don't really "need" both. However, it might still be nice to have both especially when cooking multiple things at once.
This pressure cooker has a ton of features and a lot more versatile than a slow cooker. If you are trying to decide between this and a slow cooker, get the Instant Pot.
It has way too many features to pass up. There really is no comparison and this has a slow cooker feature so, you don't have to have both.
This has a ton of safety features and it isn't your mom's pressure cooker. It won't (shouldn't*:)) blow up in your house. Read the safety precautions and follow them of course. But it's not as big of a deal as the old style pressure cookers that did blow up.
The number #1 reason to not buy an Instant Pot is if you have plenty of time to cook and meal prep already. This tool is designed to save time and if that isn't a concern for you, then you really don't need it. It may still be handy and that's okay too.
The Instant Pot is a versatile kitchen gadget for any home, especially ones with busy families.
Check it out here on Amazon: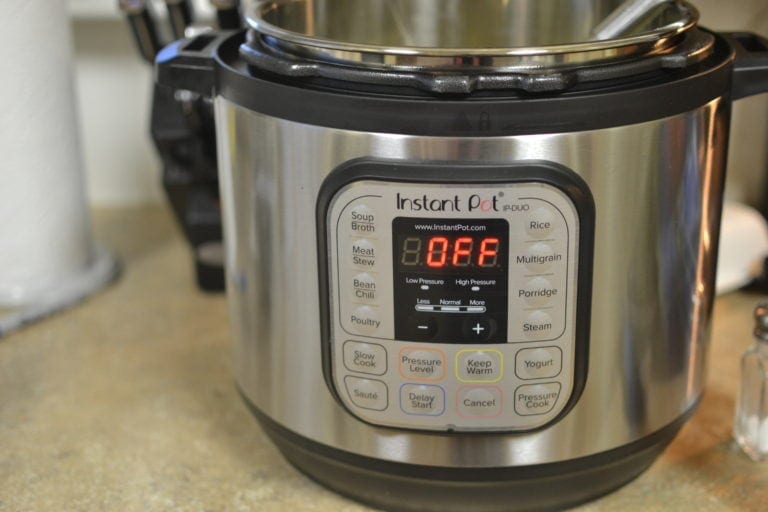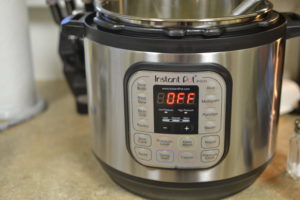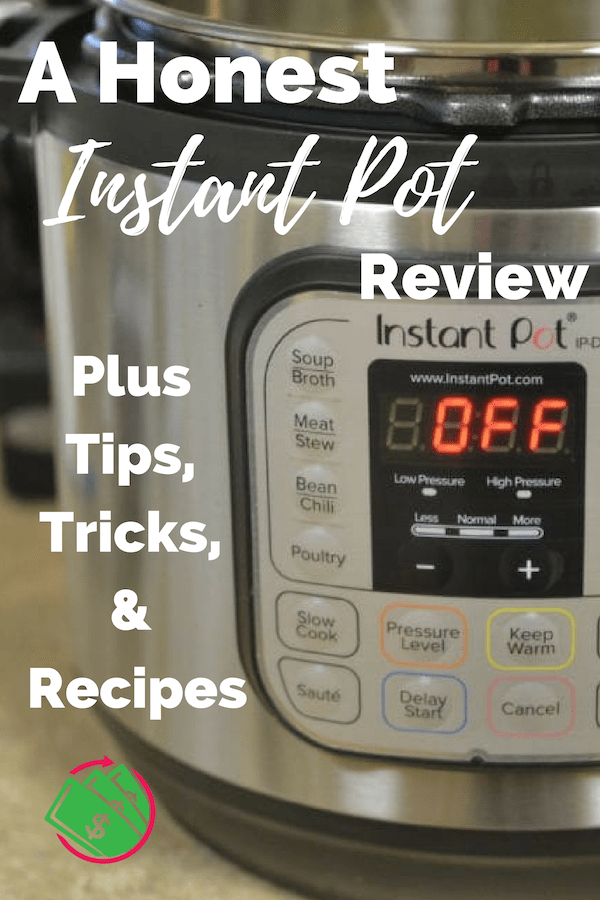 Get your FREE meal planning sheet
Learn how I save $600 a month!