Having A Great Christmas on a Tight Budget
Are you struggling to provide your family and kids with the hottest toys this Christmas? Do you feel like you are failing as a parent because your kids aren't getting everything on their wish list? Please know that you are not alone.
Many families are struggling this Christmas. Some families can't afford to buy anything for their kids this year. Some have less to spend this year than years in the past. However, you can still have a great Christmas on a tight budget.
This year is the tightest budget we have had for Christmas. The two oldest kids are getting 3 presents each and candy in their stockings. The baby isn't getting anything from us. We have also spent considerably less on family members and are not buying for some people we usually buy for.
I want you to remember that Christmas is not about presents. It's not about buying a bunch of stuff you can't afford and then stressing about how to make the payments in January. You do not have to go into debt to show your family that you love them.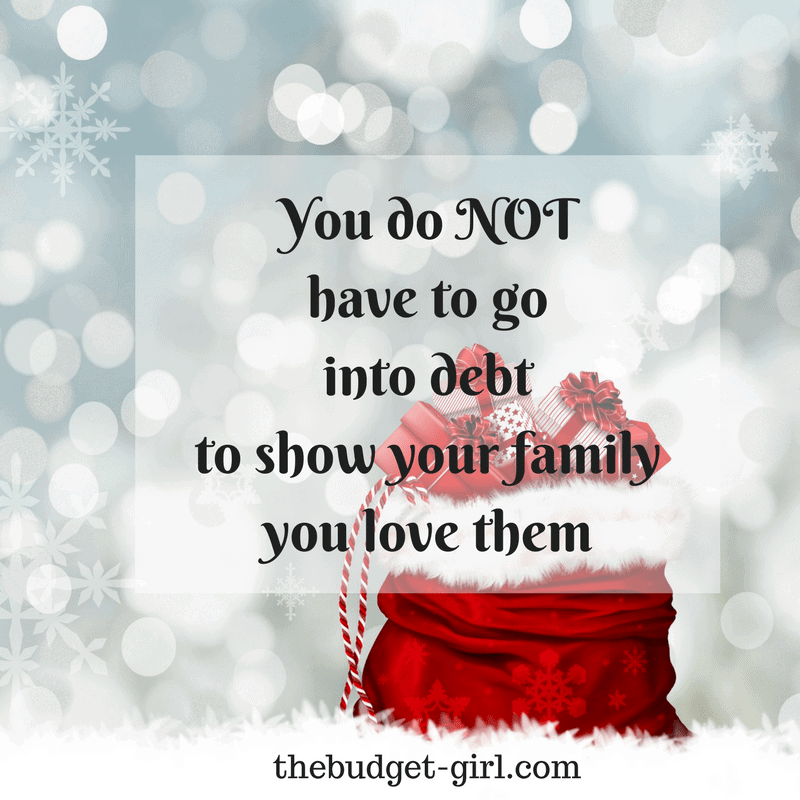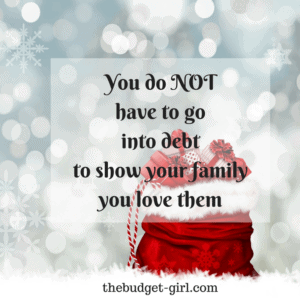 Setting a budget
The most important thing for anyone to do for Christmas regardless of how large or small their budget is, is to set one. I set one for Christmas as a whole then each person. You have to keep track of your spending or you will quite a surprise come January.
If money is very tight this year, explain that to the kids. Let them know that they may only get a few gifts. I have heard stories of parents leaving a letter from Santa saying they didn't get any toys because there were other children that needed them more and he saw how blessed they were already. Or something to that effect, I don't remember the exact wording but it was sweet.
For help creating a budget:
How to Make a Budget and Stick to It!
How to Budget When There Isn't Enough Money To Go Around
Start New Traditions
If money is tight, it would be a good time to start some new traditions with your family. Make Christmas about family instead of gifts. This is a good opportunity to teach children that it is better to give than receive. Maybe take them to a local outreach program to volunteer. You could research traditions in other countries and try them out.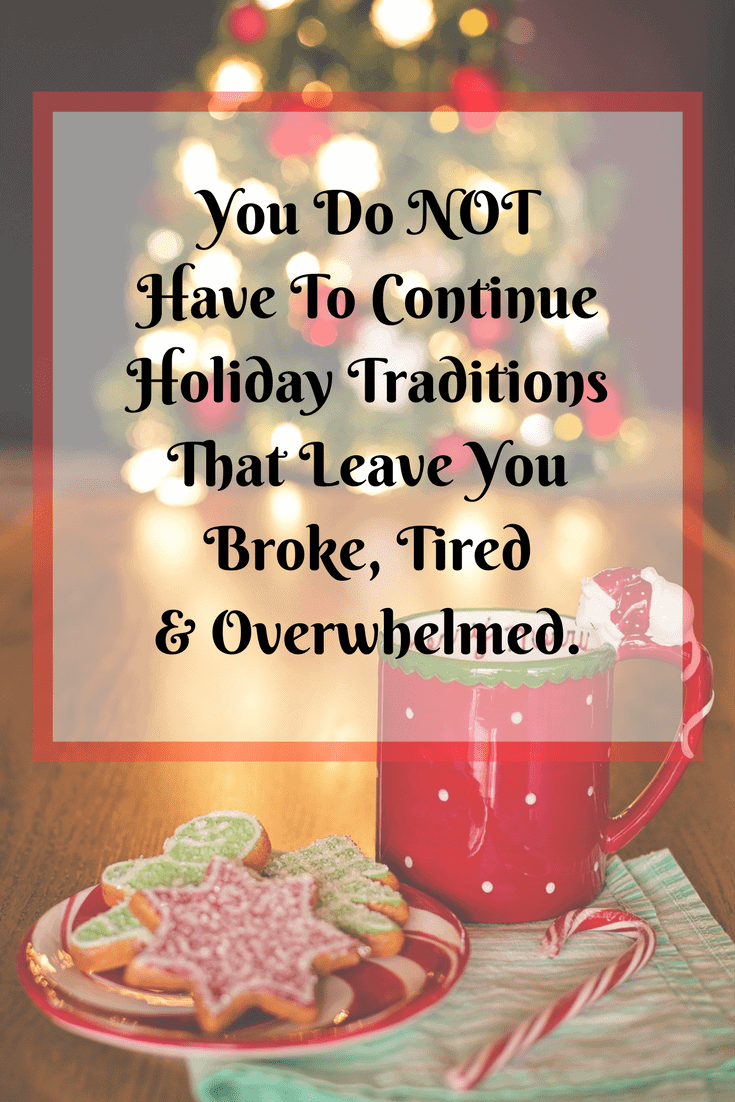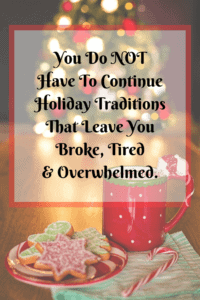 We started a new traditions this year of wrapping books and opening one every night. The great thing about this is that I had the kids wrap books they already had! They have completely loved it. Now when they start bugging me to open something, I let them open a book. It didn't cost me anything and the kids enjoyed wrapping them and opening them.
You can also give your kids your undivided attention. Put your phone down, actually turn it off, and spend time with them. Play a board game with them, play with toys they already have, watch Christmas movies or something that will make them feel like they are the most important thing in the world to you at that moment. You can get some card games very cheap. You could leave a note from Santa saying something to the effect that he wanted you to spend more quality time together, so here is a game to play. It doesn't even have to be a game that costs money. You could do a scavenger hunt, or print something free to do on Pinterest.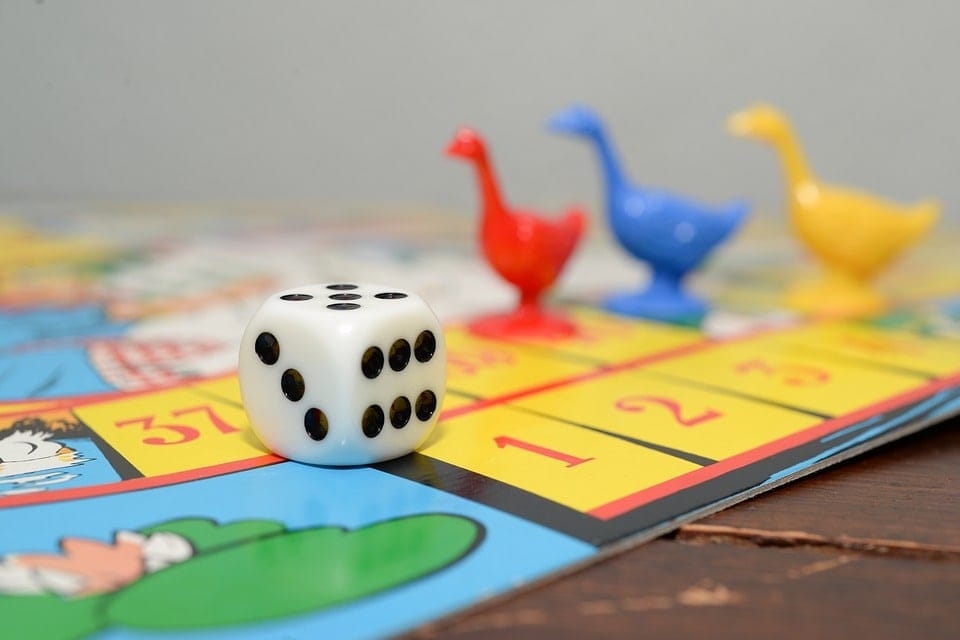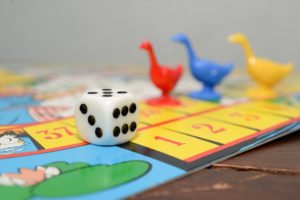 I realize this is going to be a lot harder for the older kids, especially with social media. It is important to explain to older kids the situation. Explain to them that this year you can't afford much. I bet when they look back on it in the future, they will appreciate spending time with you more than any gift.
Give Experiences instead of presents
This is something that we are embracing this year. The kids are getting memberships to the local zoo and kids Discovery Place from their grandparents. Of course this doesn't have to even be anything that costs money.
You could plan a day trip to someplace local like the beach or mountains. This will obviously depend on where you live and the weather. I have been to the beach when it was really cold and it was still nice.
Kids will remember trips or experiences more than a bunch of toys. You can also look for great local deals on Groupon. Groupon usually has hotel deals, excursion deals, coupons, and local amenity deals. They usually have deals for Gatlinburg or Myrtle Beach and lots of other tourist attractions as well.
If this is still out of your price range, you can always ask if family members would want to do a group gift. This has become popular and I would do it if you know they are going to get you something anyway. If you are tactful about it, it can be a good thing so that money isn't wasted on gifts you won't use.
I have a friend that one year for Christmas gave her husband 12 envelopes for an experience for each month for the next year. Most of the things were cheap or free. I think everyone would enjoy this and would be a great memory!
Other family gift ideas-> 20 Family Gift Ideas the Whole Family will LOVE!
Dollar Store
Depending on the receiver of the gift and their age, you can get some great gifts at a dollar store. I went to Dollar Tree the other day and I couldn't believe the stuff they had for a $1.
If you have little kids, you can get them all kids of stuff, like candy, craft stuff, workbooks, flash cards, nail polish and so much more.
I had rarely shopped at the Dollar Tree except for candy and that wasn't very often until recently. I have no idea why I didn't shop there before. I am still amazed at the stuff they had for a $1.
Now you do have to be careful because not everything is worth a $1, but most of it is. You can get a lot for your money there, especially stocking stuffers.
Regifting
If you have gotten a gift that you never used, there is no reason not to give it to someone else. I know some people will say this is tacky, but really who is going to know anyway. This is great with little kids as well. If they have a lot of toys already, save some from birthdays throughout the year if you can and give them to them at Christmas. You could also wrap toys they already have if they are really young and won't notice.

Buy used
I have done this several times with my children. They honestly don't care if it's used or not if they are getting something they really want. October and November are a great time of year to start looking on Facebook Marketplace, Craigslist, and other local sites for kids toys.
This is usually when people, including myself, start cleaning out toys in anticipation of more coming in from Christmas. This would work good as gifts from Santa, at least in our house where he doesn't wrap presents.
Plus you don't have to fight the plastic packaging Christmas morning to open it!!
Local outreach programs
If you are below the poverty line, there are a lot of programs out there to help provide Christmas to kids that need it. There is usually applications to fill out but it is definitely worth looking into if you need it.
I suggest calling the local United Way because they are an umbrella agency that fund a lot of smaller agencies. If you call *211, you tell them what you need and they can point you in the right direction for services. Check with your local police department, fire department, christian mission, Salvation Army, and any other local agency that provides assistance. If they can't help you, they probably know which agency can help.
Find Frugal Gifts
Amazon has gift lists for under $10, $20 and so on. You can search by gender, age, and price range. Plus you can get a FREE 30 day trial of Amazon Prime and get FREE 2 day shipping.
More Frugal gift ideas:
Frugal Christmas Gift Ideas For Women For Under $20!
Christmas Gifts For Men For Under $20
You can still have a great Christmas on a tight budget. It is important to embrace it and try to put on a happy face for your kids regardless. They will have fun if you are having fun.
Please share your cheap or free traditions or gifts! Lets inspire each other to spend less on presents this year and focus on what is really important!