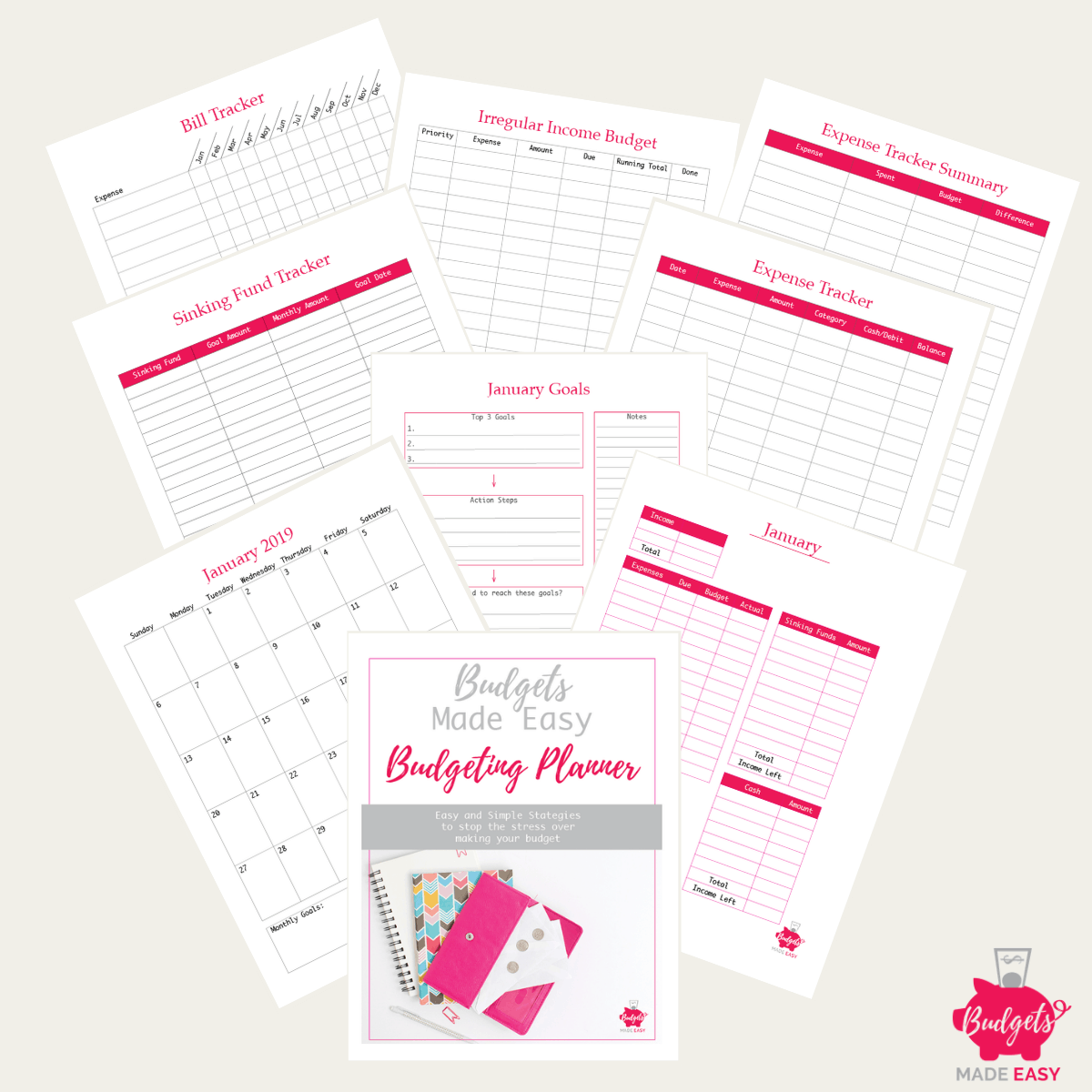 Planning your budget does not have to be a painstaking endeavor.
I know you that you avoid doing it because it gives you anxiety, overwhelms you and stresses you out.
However, I also know the benefits of budgeting and how much doing a budget the right way can help you succeed with your money.
A budget planner or budget binder can help you succeed much faster and easier.
I know first hand the power that a budget binder has on managing your money.
I paid off $45,000 in 17 months by making a simple change to my budget.
That is exactly how the Budgets Made Easy Budget Planner was born.
I have compiled exactly what I used to pay off my debt quickly but I made it much prettier for you!
This year I want you to have the best year financially that you can.
It all starts with your budget and finding an easy way to do it will help you stick to it and actually do it.

What is the Budget Planner?
The Budgets Made Easy Budget Planner is a budgeting binder that will help you get organized and actually start your budget.
Most people do not have a budget and get stressed and overwhelmed when thinking about doing one.
This budget planner will help you get started and reduce the overwhelm.
How does a Budget Binder help me?
A budget binder helps you by keeping your budget organized and working for you.
It is easy budget planning made especially for busy families.
A budget binder does not help you if you don't actually use it. This one helps you use it and stick to your budget by keeping it simple and easy to use.
Do I have to buy anything else?
The Budgets Made Easy Budget Planner is a digital download. It works best if you print it and put it in a binder.
I also suggest using highlighters for tracking expenses but it isn't mandatory.
That is literally all you need.
Print it and put it in a 1-2 inch binder.
I have even organized it so you can print just one month at a time for those that are limited on printing.
How Do I Use the Budget Binder?
Once you purchase the binder, you will receive an email with the links to download your purchase.
Once you download it as a PDF, you can print it.
I have organized it to limit printing it all at once if you are a on a printing plan. You can print each month as you go or your can print all the pages at once.
The PDF is in order for you to put it in a 1″ binder but you can organize the pages as you wish.
I have the tips and instructions in the front then each month is divided up.
You can print extra budget sheets for each month if you want to budget by paycheck. I would recommend doing an overall monthly budget, then a budget for each check.
I have even included a budget worksheet for extra income. So if you have an extra paycheck in a month or make extra income, you can plan for it.
The expense tracker worksheets work well for seeing where your money is going. You can even use highlighters based on categories so you can visually see which category is taking your money the most.
What's Included
Monthly pages include:
Cover page
Monthly goal planning sheet
Calendar for tracking due dates
Budget sheet
Expense Tracker
Expense Summary Page
These sheets will help you organize your budget and plan out your goals for each month. The budget sheets can be printed more than once to do a budget for each check in addition to the monthly budget.
The expense tracker sheets are crucial to help you reduce spending and actually see where your money is going.

Other sheets included:
Yearly bill tracker sheet
Sinking Fund Tracker
Irregular Budget sheet
Extra Income budget sheet
These sheets will help you keep track of your yearly or quarterly goals. Plus the irregular budget sheet will help you prioritize your expenses and know what to pay when you receive money through the month.
The extra income sheet is perfect for months where you have an extra paycheck or bonus and need to plan where it should go.
Bonuses:
Bonuses are subject to change*
Monthly budget items list
The monthly budget item list goes well in each monthly section of the planner and lists items to possibly include in your budget for that month. There are seasonal items and reminds you of upcoming holidays and planning.
FAQ:
Is this a physical planner or digital download?
This is a digital download, nothing will be shipped.
What if I do not like the planner after I use it?
I offer a 30 day guarantee even though it is a digital product.
I have a budget, why do I need a planner?
Having a budget is one thing, writing it down and staying on top of everything is different. You can certainly make your own planner but I have done all the hard work for you. This planner will help you easily get organized and reduce your stress and overwhelm.
Where can I get the planner?
You can check it out more here.

Summary
This budgeting binder is simple and easy to use.
It is perfect for busy families that are overwhelmed with how and where to start their budgets.
If you are stressed out just thinking about starting your budget, this is for you.
EASY BUDGET PLANNING FOR BUSY FAMILIES
Aren't you tired of wondering where you money goes every month?
Aren't you tired of logging into your bank account on Monday morning wondering how the heck you actually spent that much this weekend?