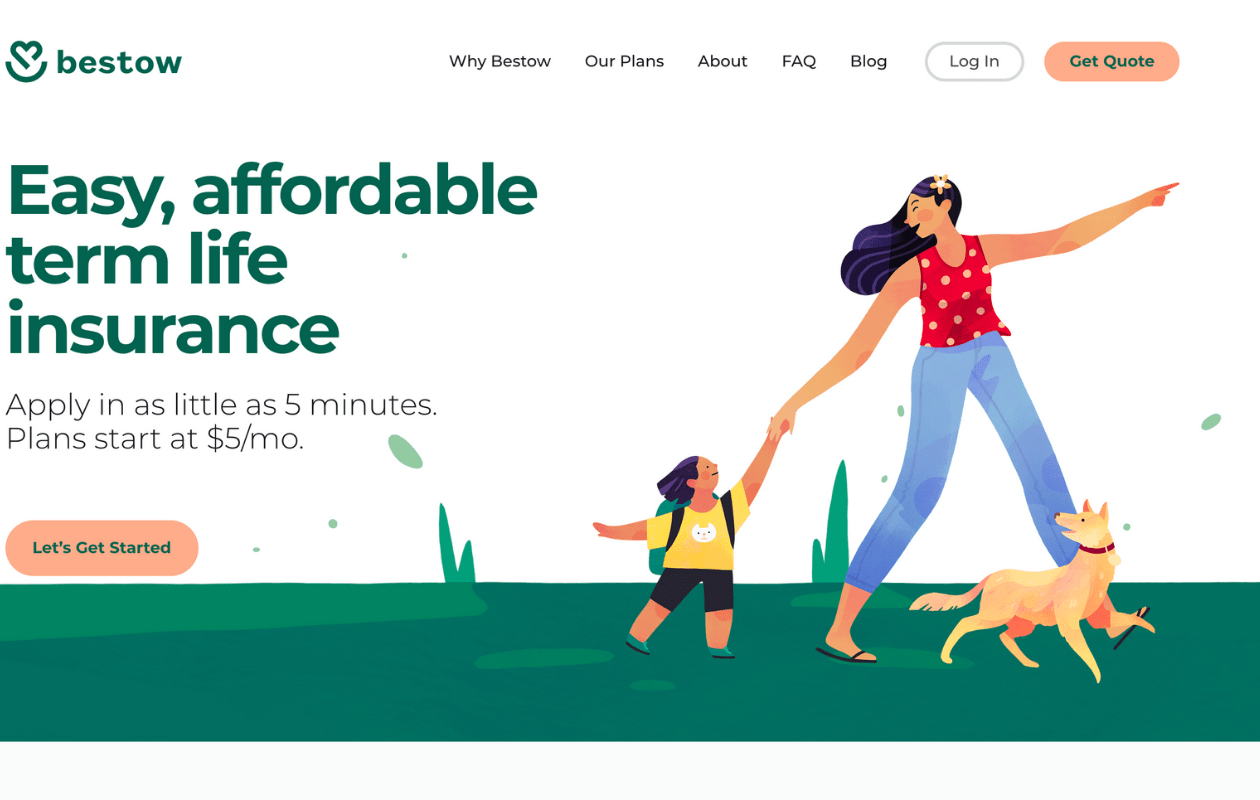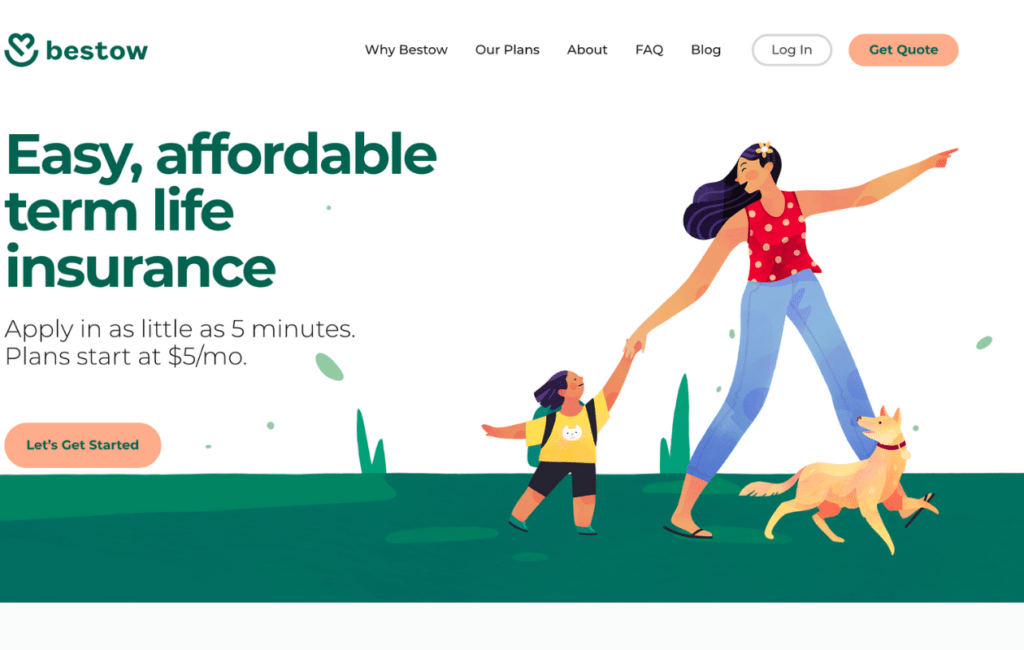 Having a hard time navigating life insurance?
Bestow, is a new innovative way! Yes, Bestow is actually the name of the company that is aiming to make getting term life insurance easier, simpler, and human. 
The financial burdens with a lack of insurance could be tragic, especially for a family already in debt.
Life insurance is also one of those necessities in life that is often overlooked and put off until the unfortunate happens within a family or someone close to them. It is then that the urgency tends to increase.
After all, how many people truly enjoy spending days filling out paperwork, then traveling to a lab or office to urinate in a cup and let someone poke you with needles all while asking you the same questions you have already answered over and over. I definitely don't.
As a matter of fact, I recall many years ago when I signed up, the company I had used offered to come to me! Great right? No. It literally took over three months to find a meeting time that was convenient for us to even START the approval process. Convenient really is not the best word to use there, but you know what I mean.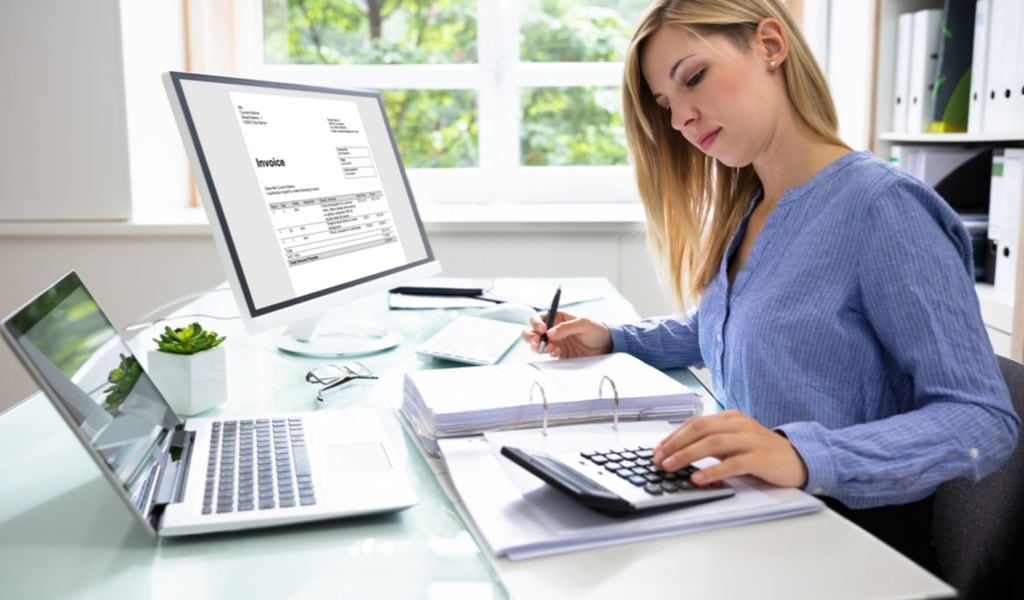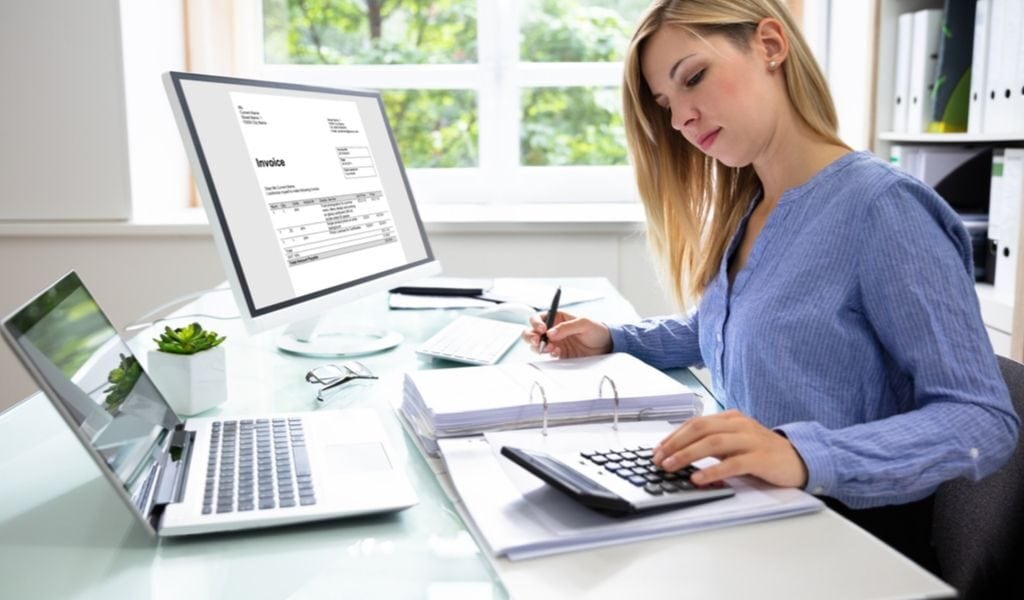 Bestow is a new innovative company that is making a smash into the market of term life insurance. They have the intentions of making the bumpy road of getting insurance smoother.
The company offers innovative plans that fit our ever-expanding society. They understand that affordability and convenience is a growing customer demand, and they have designed their simple process with that in mind.
They are also well aware that millions of individuals are uninsured due to the inconvenience of the application process and the lack of affordability of these policies. These millions of people risk burdening their loved ones with financial disaster if the unfortunate event of their death occurred. This in itself was a driving factor behind creating the Bestow way.
It all began as a topic of conversation between Jonathan Abelmann and Melbourne O'Banion, the Co-Founders of Bestow, that millions of individuals who indeed loved their families were still lacking the one financial hammock, so to speak, to ensure their families would be able to financially survive and continue to live with the comforts they currently have. Life insurance.
Most financial experts recommend term life as well, which is what Bestow offers.  Term life insurance typically pays more for less in the event of a death. Whole life is much more expensive than term life insurance, around 10-20 times more expensive!  
Term life insurance:
Is a fixed premium for a set/determined amount of time, common are: 10, 15, 20 years.
A set benefit for your beneficiary in the event of death
You can not make withdraws or borrow against the policy.
I've found term life insurance is usually recommended by financial experts due to the fact that you keep the near 90% of the funds you "would" have paid into whole life and use it as you wish. Whether it be to pay off debt, to invest how you wish, to go on vacation, or whatever suits your fancy. It is also note worthy that interest rates can be significantly low on whole life policies and commissions and fees can be high.
Term life insurance is much simpler to understand and since it is considerably cheaper than whole life, individuals find it more affordable to cover their families in the event of a death and loss of income.
Top financial experts recommend that the amount you choose for a policy reflect 10-12 years of your income. This does not just include covering individuals who work outside of the home, this includes coverage for a spouse who may stay at home as well.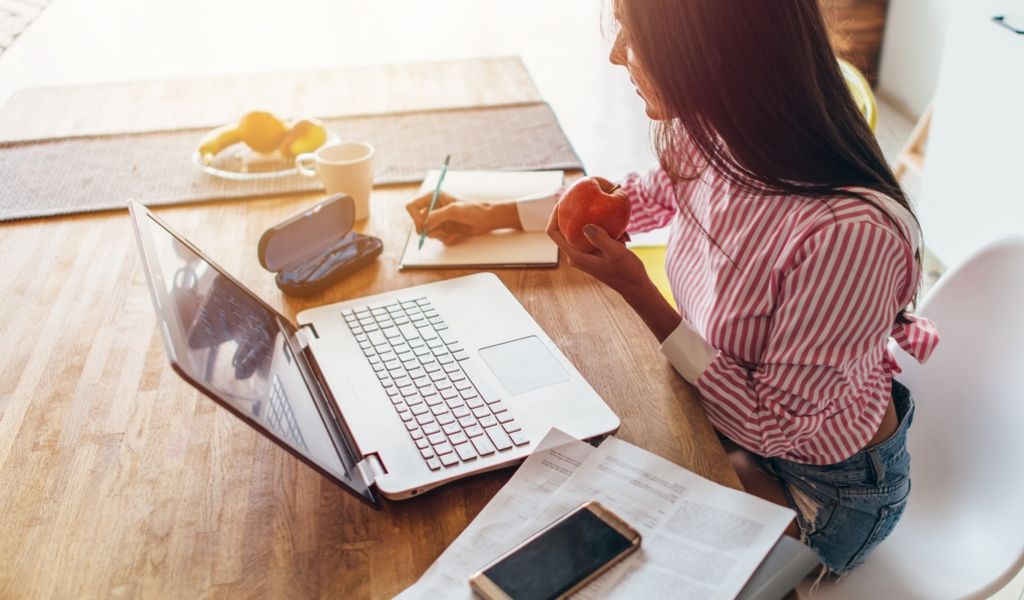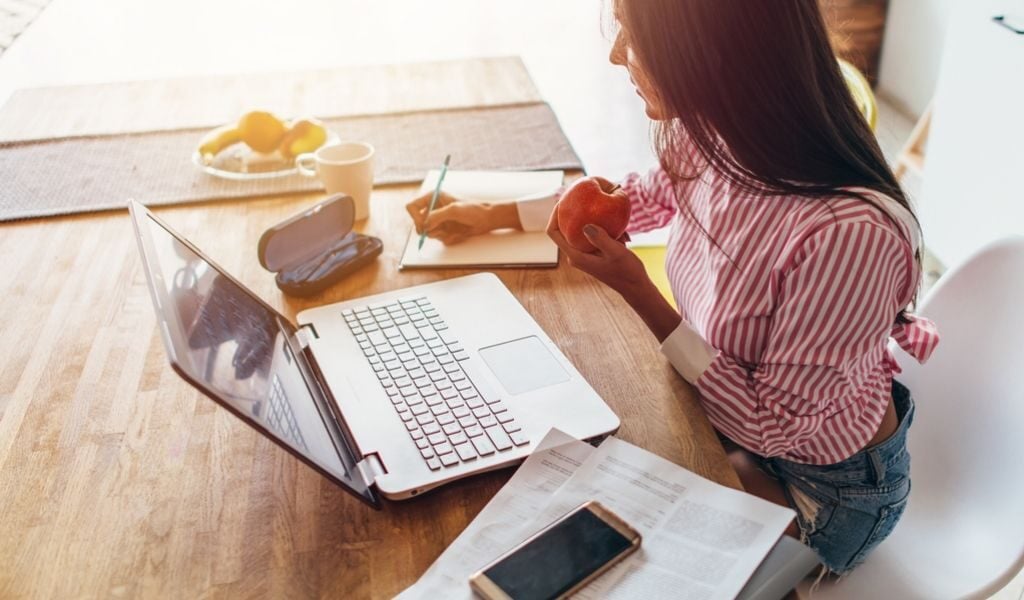 People often neglect to realize the costs avoided with a partner that stays at and maintains the home. Expenses such as cleaning, daycare, laundering, meal preparation, shuttling, and many others are avoided and should be taken into account when totaling what someone would end up having to pay someone to do in their absence.
Now hopefully, so far this has helped to create a better understanding of why someone should get term life insurance, so now let's talk about Bestow and how they are breaking the barriers.
Bestow Term Life Insurance
Bestow offers term life insurance with more practical options as well as in a much simpler way. There is no physical, no pushy sales tactics, and no working your precious time around a sales person.
Bestow offers life insurance in three different increments. This is just one way they accommodate the growing population and the needs of today's diversity.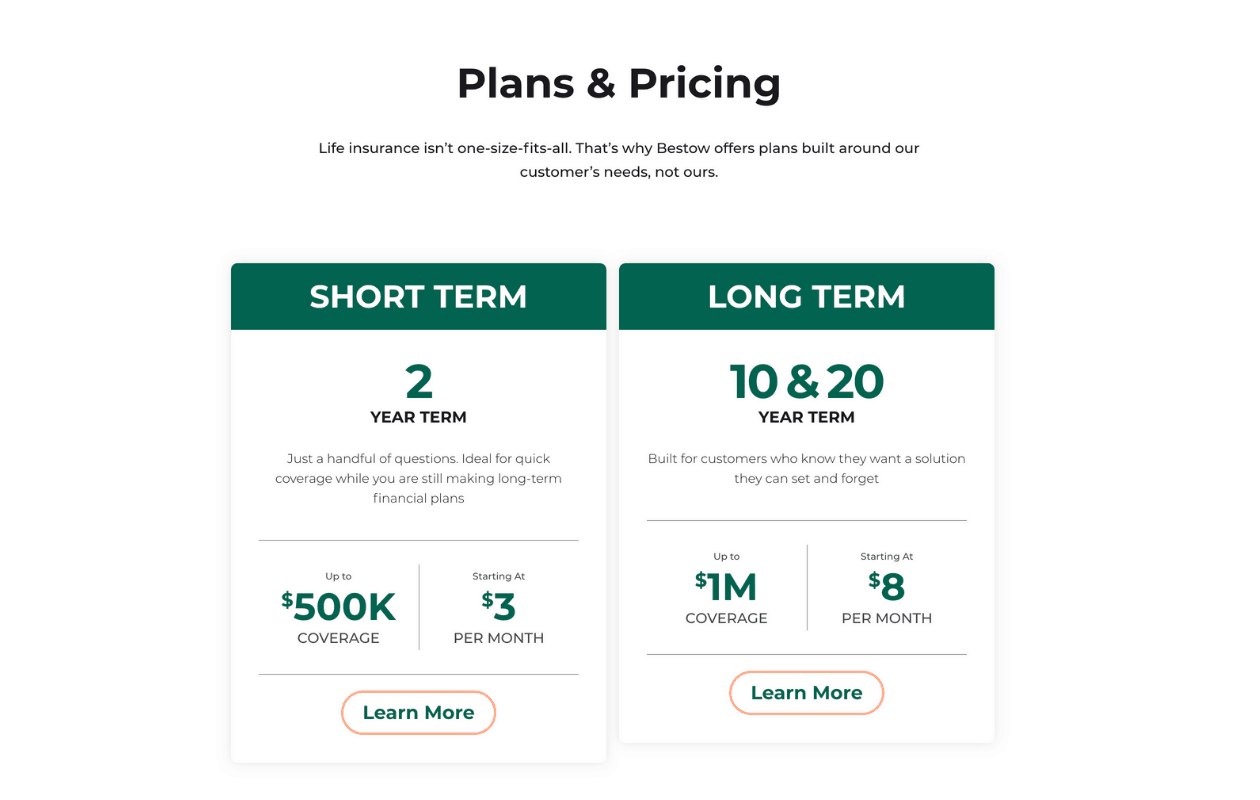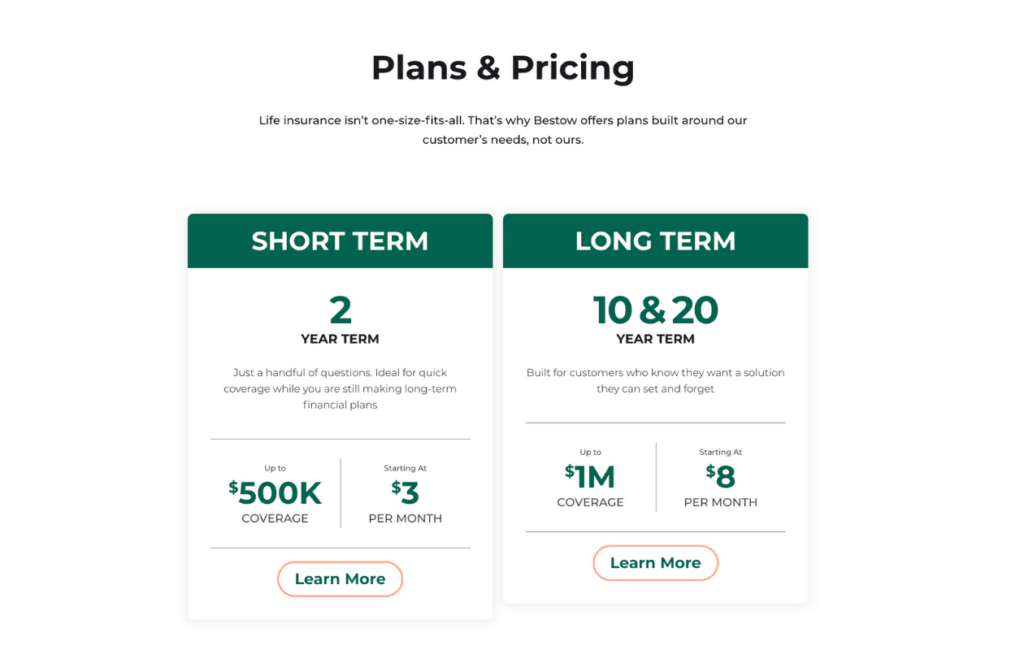 Short term, a 2-year plan
Best for individuals who want their families to be sound financially and may be in a transitional phase of life. Such as individuals who are in school, individuals who are starting up a small business, individuals who prefer the "try before you buy" a long term policy.

The maximum coverage available for a two year policy is $500,000.

The rates start at a mere $3.00 a month!
Long term, policies with either a 10 or 20 year plan.
Best for individuals who know that a long term plan is specifically what they want and need. Such individuals may want long term financial stability for their family and may want to be sure that life continues to be as sound as it possibly can be in the unfortunate event of the policy holders death. These policies are also great for individuals who prefer not to change policies in the future, the "set it and forget it" method says Bestow.

These policies go up to 1 Million in coverage.

The long term rates can start at merely $8.00 a month.
Bestow often offers plans at a lower rate than competitors due to specific and intentional planning behind the scenes. The founders were absolute with their intentions when constructing the foundation and basics of their company.
"We started Bestow to help families better prepare for their financial future. Life insurance is a great start. The loss of a loved one is exponentially compounded when it's accompanied by financial loss and mounting pressures to pay for a funeral, debts, housing, food, education, etc." ~Jonathan Abelmann, Co-Founder, Melbourne O'Banion, Co-Founder
Speaking of the foundation, Bestow is backed by two A+ industry giants, North American Company for Life and Health Insurance® and Munich RE. The A+ rating is considered superior, and one of the highet companies can achieve.
Like any great business, Bestow is not only structured by well known and established business partners, they have selected knowledgeable and talented employees to assist in building and continuing to build the company and the company's many unique components.
These team members share in the vision to make getting the gift of life insurance for your family a simple and painless process. Each member also brings to the table their unique set of skills and specialties, such as licensed customer care or information technology.
Bestow, while transforming the industry for the better, has obviously made the process much simpler for the average person. They have redesigned the process from start to finish to create a user friendly application experience. Best of all, it typically takes less than 10 minutes!
Getting Started!
The process is as simple as One, Two, Three!
Select get a quote, fill out basic information (gender, birthday, height, weight, location)

Select preferred term and coverage amount

Create an account (allows you to save your work as you go or come back if need be)

Answer questions within the three categories (each topic is only one page!)

Personal Information

Health Information

Lifestyle Information

Fill out contact and identifying information

Answer quick and easy yes or no questions

Answer quick and easy nationality, employment, lifestyle, and travel information

Authorize the company to check to see if you are a fit for Bestow!

You are done! Are you expecting me to say "Wait and see now?"

NO waiting, you will know instantly if you are approved!

If you are approved, you will see the cost and enter beneficiary information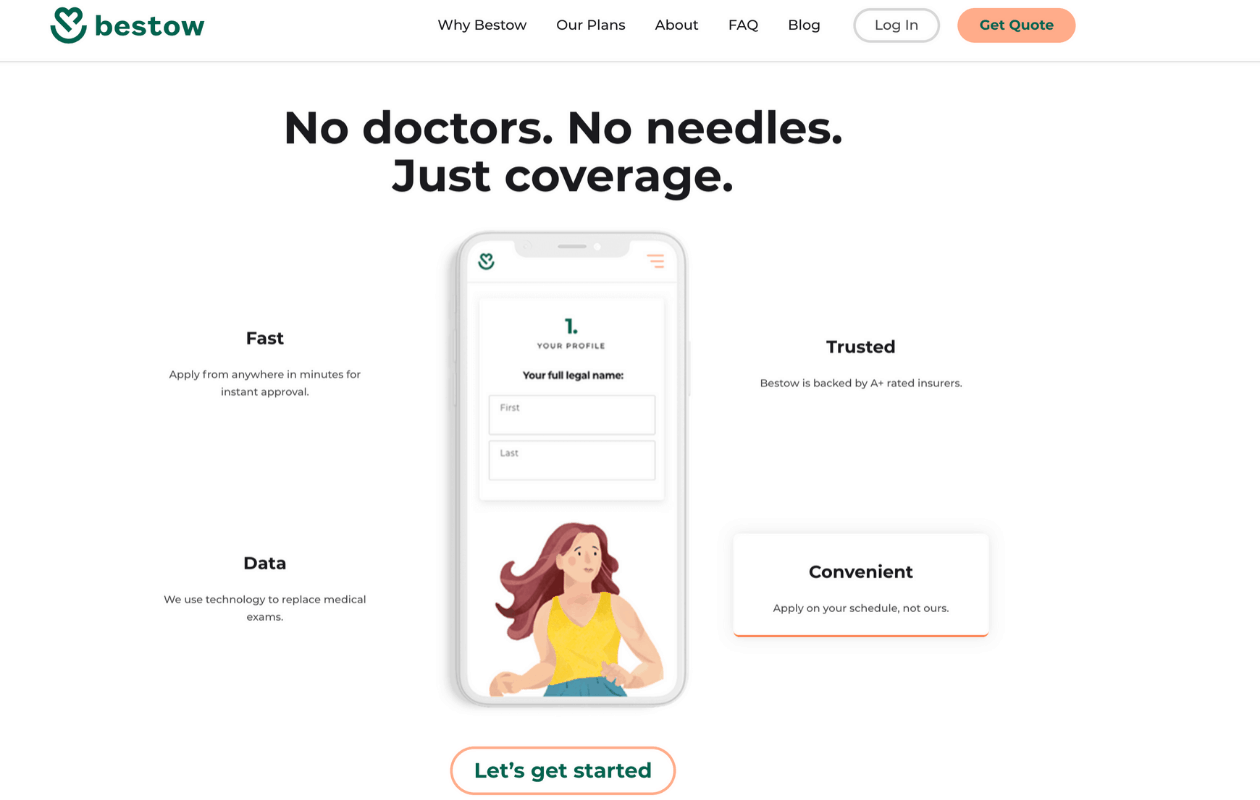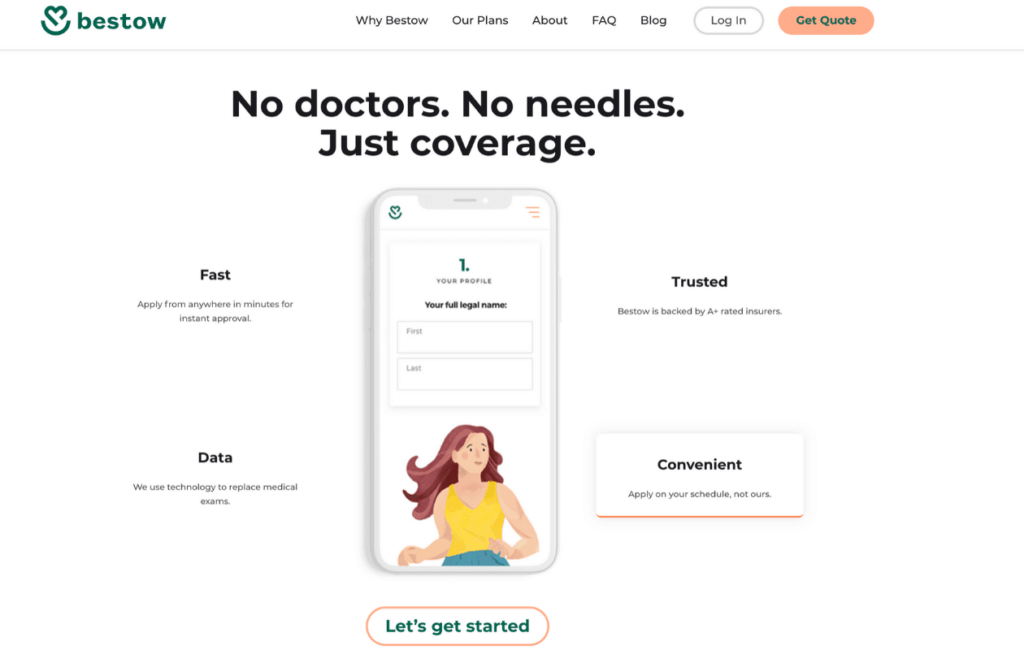 Are you the type of person that actually needs to speak to someone? Don't fret! Not only does the company allow you to do it all via their innovative platform, but they also have an online chat feature.
If you prefer to speak with someone on the telephone, again, do not fret! They have Customer Care Advisors (who are by the way licensed and non commissioned) to help. All you need to do is call Bestow at 1-833-300-0603 to speak with one of these helpful advisors.
Also noteworthy, Bestow has been able to make the process quicker and more affordable by doing their own in house underwriting. Technology makes this possible within their own system and this results in Bestow's "accelerated underwriting."
For those who don't understand what underwriting is, to put it simply, because why else would you be here if you didn't appreciate simplicity, right? Underwriting is basically mathematical calculations to show the overall risks associated with offering a policy to an individual.
With other companies, it could take weeks! With Bestow and their accelerated underwriting, it is calculated on the spot, within the system.
So there you have it, simplicity in the process and affordability to the customer. Two of the goals Bestow had in mind when building their company.
Summary
So, are you the type of person who has been putting off this very big and very important decision because you do not understand life insurance? Is it because you think it will be stressful?
Is it because you have a fear of needles or simply do not have the time to meet for a physical within your busy schedule? Is it because you know the process can take just as long as growing and having a baby? That last one is generally not true, but I personally can vouch for other providers taking months!
If you feel the above statements are true, please take a moment, whenever you want.  Yes, whenever YOU want, and try Bestow's process.
It will literally only take about 10 minutes to complete the process and know if you are approved.  Bestow's process is not stressful, there is no physical, no doctor appointments, no needles, no scheduling and work arounds, and it is super quick. 
Oh yeah, since I mentioned having a baby in a previous paragraph, I would love to dispel the myth that if you are pregnant, you can not qualify for life insurance. 
Bestow's article provides extensive detail on this myth and other myths around pregnancy and getting life insurance.  It also delves a little more into how Bestow's unique in house underwriting does not penalize pregnancy.
So, male, female, pregnant, not pregnant, whatever applies to you, stop contemplating, waiting, and worrying. Head on over to Bestow and spend just 10 minutes to protect the most valuable assets you have in your life. Your family. You will have peace of mind for years or decades to come, the choice is up to you.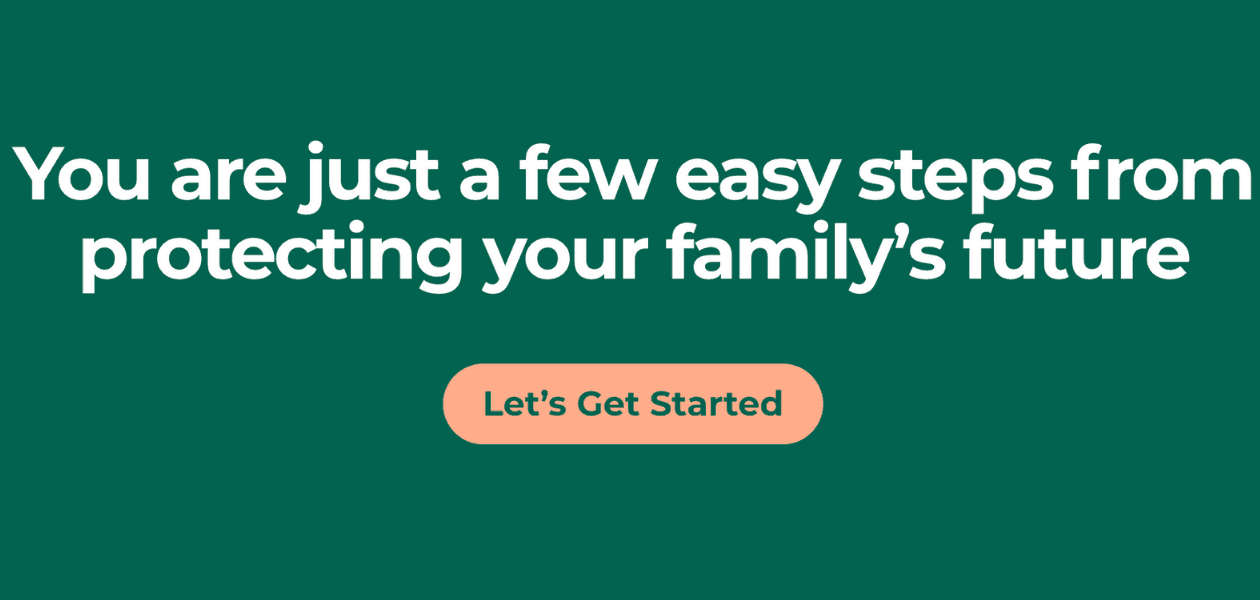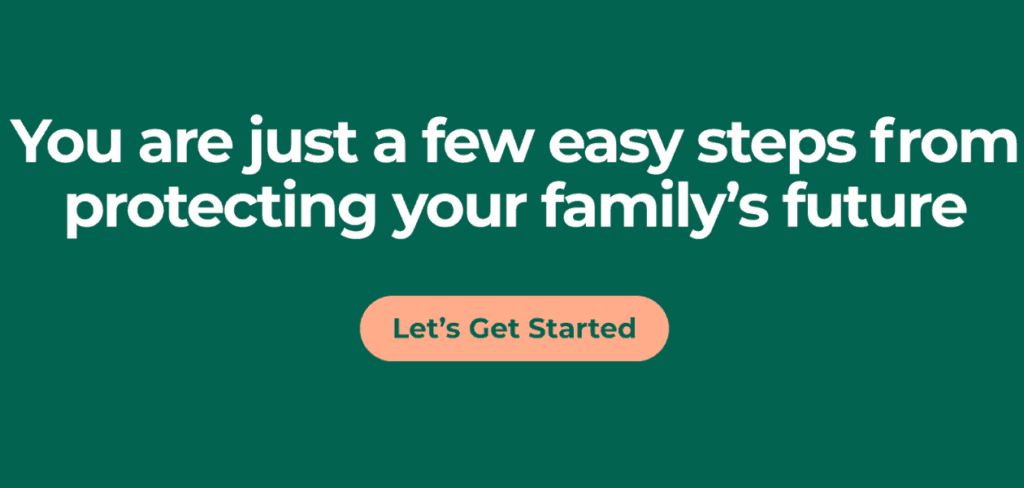 Disclosure: The opinions and ideas expressed in the article are those of the author(s) and are not promoted or endorsed by Bestow or North American.