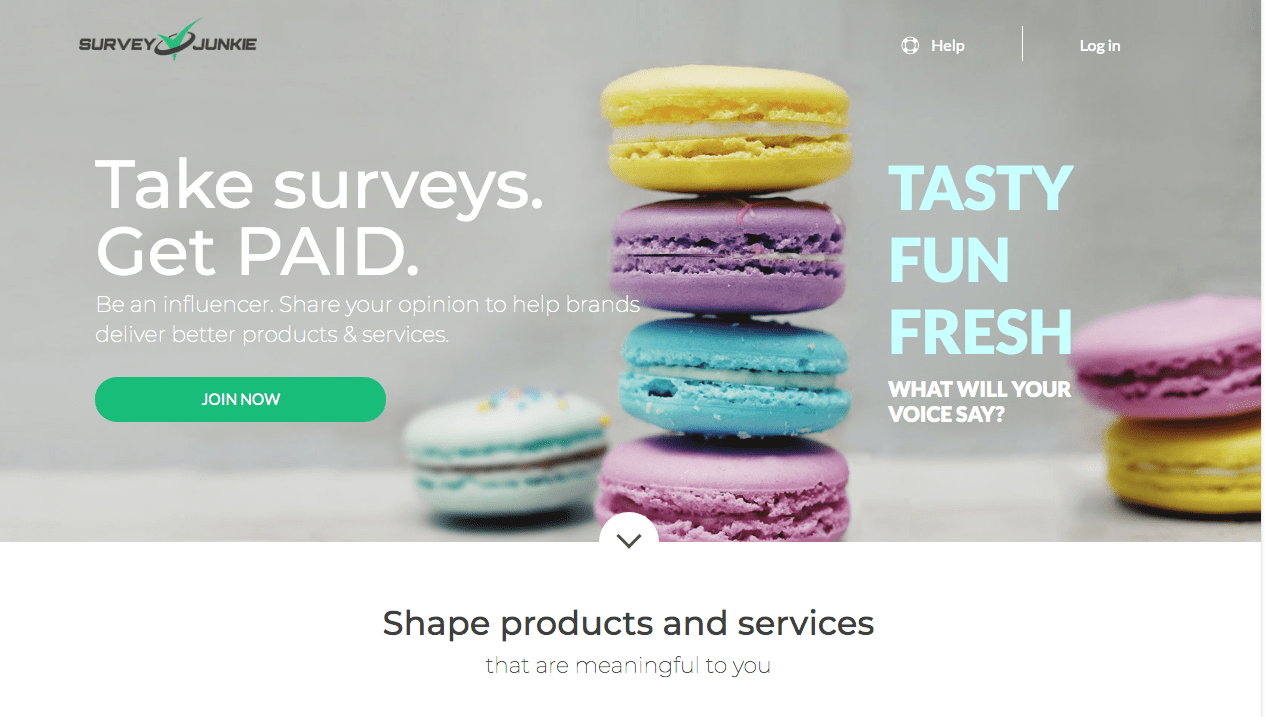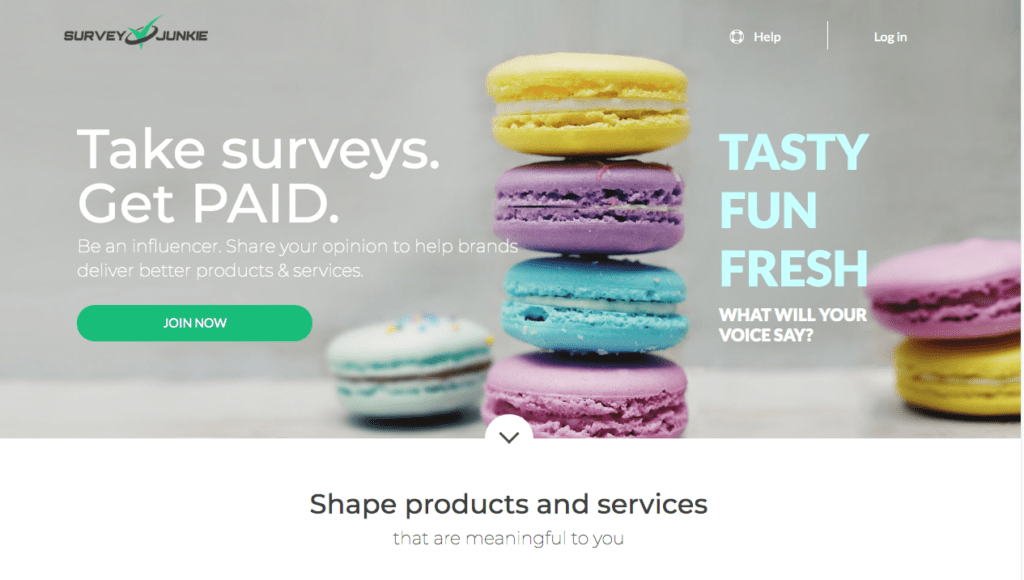 If you've spent any amount of time looking for an easy side hustle or a quick way to make a few bucks, then you've probably stumbled upon a survey site.
Surveys can be an easy way to make a little extra money, but it's hard to know which companies are legit and which ones are a scam.
I was a detective for over 10 years, so I definitely get weary of "get rich quick" schemes and the work from home jobs. And, while I approach these different survey sites and online opportunities with a healthy dose of apprehension, I do believe that there are LOTS of ways to make real money online.
Doing surveys is one legit way to make some extra cash.
Trust me, you will not get rich and it definitely won't happen quickly by doing online surveys. However, if you're willing to put in some time and a minimal amount of effort then it is possible to make a little extra cash.
One popular and legitimate survey site is Survey Junkie. I wanted to see what it was all about so I signed up and started taking surveys.
In this post I outline everything you need to know about Survey Junkie. I summarize what Survey Junkie is, how it works, the different ways you can make money, how to get paid and the pros and cons associated with the site.
What is Survey Junkie?
So, what is Survey Junkie?
It's an online company that connects businesses with consumers like you and me in order to conduct market research. Basically you trade your time, opinions and demographic information in exchange for points, which then translate into money or online gift cards.
Survey Junkie is a California based company that has been around for years, since 2011, and boasts over 3,000,000 members.
I felt better about using Survey Junkie because of their long history and large membership base.
If you want to dig into the company's background a bit more before you decide to participate you can find their profile on the Better Business Bureau website here.
How Does it Work?
Step 1: create an account
You have the option to sign up for Survey Junkie using your Facebook or Google account. Or, you can sign up using an email address of your choice.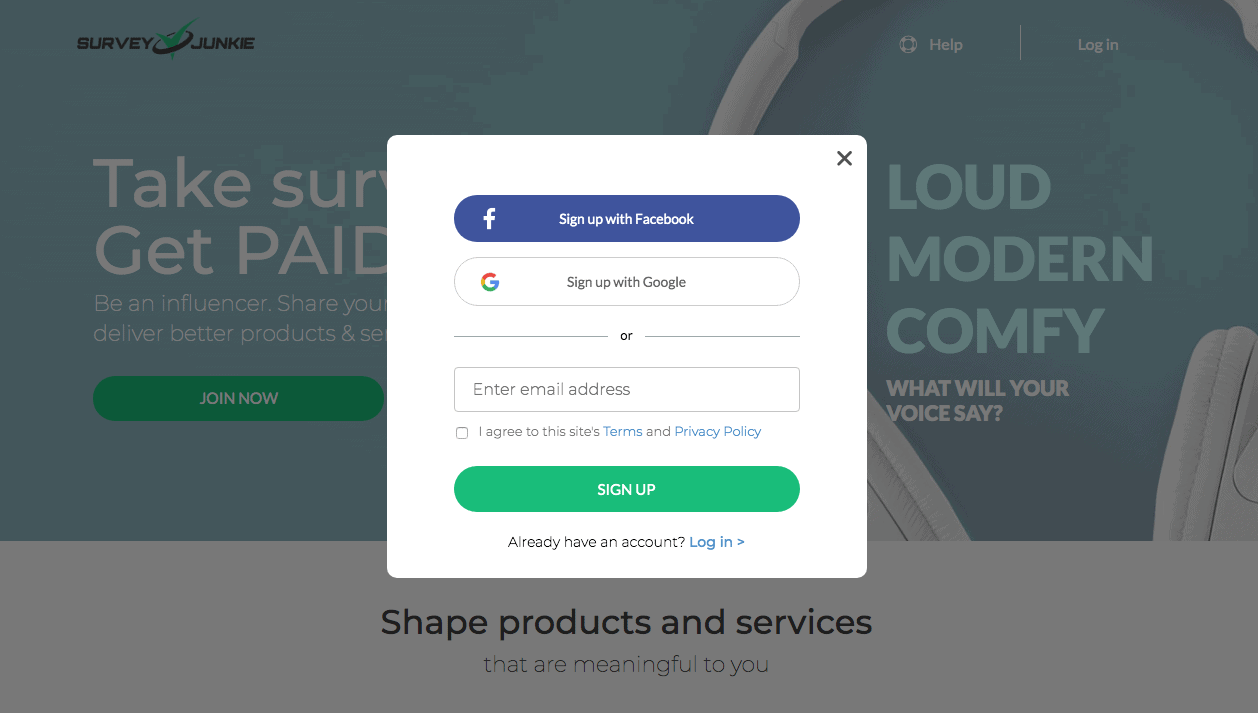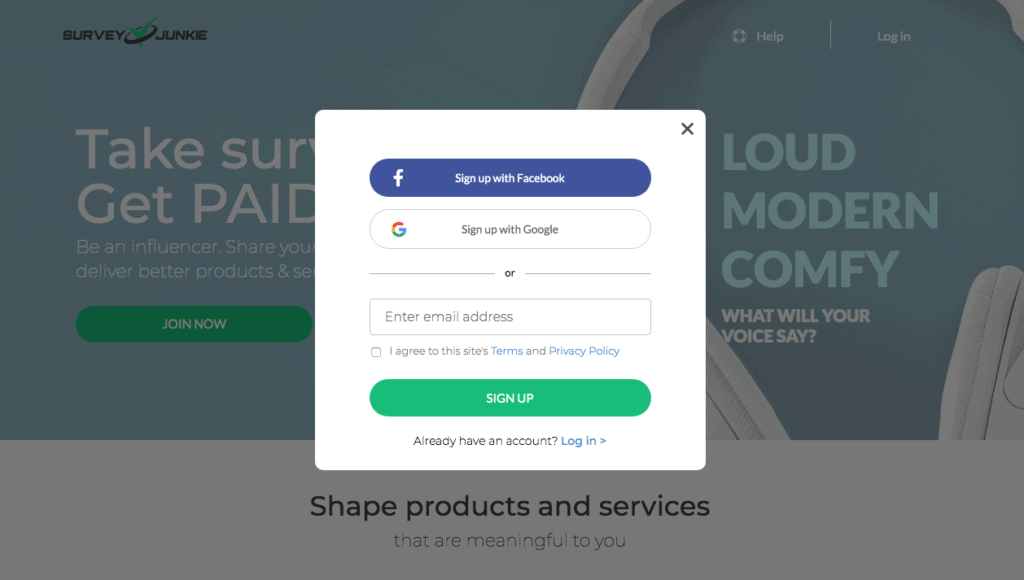 During the sign up process you'll be asked to provide some basic demographic information including:
Zip code

Country

Date of birth

Gender
Step 2: Create a profile. Now you will be asked to answer a number of additional questions about you. For instance, do you own a home, do you own pets, how many children do you have, do you own a car?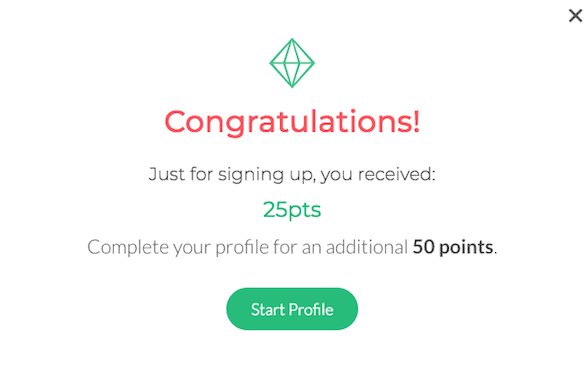 This is a very fast process. I was completely signed up and ready to start taking surveys in a matter of minutes. And, as an added bonus, I received 25 points just for signing up, 50 points for filling out my profile and 5 more for completing a quick tour of how the dashboard works. EASY!
You can also gain access to higher paying surveys and even more points by filling out detailed profiles (as shown in the screen capture below). For instance, the "shopping profile" asks you questions about which stores you shop at most frequently and the type of items you've purchased in the last 12 months.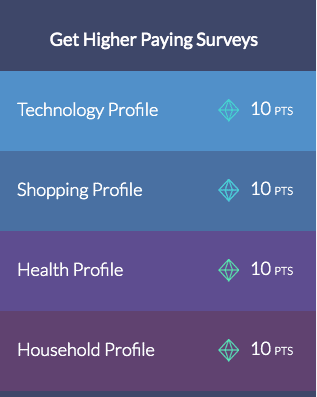 Step 3: Start completing surveys. Once you've finished your profile you'll have access to the Survey Junkie dashboard where you can see your points on the left and all of your different survey options on the right.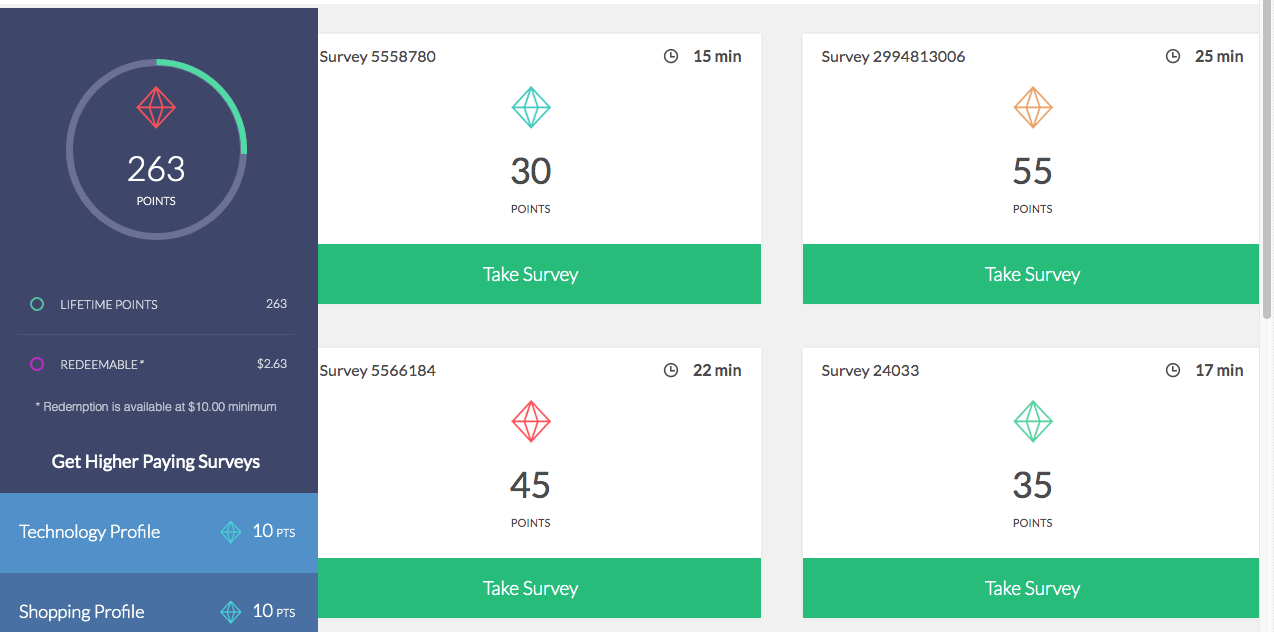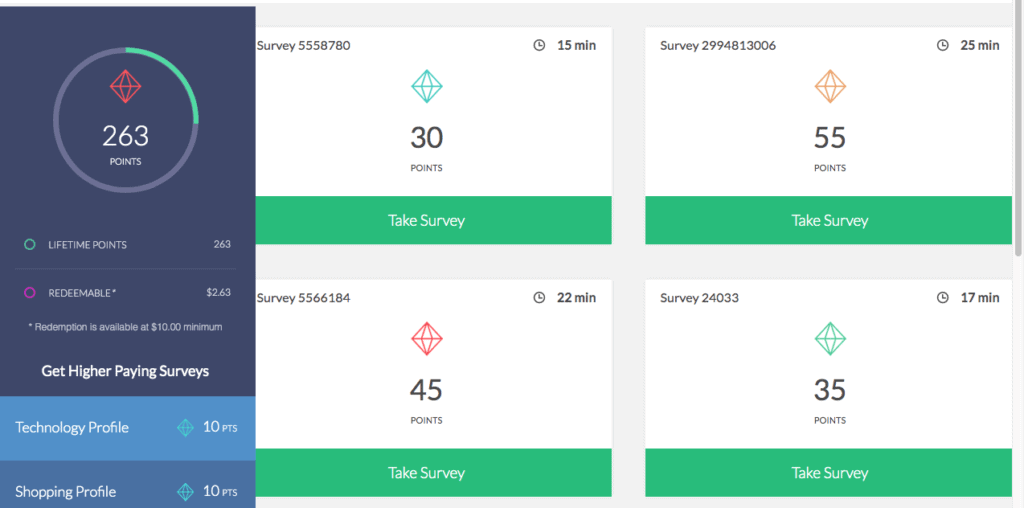 Each survey offers a different number of points (most of mine were around 30 to 90 points) and provides an estimate for how long it should take you to complete (the ones on my screen ranged from 9-30 minutes). In general, the more time it will take to complete the survey, the more points you will receive. But, this isn't always the case.
To start a survey simply click on the green panel that says "take survey." You will then be asked to answer some additional demographic questions (you have to do this for each new survey and yes, it does get a bit redundant).
When it comes to the actual content or questions, each survey is different, so I can't tell you exactly what to expect. However, if you're looking for a few examples before getting started here are some of the survey topics that I encountered:
Shopping habits

: I was asked who does most of the shopping in our house, what products do we purchase and how often do we buy certain products.

Radio listening habits

: In this survey I was asked what local stations I listened to, how often I listened to them and then I was asked to listen to short song clips and evaluate the songs on various criteria.

Evaluate visual commercials

: I was presented with a few different commercials and asked different questions such as, what did I remember from the commercial, what did I like about the commercial…etc.
Bottom line, these are not skill testing questions, all you have to do is give your honest opinion. I really didn't expect much when I signed up for this site but I have to admit, some of the surveys were actually interesting and, dare I say, kind of fun!
How to make money with Survey Junkie
You get to decide how you want to make money with Survey Junkie. Once you've signed up and completed your profile you're given the option to participate in other forms of research including: product testing, online focus group, in person focus groups or phone surveys.
Surveys
If you want to keep things simple and keep the effort to a minimum, then stick to surveys. As soon as you've completed your profile you can begin participating, and banking points!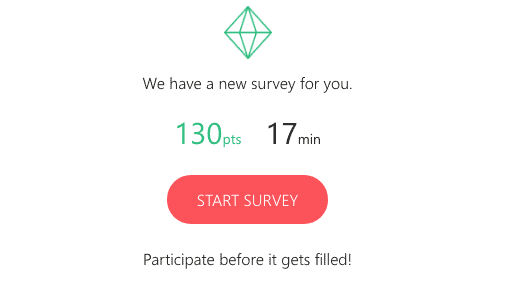 Also, you will receive email notifications letting you know when a new survey is available. I received about 8 of these emails within a 24 hour period. Each one of them offered 130 points for a 17 minute survey (much higher points:time ratio than on the site dashboard). However, everytime I tried to participate I received one of two notifications:
"Uh oh… This survey filled up, but don't worry we have more!"
OR
"Yikes…This survey closed but don't worry, more are available!"
At three days in I started to see a whole spectrum of surveys ranging from 30 to 210 points and from 6 to 22 minutes. This is great because if you only have a few short minutes you can still participate and add a few points to your bank!
Product Testing
Want to get your hands on a real, physical product? Survey Junkie will ship you a product to test, you will answer some survey questions and give your opinion and, as an added bonus, you get to keep the product! Compensation for product testing ranges from $5 to $50.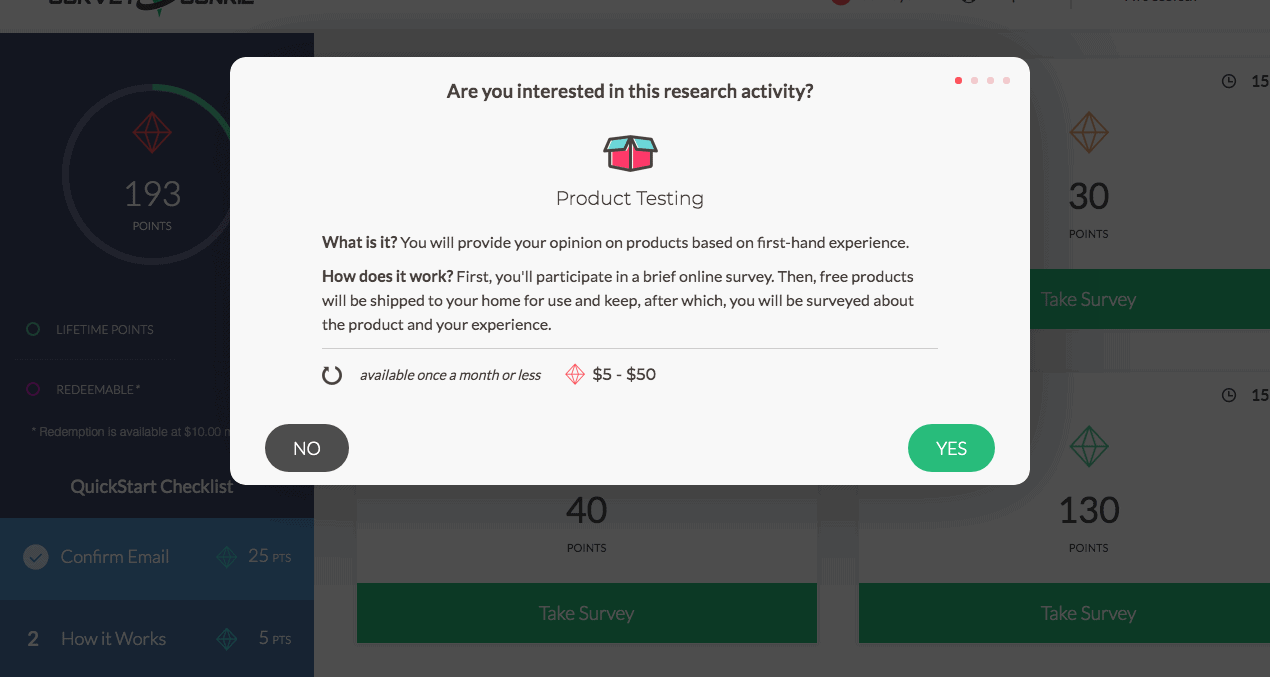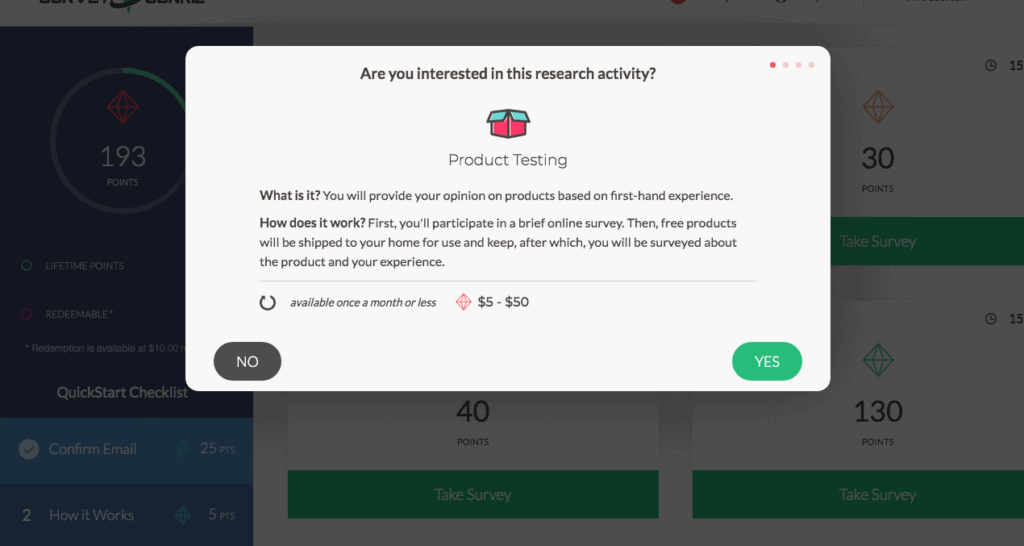 Online Focus Group
Basically you get together with a small group of people online to share your opinions about a product or service. Some of the online focus groups require the use of a webcam to participate. Compensation for the online focus group ranges from $25 to $100.
In Person Focus Group
If you choose to participate in this research activity then you will be scheduled to meet with a group of like minded peers in person. Meaning you physically have to get up and go to a predetermined location at a scheduled time in order to participate. Definitely more time and effort required. Compensation for your participation ranges from $25 to $150.
Phone Survey
Someone will schedule a call to talk with you one-on-one about a product or service. Yes, you have to speak on the phone, this can not be completed via text!! Compensation for the phone survey ranges from $5 to $100.
These additional research opportunities (product testing, focus groups and phone survey) are not as readily available as the online surveys. As you can see in the screen grab for product testing above, it states that you can participate "once a month or less."
How do you get paid?
When you complete a survey, or other research activity, points are automatically loaded into your account.
You are not able to start redeeming your money until you have collected a minimum of $10.00 (1000 points).
Once you've collected $10.00 you can decide how you want to get paid out. You have three options:
Cash sent into your Paypal account

Online gift cards (this option only available in the US, according to the website)

Direct bank transfers (only available in the US)
For more details on how to redeem your points check out Survey Junkies FAQ page here.
Pros and Cons
Pros:
Low barrier to entry: Anyone over 13 years of age that has access to a computer or cell phone can participate. And, there's no fee to join.
You get points even if you don't qualify: sometimes you will fill out a few survey questions only to find that you don't qualify. In these instances you are usually granted a few points for your effort. A small, but nice consolation prize.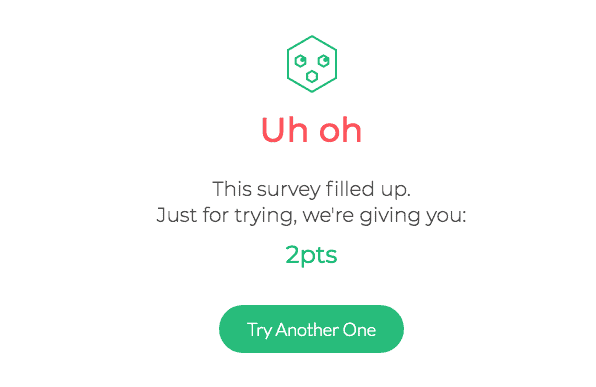 You can do it anytime, anywhere: No business hours here! If you're up in the middle of the night with nothing to do, you can log on and make some extra cash.
It's so easy: Signing up is a breeze, the dashboard is incredibly user friendly and each survey provides step-by-step instructions that are super clear. In fact, many of these surveys are so easy to complete you can do them while you multitask!
Small initial investment: You only have to earn 1000 points ($10.00) before you can cash in and redeem money or a gift card. This is a pretty small initial investment and doesn't take very long to achieve.
No secrets: You know what you're getting yourself into. There is no "get rich quick" claim. In fact, Survey Junkie states the opposite on their site, "you will NOT get rich by taking surveys." And, because each survey gives a time estimate and the exact number of points to be awarded upon completion, you get to decide which one is worthy of your time and effort.
It's legit: If you participate, you will earn points and, once you hit the $10.00 threshold, you will get paid. Maybe you think surveys are super fun but, for most of us, it's about the money and I want to make sure I get paid!
It's easy to get paid: With three different payment options available it's easy and fast to cash out!
Cons:
There are a few things that you might want to consider before you dive head first into the Survey Junkie game!
Technical difficulties: I noticed that a few of the surveys were a bit slow to load — and one of the first surveys I took froze at 80% complete and I did not get any credit for it. Definitely a bit frustrating, but not a deal breaker.
Privacy: If you are someone that doesn't feel comfortable sharing your information online then this might not be the right fit for you. To set up your profile you do have to provide a fair bit of demographic information (postal code, age, gender, marital status, date of birth etc). However, there are some questions that Survey Junkie allows you to opt out of (for instance, what is your household income?).
Trading your time for not that much money: Ask yourself, are you willing to spend 10 to 30 minutes of your time to make a few dollars…or possibly even cents? I mean, you can literally complete these surveys while you watch Netflix or wait for an appointment, but you have to decide if the money you receive is worth your time.
Repetition: You have to answer the same questions over and over again. What's your zip code? What's your gender? What's your date of birth? Like I said, it's super easy but it can get annoying answering the same questions many times.
Not qualifying: Often times you will start a survey, get a few questions in, and then be hit with a notice that says "you don't qualify." It's frustrating since you've invested some of your time, but you can always just try again with another survey and sometimes they award you points just for trying!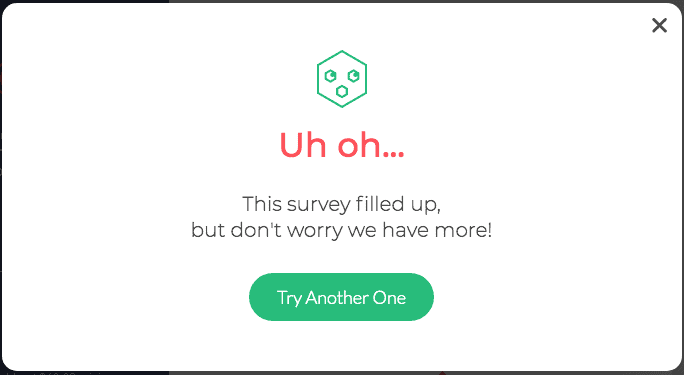 Time sensitive: When you're emailed a new survey opportunity you need to jump on it fast. I've missed a number of surveys because they fill up quickly. If you're serious about completing the surveys make sure your email indications are set up on your phone or computer so you know exactly when that email rolls in!
Who would benefit from using Survey Junkie
I think there's potential for most people to benefit from using Survey Junkie. I mean, who doesn't want a few extra dollars for spending, saving or paying off debt?
Anyone with free time. If you have a bit of time to spare throughout your day, then you are someone who could benefit from using Survey Junkie. If you have a long morning commute on the bus or train, then log on and make a few bucks to cover your bus fare!
If you find yourself waiting for an appointment, choose a short survey and earn a few easy points. Waiting for a client or stuck in a terribly boring meeting, do a survey to pass the time!
Anyone who can multitask. Fill out surveys while you watch Netflix, while your baby naps on your chest or while you eat breakfast. If you can do more than one thing at a time, then you are a perfect candidate for Survey Junkie. It's really that easy!
Students. I think students who are interested in marketing or research could also benefit from using Survey Junkie. In addition to making a bit of extra money (which every student needs), it's also a great opportunities to learn firsthand about the different research activities and how they are conducted. This is especially true if you sign up to participate in the product testing, focus groups and phone survey opportunities.
Who would NOT benefit from using Survey Junkie
Anyone looking to get rich quick. If you're looking for a side hustle that is going to cover your monthly mortgage payment, this is not that side hustle. As Survey Junkie admits, you are not going to get rich quick from participating on this site.
So, if you already have an alternate side hustle that is making you $10, $20 or $100 an hour, I would say, stick to that.
To sum it all up…
Is Survey Junkie legit? Yes!
Can you make real money using Survey Junkie? Yes!
Should you rely on Survey Junkie income to pay your rent or car payments? That's a hard no! That would be a whole lotta surveys!
If you're someone who is looking to make a few extra bucks, fill your down time and potentially even have a bit of fun, then go for it. Sign up. Registration is free so, what do you have to lose?