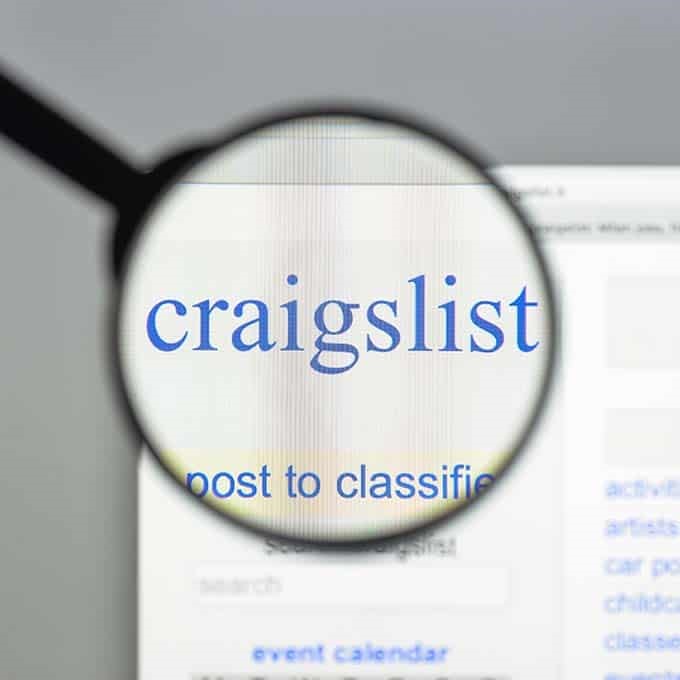 I get the question, "How to Sell on Craigslist" a lot. You can turn your clutter into cash by selling it on Craigslist. Or, create a business by buying and reselling Craigslist deals. This article will show you how to sell on Craigslist so that you can make money fast!
Well, you might as well keep it since it can be had for $75 new!
I think she probably crushed the "send" button when she fired off that email to me in response to my counter offer. ?
I'd listed a NIB (new in box) kitchen appliance for sale on Craigslist for $75, which just to be clear, sells for over $100 new. I'd turned down her $40 offer for the second time.
The week prior, I'd received a few emails from two women, who were in cahoots with each other and must have really wanted this gadget! One of them got rude, firing off messages like the one above. But since all initial communications are through email, they were easy to ignore.
Just another day in the Craigslist world! A lot of people wonder how to sell on Craigslist and can I make a profit without all the nonsense.
Actually, that woman is the exception.
Most Craigslist sales go smoothly, and most people are pleasant.
And Craigslist is a great way to make extra money by selling things you own—or items you buy and then resell in your spare time. And with a little knowledge and strategy, you can even create a business of buying and selling items on Craigslist and bank a nice profit.
What is Craigslist? How Does Craigslist Work?
Craigslist, which has been around since 1995, is an online marketplace with community announcements and advertisements for services, housing, items for sale and free, items wanted, jobs, and gigs. There's also a discussion forum section and a section to post resumes.
Craigslist is a simple-to-use platform that connects people: buyers and sellers, employers and people who need a job, and people who lost something and people who've found something.
And the best part: most types of advertisements are free.
Each city or region has its own website. And although Craigslist started in the U.S., it has expanded globally.
Many people do not understand how to sell on Craigslist and wonder if they can indeed make money.
Here's how Craigslist works: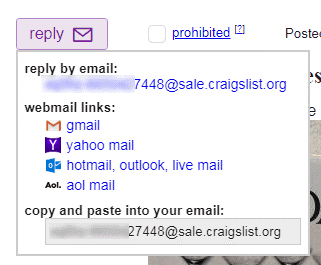 The person who wants to advertise enters information, such as a description, photos (if applicable), and a price.
If you're interested, you hit the "reply" button, which opens an information box.
The box contains an anonymous email address (see photo), which you copy and paste into the "to" field of your email. Or if you use one of the listed webmail email providers, you can click on the link, and it'll open a new email for you and prefill some basic information.
Craigslist allows buyers and sellers to communicate anonymously through email.
Your email is routed through the Craigslist servers and is made anonymous to the receiver.
The buyer and seller can continue to communicate via email anonymously as they decide whether to move forward with the transaction.
SAFETY TIP:
The name associated with your email account will pass through the Craigslist server unaltered. So even though the other person can't see your email address, they will see the name associated with your email account. And if you have an email signature with identifying information, that also will pass through to the receiver. To ensure your information stays completely private, remove your name and signature from your email account. Or consider setting up a separate email account for Craigslist communications.
How does Craigslist Make Money?
If most of the postings are free, you may wonder how Craigslist makes any money. Although most advertisements don't cost anything, a handful do, and that's how Craigslist makes money.
Since the site doesn't charge a fee except for only a few types of posts, you might think the company doesn't make that much. In fact, Craigslist's estimated revenue in 2016 was $690 million, most of which was profit!
Craigslist isn't a publicly traded company, and the founder Craig Newmark and CEO Jim Buckmaster are the only significant shareholders. Forbes estimates that Craigslist is worth at least $3 billion, and Newark is a billionaire. (source)
So even though most posts are free, Craigslist makes plenty of money and net profit!
How To Sell On Craigslist – Fees
The only postings that aren't free include:
Job postings in some areas (fees vary but are between $10 and $75)
Brokered apartment rentals in New York City
Some dealer categories
Vehicles sold by dealers in the U.S. and Vancouver
Furniture sold by dealers in the U.S. and Vancouver
Gigs in the U.S. and some areas in Canada
Services in the U.S. and Canada
So if you're an individual and selling tangible items (i.e., not services), your ads are free. Let's get into exactly how to sell on Craigslist.
How to Sell on Craigslist – Creating A Post
Below are step-by-step instructions showing you how to make a Craigslist ad.
You can post to Craigslist with or without an account.
We'll discuss how to determine a selling price later. I'll also show you how to take good pictures, which will make your item stand out and sell faster.
1. Go to Craigslist and choose your city or closest location.
2. Choose "post to classifieds" in the far left corner.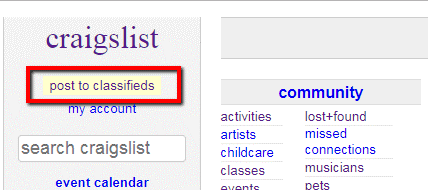 3. Select a category and click "continue."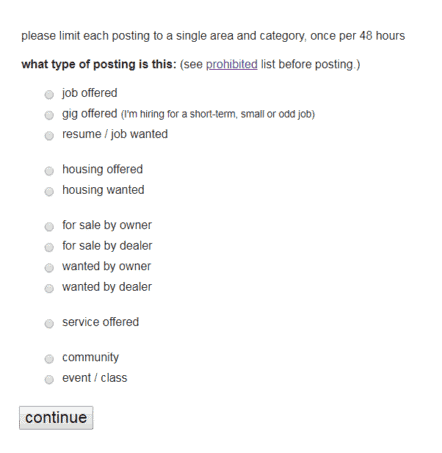 If you select the "for sale by owner" category, you'll be prompted to choose a sub-category.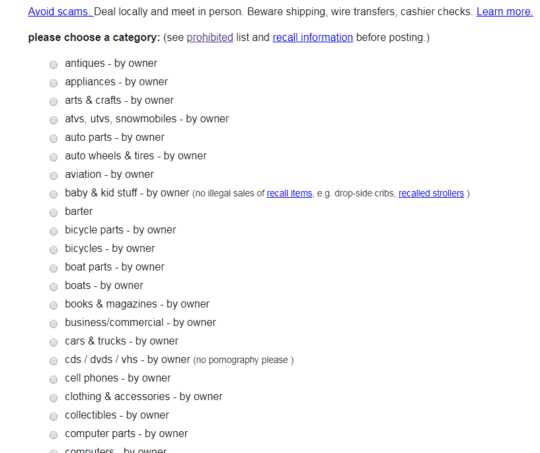 Click "continue."
4. Enter information for your post. Write a good headline with a clear description of the item, but leave off the price!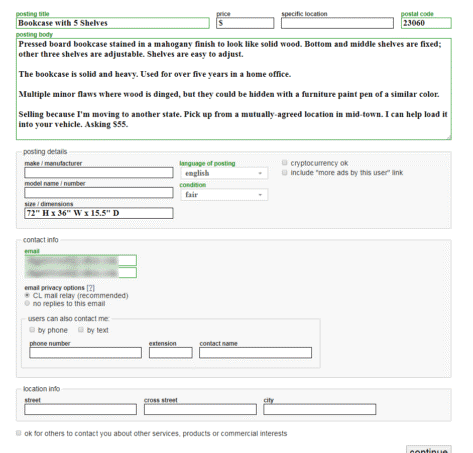 The only required fields are the post title, postal code, posting body, language, and email. But you'll want to include the make and model (if applicable), as well as dimensions. You can visit the manufacturer's website to pull specifications.
Put the price at the bottom of the information in the posting body so someone has to click on your post to find out the price and may take the time to read your description.
The more relevant information you include about the item you're selling, the better. But don't be excessively wordy. Be sure to include all the needed details though because you'll get fewer emails that are just questions. The emails that you get will mostly be serious buyers rather than people asking about the color or size.
If you're selling books, clothing, or furniture, include whether the item has been in a household with smokers or pets.
Put yourself in the buyer's shoes and think about what you'd want to know about the item if you were purchasing it.
If you have an owner's manual or maintenance history, be sure to mention that in the post body.
Also include a sentence about why you're selling the item so that people have an answer to the question, "Well, if this is so great, why are they selling it?"
Be honest about the condition. Describe any flaws or issues in the posting body.
State that the transaction is cash only. Accepting only cash is a standard best practice for Craigslist transactions, so don't worry about turning off people with this requirement, even for high-priced items.
To avoid scams and for safety, do not include your phone number, name, or location information. Leave those fields blank. Click "continue."
5. Add images. Good photographs are essential to selling your item fast. Don't use images that you find on Amazon or the manufacturer's website. Post only photographs that you take of the actual item. I'll walk you through the steps for taking good photos later. Click "done with images."
6. Review your post. To make changes, click "edit text" or "edit images." When everything looks good, click "publish."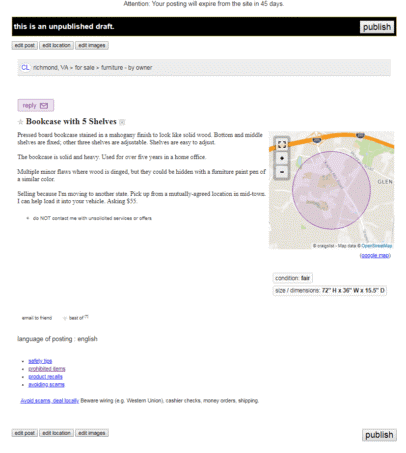 7. Next, you'll get a screen saying further action is required to publish your ad.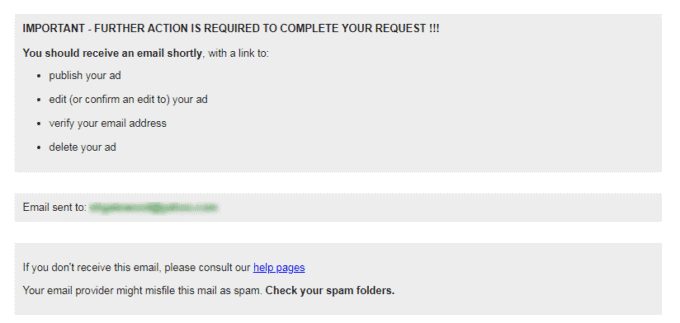 8. Go to your inbox and find the email from Craigslist. Click the link and read and accept the terms to publish your post.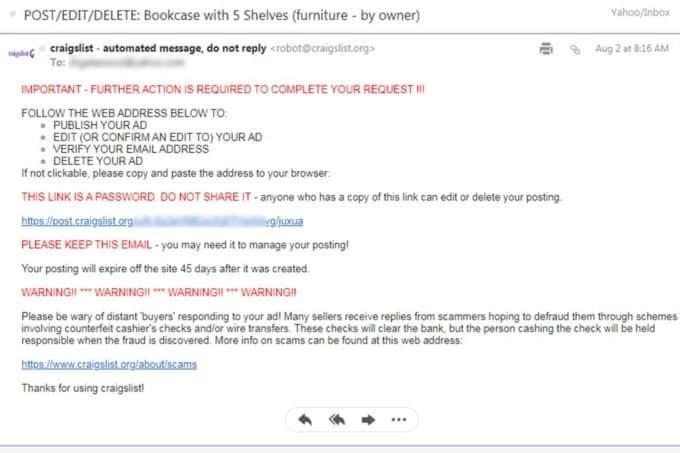 You should get a thank you message if your post published successfully. You can use the same link to edit or delete your post, so save the email.
How to Price Your Items for Craigslist
To come up with a price, take a few minutes to do a little research and thinking before posting your Craigslist ad. Here are few things to do and consider:
Find out how much the item would cost if you bought it new.
Is it a collector's item, antique, or discontinued item? These types of items might sell for more, but outdated technology will sell for considerably less.
Consider the condition of your item. Obviously, "new in box" will sell for more than something in fair condition.
Check a few sites to see what the same or similar items are selling for. Definitely search on your local Craigslist, but you can also check Facebook Marketplace and Letgo. You can take a peek at eBay's recently sold listings, but keep in mind that those prices may not be comparable for your area. And since buyers have to pay shipping for eBay items, sales prices might be lower than what you can get for it on Craigslist.
Add a little extra (10-20%) to the final price to allow for negotiation room. Almost all buyers expect to pay less than the listed price. Determine your lowest acceptable price before you post.
Avoid nice round numbers that end in a zero. For example, $215 is better than $200 because it looks like the price is calculated more precisely, rather than plucked out of thin air.
Make sure you're using logic and good judgment when setting your list and lowest acceptable prices. Ownership tends to cloud judgment and causes us to overvalue and, thus, overprice items.
This clouding of judgment is known as the endowment effect in psychology and behavioral economics. Humans tend to value things more just because they own them.
A famous example of the endowment effect was a study where some participants received a mug. They acted as sellers. Sellers were then asked, "What's the lowest sum of money you'd accept in exchange for the mug?"
People not given mugs were buyers and asked, "What's the highest you'd be willing to pay for a mug?"
The average seller's price turned out to be more than twice as large as the price the buyers were willing to pay! So sellers overvalued their mugs simply because it was theirs.
So try to imagine you're buying the item from someone else, rather than selling it, and gut check your pricing.
How to Sell on Craigslist – Posting Pictures
Taking 15-20 minutes to clean the item and take good photographs will pay off: Buyers want to see the item, and good photographs entice buyers, so you'll sell your item faster.
And if potential buyers can see photographs, they'll ask fewer questions and send you emails saying they're interested, rather than clogging your inbox with a bunch of questions.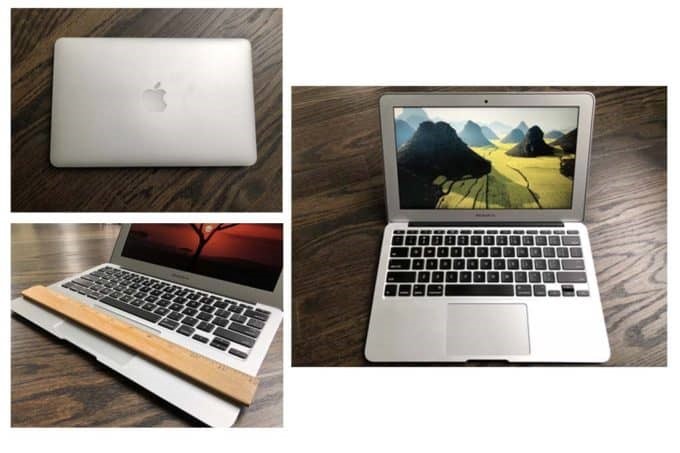 Take close-ups, as well as zoomed out photos. I added a 12-inch ruler so potential Craigslist buyers can see the item's size.
Before photographing, thoroughly clean the item, removing all traces of dust and grime.
Consider staging the item so potential buyers can see the item in use. Only do this if you can do it well. For example, if you're selling a bookcase, dust it and then neatly arrange books on each shelf, ensuring each shelf isn't more than half full. Or just remove everything from the shelves if you can't stage it nicely.
Place the item in a well-lit area using natural light if possible.
If your item is dark in color, place it in front of a light background. (And against a dark background if the item light.)
Ensure there is nothing distracting in the background, such as trash, clutter, people, or pets.
Take one picture zoomed out to show the entire item. Play around with angles; you don't have to take a straight-on photo if taking it slightly from the side shows more depth or detail.
Take 2-3 more photos from different angles, as well as some to show off interesting features and any flaws.
If your phone's camera has the setting, increase the brightness as needed before taking the photo. For example, on the iPhone, touching and then sliding your finger up the screen increases the brightness. Or use the edit feature or a photo app after taking pictures to lighten them if they're too dark.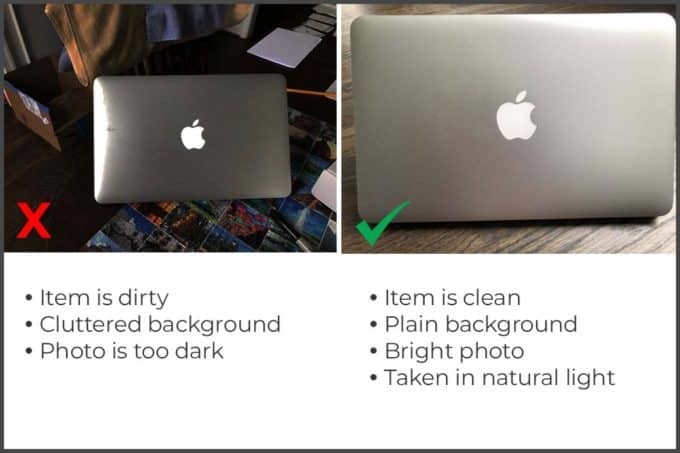 When taking photos of your item for Craigslist, use natural light and a clean background.
How to Use Craigslist Safely
Don't include your address or phone number in your post.
Ignore rude people. Don't respond to their emails and feed into the drama.
Avoid scams and people who are up to no good: Once you have an interested buyer, talk to them on the phone before agreeing to meet. Ask a few ice breaking questions to get to know them and feel them out. Make conversation about the item they're purchasing to ensure they're truly interested in buying.
Agree on a price before meeting.
You should be the one to suggest a meeting location. Arrange to meet in your part of town so that you're familiar with the area.
Check to see if your city has a designated area for Craigslist transactions. They are usually close to police stations and have video surveillance to make exchanges safer.
If your city doesn't have a designated commerce area, when meeting buyers, choose a public place where many people are milling around, such as a grocery store or big box store parking lot. Many parking lots have video surveillance, so park near a camera if possible.
Park so that you can jump into your car and easily drive away. For example, back into the parking place and make sure you can't easily be blocked in.
Meet during daylight hours if possible, or in a well-lit location if you have to meet after dark.
Bring someone else with you if possible.
If you're selling large items that can't be transported to a public meeting location, move the item to a garage or outside your house before the buyer comes. Arrange to have a friend or family member arrive at your house before the buyer gets there so you're not alone. Lock your home's doors, park your car so it can't be blocked in, have your car keys and cell phone on you, and meet the buyer outside. Never allow buyers into your home.
Only accept cash.
Trust your gut. If something doesn't feel right, leave immediately. It's better to be rude or suffer a little embarrassment than endanger yourself.
SAFETY TIP:
If you're selling furniture or large items that you can't transport to a neutral location, move the item to a garage or outside your house before the buyer comes. Never allow buyers to enter your home!
Most buyers are decent human beings. I've have never felt unsafe buying and selling on Craigslist, except once: I just didn't get a good feeling when I talked to the guy on the phone, and he wanted me to meet him at a storage unit in a dicey part of town. So I told him I'd changed my mind and wasn't interested.
I even had a buyer come to my house once because I listed a generator on Craigslist but didn't want to try to transport it to a meeting spot. I followed the above tips, the guy was a gentlemen, and we completed the transaction easily.
So don't let the internet myths frighten you. Just use your head and listen to your gut!
Things to Sell on Craigslist
You can sell all kinds of things on Craigslist. Items just have to be legal and not on the prohibited list.
Here are some ideas for things to sell:
Antiques
Appliances
Auto parts
Baby & kid stuff
Books
Bikes
Boats
Cars and trucks
Cell phones
Clothing
Collectibles
Computers
Electronics
Furniture
Jewelry
Motorcycles
Musical instruments
Sporting goods
Tools
Toys and games
Video games
Wheels and tires
Of course, illegal transactions (such as reselling prescription medication or medical devices or prostitution) are prohibited, but so are weapons, ammunition, fireworks, recalled items, unsanitized bedding/clothing, alcohol, tobacco, unpackaged food or cosmetics, food stamps and other government assistance, affiliate marketing and multi-level marketing content, and "free to good home" pets.
OK, now that you know how to create a post, take good photos, and have an idea about what you can sell, where do you actually get the stuff to sell on Craigslist?
Here are four ways to find lots of good things to sell so that you can make some serious cash.
1. Sell Stuff You Already Own
Selling stuff that's already in your home is probably the easiest and most obvious place to start.
I know people who were so determined to pay off debt quickly, they sold everything they owned on Craigslist, including their lamps and the pictures on their walls. That's definitely an extreme way to get out of debt (thought it's also admirable!).
So selling stuff you own is a terrific way to make money and fatten your bank account. You don't have to be as ruthless as selling everything you own, but if you're serious about banking extra cash, do a home declutter to find unused and unwanted items.
My friend Brooke at Happy Simple Mom is a declutter expert. Check out her 7 days of challenges which walk you through the decluttering process so you can find stuff to sell.
To save time when you're selling, you can group similar, lower-priced items into "lots" and sell the group together, rather than trying to make a bunch of single transactions for $10 or $20.
2. Sell Stuff You Score for Free
You'd be amazed by some of the great stuff you can get in the "free" area of Craigslist, found under the "for sale" section. Some people don't want to deal with selling their stuff or even just taking it to a donation center, so they give it away on Craigslist.
Occasionally, you'll find someone who will even pay you to take away their unwanted stuff.
You can also ask family and friends for unwanted items, and search in other local online marketplaces (see below – Other Websites to Sell Stuff Locally).
After sorting through things and cleaning them up, you can post them to Craigslist and turn a good profit.
3. Repair, Refurbish, & Resell
Many people don't want to deal with repairing their broken things, such as toys, appliances, electronics, and furniture. They just want the "junk" out of their house.
You can capitalize on this and score high-value items for cheap or free.
Many times, items such as furniture just need a thorough cleaning and a little paint to freshen them up before selling them.
And for broken items like electronics or furniture, you can find a YouTube video and DIY the repair. Or find local repair people and negotiate a discount after you've built a relationship with them.
4. Create a Business of Buying & Selling on Craigslist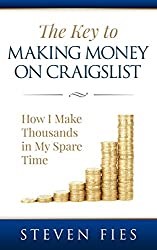 Steven Fies explains exactly how he made thousands of dollars in profits from Craigslist sales in just a few hours a week.
With a a little time and a good pricing strategy, you can make four or five figures every month from buying and selling items on Craigslist.
How To Sell On Craigslist – Pick a Niche
Steven Fies, author of "The Key to Making Money on Craigslist," advises to pick a niche. That is, decide on one category of items to specialize in. Then, try to learn as much as you can about the category so you can easily spot deals.
Since he plays in a band, Fies specializes in buying and reselling musical instruments. He may buy a guitar on Craigslist, keep it for a few months, and then sell it for a profit. Or he'll acquire an instrument and resell it almost immediately.
His book is full of stories about buying and then reselling guitars, as well as drum sets, an organ, and accordions.
Pick a niche that you already know well or want to learn about.
A few ideas include:
Auto Parts
Cell Phones
Computers
Video gaming systems and games
Vintage
Determine Your Maximum Purchase Price & Minimum Sales Price
You'll want to track all the items you buy and sell so you can ensure you're making a profit. Capturing data will also help you learn how to spot deals and price your items for resell.
You can create a simple spreadsheet in Google Sheets and track:
Date you acquired the item
Date you sold it
Item description
Listed price
Amount paid
Amount sold
Profit (difference between paid and sold amounts)
Acquire Inventory
You'll need to acquire inventory so you have things to sell. You can purchase your inventory from Craigslist, as well as from a variety of other online local marketplaces.
Before you go inventory shopping, determine the maximum price you want to pay for specific items in your niche. You'll need to consider what you can resell the item for and ensure the difference between what you pay and what you can sell it for is enough profit to make it worth your time.
Don't fall in love with your inventory. Make sure you look at those items as potential profit, not toys for your personal use!
Garage/Yard Sales & Estate Sales
Under the Craigslist garage sales section, you'll find both upcoming garage/yard sales, as well as estate sales.
These can be goldmines for building your inventory. The best deals will be available when the sale first starts and the inventory hasn't been depleted, as well as at the end of the sale when the seller just wants to get rid of whatever is left.
Other Places to Build Your Inventory
Craigslist free section
Craigslist subcategory for your niche
Facebook groups for your neighborhood or area
Be Quick to Contact Sellers When You See a Deal
You'll need to jump on good deals right away. It pays to be first in line!
Fies recommends setting up an email alert using the If This, Then That site so that, when an item in your niche hits Craigslist, you're alerted immediately and can respond right away if the price is right.
Here's how to use the IFTTT site to set up an email alert for specific Craigslist posts:
1. Go to ifttt.com and sign up to set up an account
2. When you're logged in, go to the Craigslist Applets
3. Select "Get an email whenever a new Craigslist post matches your search"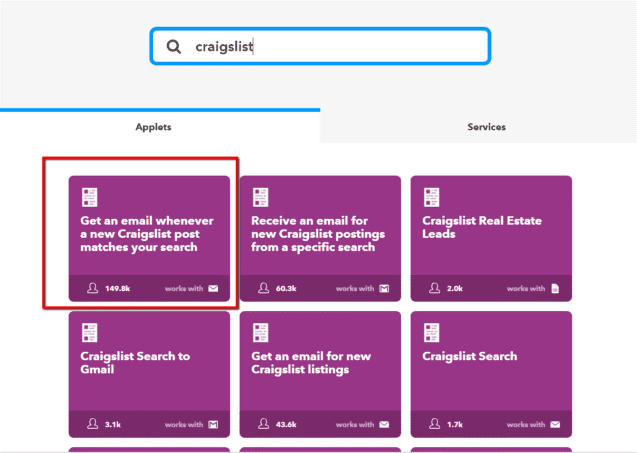 4. Click the button to "turn on"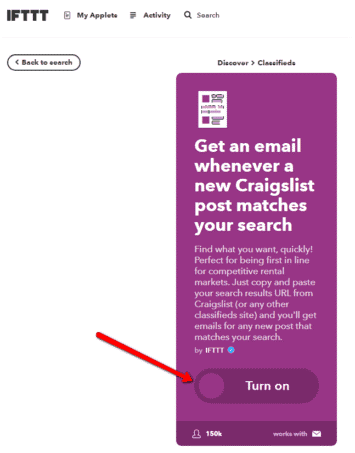 5. Hop over to your local Craigslist site and perform a search for the item you want to receive an alert for. Then copy the URL of the search results.
In my example, I went to the "for sale" section, then "furniture." I put "dining" in the search box and hit enter.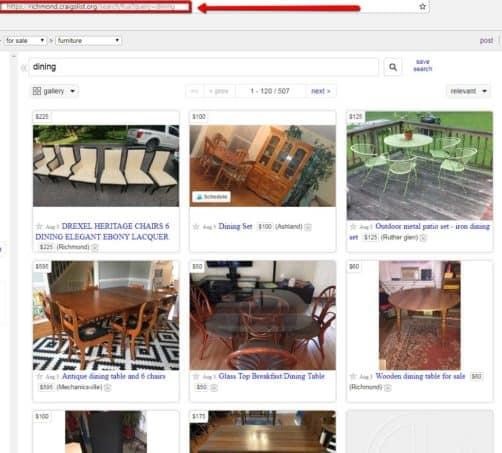 6. Click back over to the IFTTT site and paste the URL in the box labeled "Paste in your search results URL:" Then hit "save."

Repeat steps 2-6 to set up alerts for additional search queries.
To edit, turn off, or delete your alert:
From the IFTTT home page, go to "My Applets"
Click on the Applet you want to edit
From here, you can click the toggle button to turn off the alert, click the gear in the top right corner and edit, or click the gear and click the "delete" link under the "save" button.
For the definite guide on buying and reselling on Craigslist, check out Steven Fies's book "The Key to Making Money on Craigslist: How I make Thousands in My Spare Time."
Scams on Craigslist
You can avoid most Craigslist scams by following some simple guidelines:
Qualify interested buyers over the phone before agreeing to meet. As explained earlier, having a quick phone conversation where you casually ask about them and talk about the item will clue you in to their true intentions.
Only deal with local buyers. They need to agree to meet you in a public location of your choosing. Don't do transactions without meeting in person. And don't agree to ship items.
No third parties should be included in the transaction. According to Craigslist, if "omeone claims your transaction is guaranteed, that a buyer/seller is officially certified, OR that a third party of any kind will handle or provide protection for a payment," this is fraudulent.
Only transact with cash. No cashier's checks, money orders, personal checks, PayPal, wire transactions, etc.
Never give out account numbers, PayPal or eBay information, or any other sensitive data.
Make sure you're on Craigslist and not a fake site. Start on https://www.Craigslist.org, though the site for your city will look like this: yourcity.craigslist.org
A Craigslist Purchase Protection Program does NOT exist. So if you get an email with an invoice attached to it, it's phony and you can report it as a scam to Craigslist.
Other Websites to Sell Stuff Locally
Craigslist is one of many websites to sell stuff locally. Some other online marketplaces include:
Plus many neighborhoods and areas have their own Facebook group. And Nextdoor also has a "for sale & free" section.
How To Buy On Craigslist Summary
With a few precautions, buying and selling on Craigslist is safe.
To bank 4-5 figures a month on Craigslist, you can sell stuff you already own, raid the free section on Craigslist and other online marketplaces, repair and refurbish items and resell them at a profit, and make a business out of buying and selling items within a niche.
I hope this post teaches you how to sell on Craigslist. What has your experience been like with buying and selling on Craigslist or other online marketplaces? I'd love to hear your stories in the comments
---